MVT-Like Fluorite Deposits and Oligocene Magmatic-Hydrothermal Fluorite–Be–U–Mo–P–V Overprints in Northern Coahuila, Mexico
1
Instituto de Geología, Universidad Nacional Autónoma de México, Ciudad Universitaria, 04510 Coyoacán, Ciudad de México, Mexico
2
Centro de Geociencias, Universidad Nacional Autónoma de México, Boulevard Juriquilla 3001, 76230 Juriquilla, Querétaro, Mexico
3
GeoRessourcesLab, Université de Lorraine, Boulevard des Aiguillettes, BP 70239, 54506 Vandœuvre-lès-Nancy, France
4
Geologia Minería y Consultoría, S.A. de C.V. Ciprés 104, Frac. Jurica, 76100 Santiago de Querétaro, Querétaro, Mexico
5
Programa de Posgrado en Ciencias de la Tierra, Universidad Nacional Autónoma de México, Ciudad Universitaria, 04510 Coyoacán, Ciudad de México, Mexico
*
Author to whom correspondence should be addressed.
Received: 5 December 2018 / Revised: 10 January 2019 / Accepted: 11 January 2019 / Published: 18 January 2019
Abstract
The formation of most fluorite deposits in northern Coahuila (NE Mexico) is explained by MVT models, and is a part of the metallogenic province of northeastern Mexico. However, fluorite skarn deposits also occur in the same region, and there is evidence for late hydrothermal manifestations with no clear origin and evolution. The latter are the main focus of this study; in particular, F–Be–U–Mo–V–P stringers in the Aguachile-Cuatro Palmas area that overprint preexisting fluorite mantos. The region experienced the emplacement of several intrusives during the Eocene and the Oligocene that are collectively grouped into the East Mexico Alkaline Province (EMAP) and postdate MVT-like deposits. Some of these intrusives have associated skarn deposits; most of them are polymetallic, but the unusual El Pilote deposit contains fluorite mineralisation that was remobilised from MVT-like deposits. The formation of the Aguachile deposit (and, collectively, part of the Cuatro Palmas deposit) has been attributed to a shallow retrograde skarn model. The Cuatro Palmas and Las Alicias fluorite deposits consist of MVT-like deposits overprinted by late hydrothermal fluorite mineralisation rich in Be–U–Mo–V–P, and the Aguachile deposit consists entirely of the latter type. The systematic fluid inclusion study of MVT-like, skarn, and late hydrothermal fluorite deposits reveals a very different distribution of temperature and salinity data that allows the discrimination of mineralising fluids for the type of deposit. MVT-like deposits were formed by fluids with temperatures of homogenisation that range between 50 °C and 152 °C and salinities between 5 and 15.5 wt.% NaCl equivalent. The El Pilote fluorite skarn was formed by fluids with temperatures of homogenisation that range between 78 °C and 394 °C and salinities between 5 and 34 wt.% NaCl equivalent, and include CaCl
2
-rich brines with salinities that range between 24.5 and 29.1 wt.% CaCl
2
. Late shallow fluorite–Be–U–Mo–V–P hydrothermal deposits were formed by fluids with temperatures of homogenisation that range between 70 °C and 180 °C and salinities between 0.9 and 3.4 wt.% NaCl equivalent; the sole exception to the above is the La Fácil deposit, with salinities that range between 7.9 and 8.8 wt.% NaCl equivalent. While temperatures of homogenisation are similar between MVT-like and late hydrothermal deposits, and both even have hydrocarbon-rich fluid inclusion associations, the salinity of late deposits is similar to that of retrograde skarn fluids, although further diluted. However, homogenisation temperatures tend to be higher in late hydrothermal than in MVT-like deposits, thus making them more similar to retrograde skarn fluids. Although this characteristic cannot solely establish a genetic link between a retrograde skarn model and late hydrothermal deposits in the study area, the characteristics of fluids associated with the latter separate these deposits from those ascribed to an MVT-like model. Assuming that mineralising fluids for late fluorite–Be–U–Mo–V–P hydrothermal deposits may correspond to a retrograde skarn (or "epithermal") deposit, the source for fluorine may be either from (A) the dissolution of earlier formed MVT-like deposits, (B) the entrainment of remaining F-rich basinal brines, or (C) hydrothermal fluids exsolved from highly evolved magmas. Possibilities A and B are feasible due to a hypothetical situation similar to the El Pilote skarn, and due to the occurrence of hydrocarbon-rich fluid inclusions at the La Fácil deposit. Possibility C is feasible because intrusive bodies related to highly evolved magmas would have provided other highly lithophile elements like Be, U and Mo upon the exsolution of their hydrothermal fluids. Such intrusive bodies occur in both study areas, and are particularly conspicuous at the Aguachile collapse structure.
View Full-Text
►

▼

Figures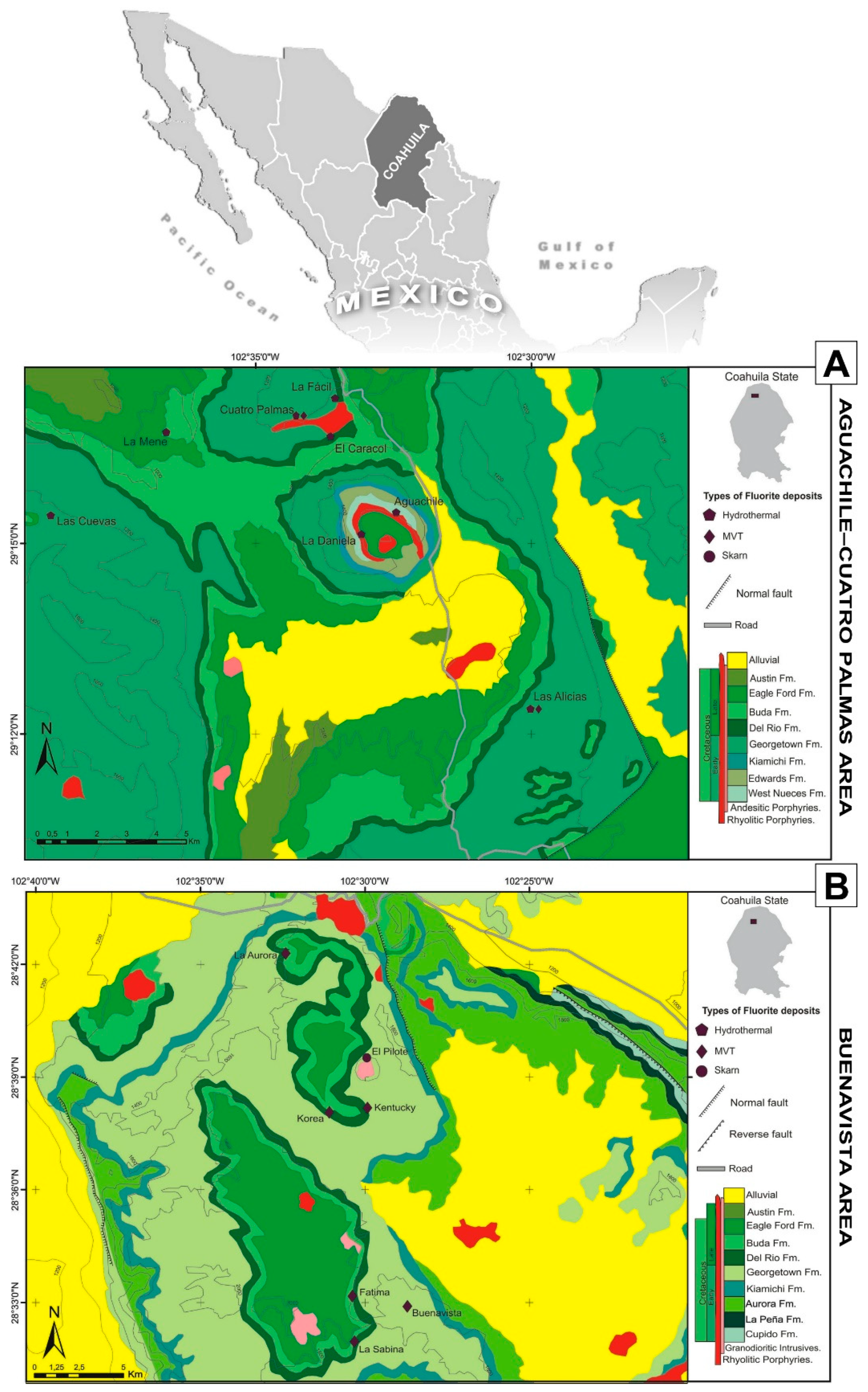 Figure 1
This is an open access article distributed under the
Creative Commons Attribution License
which permits unrestricted use, distribution, and reproduction in any medium, provided the original work is properly cited (CC BY 4.0).

Share & Cite This Article
MDPI and ACS Style
Camprubí, A.; González-Partida, E.; Richard, A.; Boiron, M.-C.; González-Ruiz, L.E.; Aguilar-Ramírez, C.F.; Fuentes-Guzmán, E.; González-Ruiz, D.; Legouix, C. MVT-Like Fluorite Deposits and Oligocene Magmatic-Hydrothermal Fluorite–Be–U–Mo–P–V Overprints in Northern Coahuila, Mexico. Minerals 2019, 9, 58.
Note that from the first issue of 2016, MDPI journals use article numbers instead of page numbers. See further details here.
Related Articles
Comments
[Return to top]