Decoding of Mantle Processes in the Mersin Ophiolite, Turkey, of End-Member Arc Type: Location of the Boninite Magma Generation
1
Department of Earth and Environmental Science, Faculty of Advanced Science and Technology, Kumamoto University, 2-39-1 Kurokami, Chuo-ku, Kumamoto 860-8555, Japan
2
Department of Earth Sciences, Kanazawa University, Kakuma, Kanazawa 920-1192, Japan
3
GIA Godo Kaisha, 4-19-9 Taito, Taito-ku, Tokyo 110-0016, Japan
4
Jeoloji Mühendisliği Bŏlümü, Çukurova Üniversitesi, TR-01330 Adana, Turkey
5
State Key Laboratory of Geological Processes and Mineral Resources, Center for Global Tectonics, School of Earth Sciences, China University of Geosciences, Wuhan 430074, China
*
Author to whom correspondence should be addressed.
Received: 4 September 2018 / Revised: 12 October 2018 / Accepted: 15 October 2018 / Published: 18 October 2018
Abstract
The Mersin ophiolite, Turkey, is of typical arc type based on geochemistry of crustal rocks without any signs of mid-ocean ridge (MOR) affinity. We examined its ultramafic rocks to reveal sub-arc mantle processes. Mantle peridotites, poor in clinopyroxene (<1.0 vol.%), show high Fo content of olivine (90–92) and Cr# [=Cr/(Cr + Al) atomic ratio] (=0.62–0.77) of chromian spinel. NiO content of olivine is occasionally high (up to 0.5 wt.%) in the harzburgite. Moho-transition zone (MTZ) dunite is also highly depleted, i.e., spinel is high Cr# (0.78–0.89), clinopyroxene is poor in HREE, and olivine is high Fo (up to 92), but relatively low in NiO (0.1–0.4 wt.%). The harzburgite is residue after high-degree mantle melting, possibly assisted by slab-derived fluid. The high-Ni character of olivine suggests secondary metasomatic formation of olivine-replacing orthopyroxene although replacement textures are unclear. The MTZ dunite is of replacive origin, resulted from interaction between Mg-rich melt released from harzburgite diapir and another harzburgite at the diapir roof. The MTZ dunite is the very place that produced the boninitic and replacive dunite. The MTZ is thicker (>1 km) in Mersin than in MOR-related ophiolite (mostly < 500 m), and this is one of the features of arc-type ophiolite.
View Full-Text
►

▼

Figures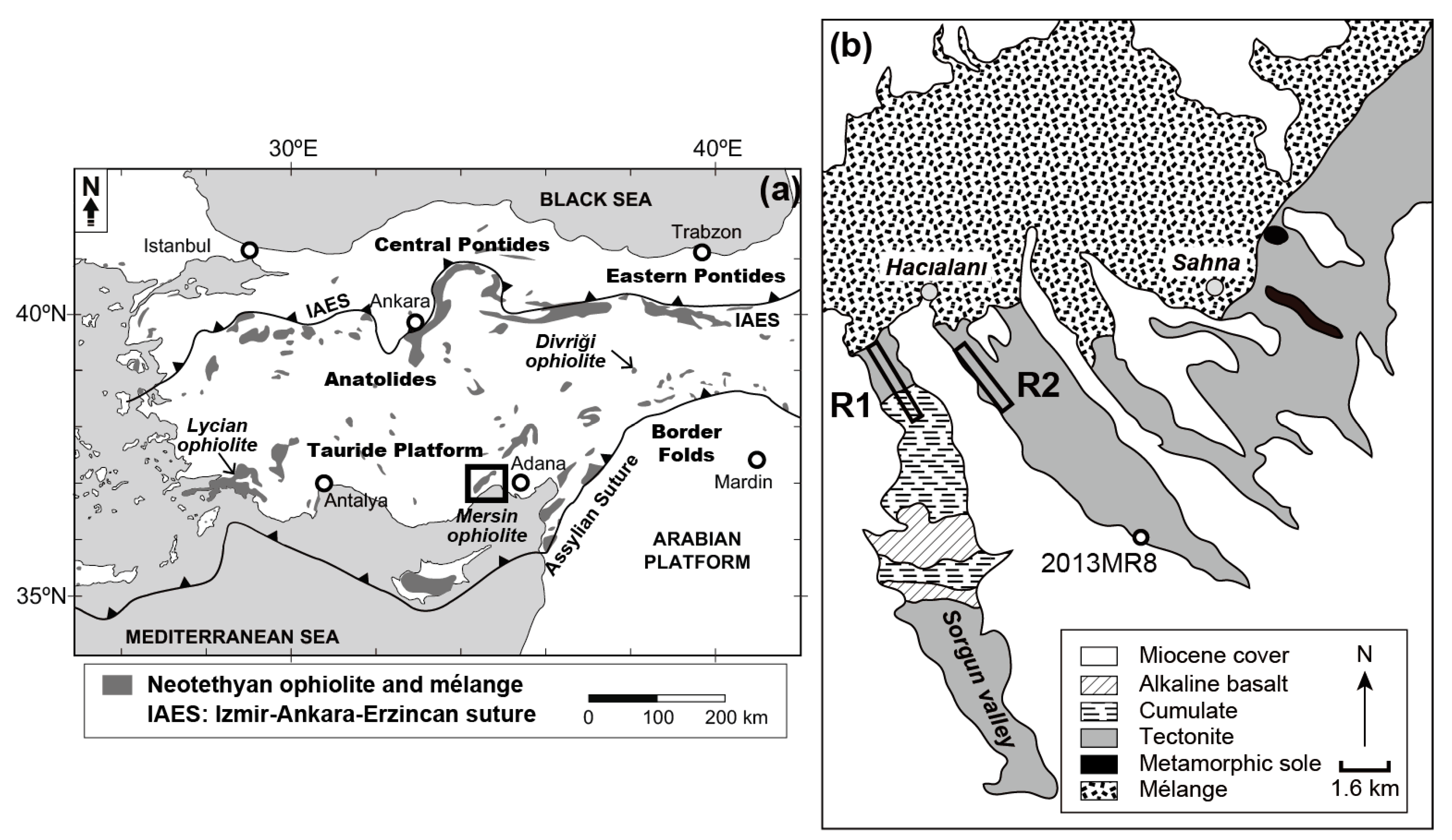 Figure 1
This is an open access article distributed under the
Creative Commons Attribution License
which permits unrestricted use, distribution, and reproduction in any medium, provided the original work is properly cited (CC BY 4.0).

Share & Cite This Article
MDPI and ACS Style
Ishimaru, S.; Saikawa, Y.; Miura, M.; Parlak, O.; Arai, S. Decoding of Mantle Processes in the Mersin Ophiolite, Turkey, of End-Member Arc Type: Location of the Boninite Magma Generation. Minerals 2018, 8, 464.
Note that from the first issue of 2016, MDPI journals use article numbers instead of page numbers. See further details here.
Related Articles
Comments
[Return to top]