Communication between B-Cells and Microbiota for the Maintenance of Intestinal Homeostasis
1
Division of Gastroenterology and Pediatric Research Center, Department of Pediatrics, The University of Texas Health Science Center at Houston Medical School, 6431 Fannin Street, MSB 3.141, Houston, TX 77030, USA
2
Division of Gastroenterology and Pediatric Research Center, Department of Pediatrics, The University of Texas Health Science Center at Houston Medical School, 6431 Fannin Street, MSB 3.137, Houston, TX 77030, USA
*
Author to whom correspondence should be addressed.
Received: 28 August 2013 / Revised: 1 October 2013 / Accepted: 11 October 2013 / Published: 17 October 2013
Abstract
The human intestine is populated with an extremely dense and diverse bacterial community. Commensal bacteria act as an important antigenic stimulus producing the maturation of gut-associated lymphoid tissue (GALT). The production of immunoglobulin (Ig) A by B-cells in the GALT is one of the immune responses following intestinal colonization of bacteria. The switch of B-cells from IgM to IgA-producing cells in the Peyer's patches and neighboring lamina propria proceeds by T-cell-dependent and T-cell-independent mechanisms. Several grams of secretory IgA (SIgA) are released into the intestine each day. SIgA serves as a first-line of defense in protecting the intestinal epithelium from enteric toxins and pathogenic microorganisms. SIgA has a capacity to directly quench bacterial virulence factors, influence the composition of the intestinal microbiota, and promote the transportation of antigens across the intestinal epithelium to GALT and down-regulate proinflammatory responses associated with the uptake of highly pathogenic bacteria and potentially allergenic antigens. This review summarizes the reciprocal interactions between intestinal B cells and bacteria, specifically, the formation of IgA in the gut, the role of intestinal IgA in the regulation of bacterial communities and the maintenance of intestinal homeostasis, and the effects of probiotics on IgA levels in the gastrointestinal tract.
View Full-Text
►

▼

Figures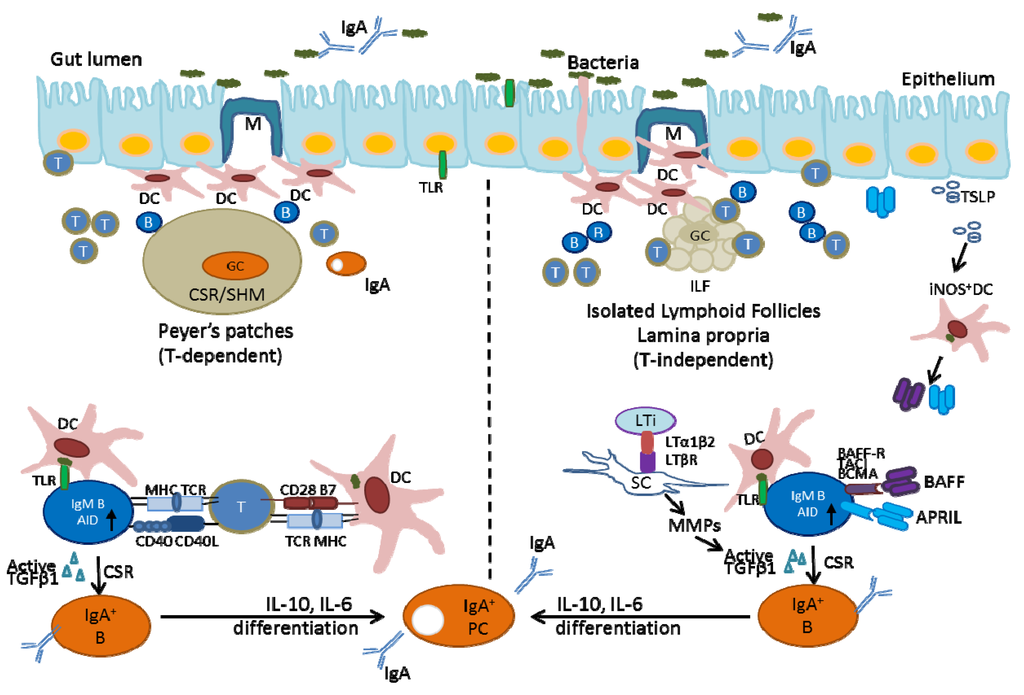 Figure 1

Share & Cite This Article
MDPI and ACS Style
Liu, Y.; Rhoads, J.M. Communication between B-Cells and Microbiota for the Maintenance of Intestinal Homeostasis. Antibodies 2013, 2, 535-553.
Related Articles
Comments
[Return to top]