CCN Activity, Variability and Influence on Droplet Formation during the HygrA-Cd Campaign in Athens
1
School of Earth & Atmospheric Sciences, Georgia Institute of Technology, Atlanta, GA 30332, USA
2
Laser Remote Sensing Laboratory, National Technical University of Athens, Athens 15780, Greece
3
Institute for Astronomy, Astrophysics, Space Applications and Remote Sensing (IAASARS), National Observatory of Athens, Athens 15236, Greece
4
Environmental Radioactivity Laboratory, Institute of Nuclear & Radiological Sciences & Technology, Energy & Safety, National Centre For Scientific Research Demokritos, Ag. Paraskevi, Athens 15310, Greece
5
School of Chemical & Biomolecular Engineering, Georgia Institute of Technology, Atlanta, GA 30332, USA
6
Institute for Environmental Research and Sustainable Development, National Observatory of Athens, P. Penteli, Athens 15236, Greece
7
Institute for Chemical Engineering Sciences, Foundation of Research and Technology Hellas, Patras 26504, Greece
*
Authors to whom correspondence should be addressed.
Academic Editor: Jessie M. Creamean
Received: 9 April 2017 / Revised: 23 May 2017 / Accepted: 14 June 2017 / Published: 19 June 2017
Abstract
Measurements of cloud condensation nuclei (CCN) concentrations (cm
−3
) at five levels of supersaturation between 0.2–1%, together with remote sensing profiling and aerosol size distributions, were performed at an urban background site of Athens during the Hygroscopic Aerosols to Cloud Droplets (HygrA-CD) campaign. The site is affected by local emissions and long-range transport, as portrayed by the aerosol size, hygroscopicity and mixing state. Application of a state-of-the-art droplet parameterization is used to link the observed size distribution measurements, bulk composition, and modeled boundary layer dynamics with potential supersaturation, droplet number, and sensitivity of these parameters for clouds forming above the site. The sensitivity is then used to understand the source of potential droplet number variability. We find that the importance of aerosol particle concentration levels associated with the background increases as vertical velocities increase. The updraft velocity variability was found to contribute 58–90% (68.6% on average) to the variance of the cloud droplet number, followed by the variance in aerosol number (6–32%, average 23.2%). Therefore, although local sources may strongly modulate CCN concentrations, their impact on droplet number is limited by the atmospheric dynamics expressed by the updraft velocity regime.
View Full-Text
►

▼

Figures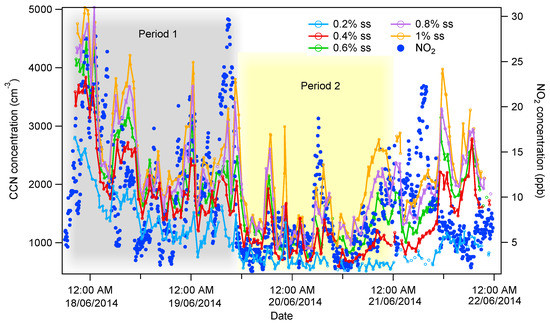 Figure 1
This is an open access article distributed under the
Creative Commons Attribution License
which permits unrestricted use, distribution, and reproduction in any medium, provided the original work is properly cited (CC BY 4.0).

Share & Cite This Article
MDPI and ACS Style
Bougiatioti, A.; Argyrouli, A.; Solomos, S.; Vratolis, S.; Eleftheriadis, K.; Papayannis, A.; Nenes, A. CCN Activity, Variability and Influence on Droplet Formation during the HygrA-Cd Campaign in Athens. Atmosphere 2017, 8, 108.
Note that from the first issue of 2016, MDPI journals use article numbers instead of page numbers. See further details here.
Related Articles
Comments
[Return to top]