One-Year Characterization and Reactivity of Isoprene and Its Impact on Surface Ozone Formation at A Suburban Site in Guangzhou, China
Institute of Tropical and Marine Meteorology, China Meteorological Administration (CMA), 510000 Guangzhou, China
*
Author to whom correspondence should be addressed.
Received: 22 March 2019 / Revised: 11 April 2019 / Accepted: 12 April 2019 / Published: 15 April 2019
Abstract
Isoprene has a potentially large effect on ozone (O
3
) formation in the subtropical, highly polluted city of Guangzhou. Online measurements of isoprene in Guangzhou city are scarce; thus, isoprene levels were monitored for one year at the Guangzhou Panyu Atmospheric Composition Station (GPACS), a suburban site in Guangzhou, using an online gas chromatography-flame ionization detector (GC–FID) system to investigate the characterization and reactivity of isoprene and its effect on the O
3
peak profile in different seasons. The results showed that the daily average mixing ratios of isoprene at GPACS were 0.40, 2.20, 1.40, and 0.13 mixing ratio by volume (ppbv) in spring, summer, autumn, and winter, respectively. These values were considerably higher than the mixing ratios of isoprene in the numerous other subtropical and temperate cities around the world. Furthermore, isoprene ranked first with regard to O
3
formation potential (OFP) and propylene-equivalent mixing ratio among 56 measured non–methane hydrocarbons (NMHCs). The ratios of isoprene to cis-2-butene, an exhaust tracer, were determined to estimate the fractions of biogenic and anthropogenic emissions. The results revealed a much greater contribution from biogenic than anthropogenic factors during the daytime in all four seasons. In addition, night-time isoprene emissions were mostly associated with vehicles in winter, and the residual isoprene that remained after photochemical loss during the daytime also persisted into the night. The high levels of isoprene in summer and autumn may cause the strong and broad peaks of the O
3
profile because of its association with the most favorable meteorological conditions (e.g., high temperature and intense solar radiation) and the highest OH mixing ratio, which could affect human health by exposing people to a high O
3
mixing ratio for prolonged periods. The lower mixing ratios of isoprene resulted in a weak and sharp peak in the O
3
profile in both spring and winter. The high level of isoprene in the subtropical zone could accentuate its large impact on atmospheric oxidant capacity and air quality in Guangzhou city.
View Full-Text
►

▼

Figures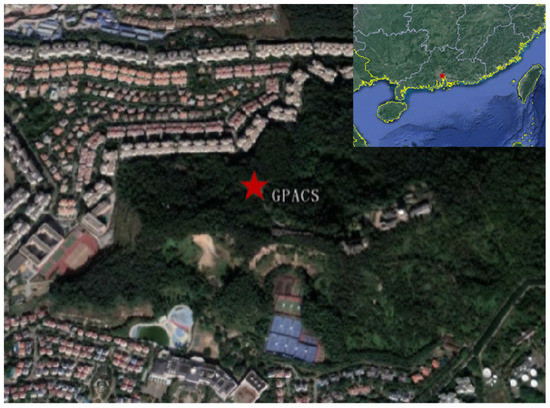 Figure 1
This is an open access article distributed under the
Creative Commons Attribution License
which permits unrestricted use, distribution, and reproduction in any medium, provided the original work is properly cited (CC BY 4.0).

Share & Cite This Article
MDPI and ACS Style
Zou, Y.; Deng, X.J.; Deng, T.; Yin, C.Q.; Li, F. One-Year Characterization and Reactivity of Isoprene and Its Impact on Surface Ozone Formation at A Suburban Site in Guangzhou, China. Atmosphere 2019, 10, 201.
Note that from the first issue of 2016, MDPI journals use article numbers instead of page numbers. See further details here.
Related Articles
Comments
[Return to top]