The 5′-3′ Exoribonuclease XRN4 Regulates Auxin Response via the Degradation of Auxin Receptor Transcripts
1
Botanical Institute, University of Basel, Zurich-Basel Plant Science Center, Part of the Swiss Plant Science Web, Schönbeinstrasse 6, 4056 Basel, Switzerland
2
IRHS, Agrocampus-Ouest, INRA, Université d'Angers, SFR 4207 QuaSaV, 49071 Beaucouzé, France
*
Author to whom correspondence should be addressed.
Received: 26 November 2018 / Revised: 13 December 2018 / Accepted: 13 December 2018 / Published: 17 December 2018
Abstract
Auxin is a major hormone which plays crucial roles in instructing virtually all developmental programs of plants. Its signaling depends primarily on its perception by four partially redundant receptors of the TIR1/AFB2 clade (TAARs), which subsequently mediate the specific degradation of AUX/IAA transcriptional repressors to modulate the expression of primary auxin-responsive genes. Auxin homeostasis depends on complex regulations at the level of synthesis, conjugation, and transport. However, the mechanisms and principles involved in the homeostasis of its signaling are just starting to emerge. We report that
xrn4
mutants exhibit pleiotropic developmental defects and strong auxin hypersensitivity phenotypes. We provide compelling evidences that these phenotypes are directly caused by improper regulation of TAAR transcript degradation. We show that the cytoplasmic 5′-3′ exoribonuclease XRN4 is required for auxin response. Thus, our work identifies new targets of XRN4 and a new level of regulation for TAAR transcripts important for auxin response and for plant development.
View Full-Text
►

▼

Figures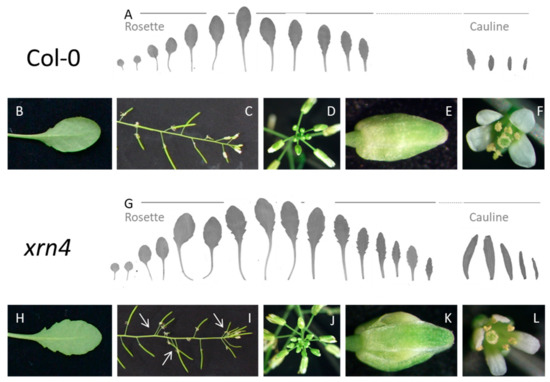 Figure 1
This is an open access article distributed under the
Creative Commons Attribution License
which permits unrestricted use, distribution, and reproduction in any medium, provided the original work is properly cited (CC BY 4.0).

Share & Cite This Article
MDPI and ACS Style
Windels, D.; Bucher, E. The 5′-3′ Exoribonuclease XRN4 Regulates Auxin Response via the Degradation of Auxin Receptor Transcripts. Genes 2018, 9, 638.
Note that from the first issue of 2016, MDPI journals use article numbers instead of page numbers. See further details here.
Related Articles
Comments
[Return to top]