Trade in Zambian Edible Orchids—DNA Barcoding Reveals the Use of Unexpected Orchid Taxa for
Chikanda
1
Department of Organismal Biology, Systematic Biology, Uppsala University, Norbyvägen 18D, 75236 Uppsala, Sweden
2
Naturalis Biodiversity Center, P.O. Box 9517, 2300 RA Leiden, The Netherlands
3
Natural History Museum, University of Oslo, Postboks 1172, Blindern, 0318 Oslo, Norway
4
Royal Botanic Gardens, Kew, Richmond, Surrey TW9 3AB, UK
5
Bews Herbarium, School of Life Sciences, University of KwaZulu-Natal, Pr. Bag X01, Scottsville 3209, South Africa
6
Department of Biological Sciences, University of Zambia, Box 32379 Lusaka, Zambia
7
Institute of Biology Leiden, Leiden University, P.O. Box 9505, 2300 RA Leiden, The Netherlands
8
University of Applied Sciences Leiden, Zernikedreef 11, 2333 CK Leiden, The Netherlands
9
Institut de Systématique, Evolution, Biodiversité (ISYEB), Muséum national d'histoire naturelle, CNRS, Sorbonne Université, EPHE, CP50, 45 rue Buffon 75005 Paris, France
10
School of Natural Resources, The Copperbelt University, PO Box 21692 Kitwe, Zambia
11
East African Herbarium, National Museums of Kenya, P.O. Box 40658-00100 Nairobi, Kenya
12
Homegarden Landscape Consultants Ltd., P/Bag 30C, Chilanga, Lusaka, Zambia
*
Author to whom correspondence should be addressed.
Received: 24 October 2018 / Revised: 17 November 2018 / Accepted: 22 November 2018 / Published: 30 November 2018
Abstract
In Zambia, wild edible terrestrial orchids are used to produce a local delicacy called
chikanda
, which has become increasingly popular throughout the country. Commercialization puts orchid populations in Zambia and neighbouring countries at risk of overharvesting. Hitherto, no study has documented which orchid species are traded on local markets, as orchid tubers are difficult to identify morphologically. In this study, the core land-plant DNA barcoding markers
rbcL
and
matK
were used in combination with nrITS to determine which species were sold in Zambian markets. Eighty-two interviews were conducted to determine harvesting areas, as well as possible sustainability concerns. By using nrITS DNA barcoding, a total of 16 orchid species in six different genera could be identified. Both
rbcL
and
matK
proved suitable to identify the tubers up to the genus or family level.
Disa robusta
,
Platycoryne crocea
and
Satyrium buchananii
were identified most frequently and three previously undocumented species were encountered on the market. Few orchid species are currently listed on the global International Union for the Conservation of Nature (IUCN) Red List. Local orchid populations and endemic species could be at risk of overharvesting due to the intensive and indiscriminate harvesting of
chikanda
orchids, and we therefore encourage increased conservation assessment of terrestrial African orchids.
View Full-Text
►

▼

Figures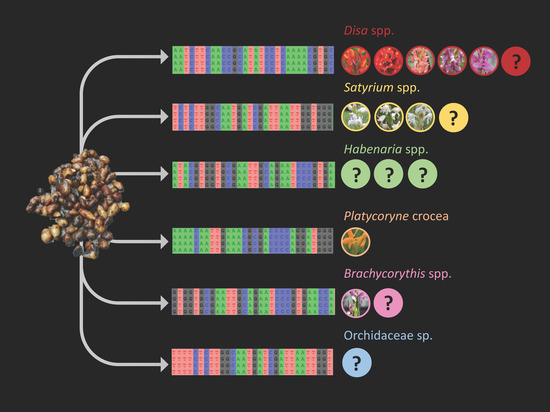 Graphical abstract
This is an open access article distributed under the
Creative Commons Attribution License
which permits unrestricted use, distribution, and reproduction in any medium, provided the original work is properly cited (CC BY 4.0).

Share & Cite This Article
MDPI and ACS Style
Veldman, S.; Kim, S.-J.; Van Andel, T.R.; Bello Font, M.; Bone, R.E.; Bytebier, B.; Chuba, D.; Gravendeel, B.; Martos, F.; Mpatwa, G.; Ngugi, G.; Vinya, R.; Wightman, N.; Yokoya, K.; De Boer, H.J. Trade in Zambian Edible Orchids—DNA Barcoding Reveals the Use of Unexpected Orchid Taxa for Chikanda. Genes 2018, 9, 595.
Note that from the first issue of 2016, MDPI journals use article numbers instead of page numbers. See further details here.
Related Articles
Comments
[Return to top]