Novel Y Chromosome Retrocopies in Canids Revealed through a Genome-Wide Association Study for Sex
1
Department of Genetics and Biochemistry, Clemson University, Clemson, SC 29634, USA
2
Cancer Genetics and Comparative Genomics Branch, National Human Genome Research Institute, National Institutes of Health, Bethesda, MD 20892-2152, USA
3
Clemson University Genomics and Bioinformatics Facility, Clemson University, Clemson, SC 29634, USA
*
Author to whom correspondence should be addressed.
Received: 25 March 2019 / Revised: 17 April 2019 / Accepted: 18 April 2019 / Published: 25 April 2019
Abstract
The lack of an annotated reference sequence for the canine Y chromosome has limited evolutionary studies, as well as our understanding of the role of Y-linked sequences in phenotypes with a sex bias. In genome-wide association studies (GWASs), we observed spurious associations with autosomal SNPs when sex was unbalanced in case-control cohorts and hypothesized that a subset of SNPs mapped to autosomes are in fact sex-linked. Using the Illumina 230K CanineHD array in a GWAS for sex, we identified SNPs that amplify in both sexes but possess significant allele frequency differences between males and females. We found 48 SNPs mapping to 14 regions of eight autosomes and the X chromosome that are Y-linked, appearing heterozygous in males and monomorphic in females. Within these 14 regions are eight genes: three autosomal and five X-linked. We investigated the autosomal genes (
MITF
,
PPP2CB
, and
WNK1
) and determined that the SNPs are diverged nucleotides in retrocopies that have transposed to the Y chromosome.
MITFY
and
WNK1Y
are expressed and appeared recently in the Canidae lineage, whereas
PPP2CBY
represents a much older insertion with no evidence of expression in the dog. This work reveals novel canid Y chromosome sequences and provides evidence for gene transposition to the Y from autosomes and the X.
View Full-Text
►

▼

Figures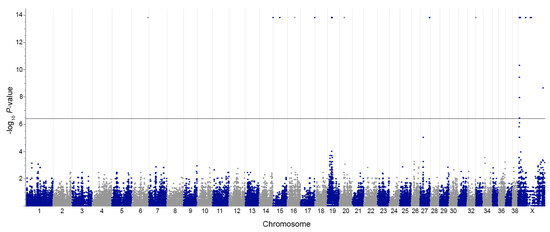 Figure 1
This is an open access article distributed under the
Creative Commons Attribution License
which permits unrestricted use, distribution, and reproduction in any medium, provided the original work is properly cited (CC BY 4.0).

Share & Cite This Article
MDPI and ACS Style
Tsai, K.L.; Evans, J.M.; Noorai, R.E.; Starr-Moss, A.N.; Clark, L.A. Novel Y Chromosome Retrocopies in Canids Revealed through a Genome-Wide Association Study for Sex. Genes 2019, 10, 320.
Note that from the first issue of 2016, MDPI journals use article numbers instead of page numbers. See further details here.
Related Articles
Comments
[Return to top]