EPA and DHA Inhibit Myogenesis and Downregulate the Expression of Muscle-related Genes in C2C12 Myoblasts
1
Hubei Key Laboratory of Animal Nutrition and Feed Science, Hubei Collaborative Innovation Center for Animal Nutrition and Feed Safety, Wuhan Polytechnic University, Wuhan 430023, China
2
Laboratory of Development Nutrition, Department of Animal Science, North Carolina State University, Raleigh, NC 27695, USA
*
Author to whom correspondence should be addressed.
Received: 2 January 2019 / Accepted: 11 January 2019 / Published: 18 January 2019
Abstract
This study was conducted to elucidate the biological effects of eicosapentaenoic acid (EPA) and docosahexaenoic acid (DHA) on cell proliferation, differentiation and gene expression in C2C12 myoblasts. C2C12 were treated with various concentrations of EPA or DHA under proliferation and differentiation conditions. Cell viability was analyzed using cell counting kit-8 assays (CCK-8). The Edu assays were performed to analyze cell proliferation. To analyze cell differentiation, the expressions of myogenic marker genes were determined at the transcriptional and translational levels by qRT-PCR, immunoblotting and immunofluorescence. Global gene expression patterns were characterized using RNA-sequencing. Phosphorylation levels of ERK and Akt were examined by immunoblotting. Cell viability and proliferation was significantly inhibited after incubation with EPA (50 and 100 μM) or DHA (100 μM). Both EPA and DHA suppressed C2C12 myoblasts differentiation. RNA-sequencing analysis revealed that some muscle-related genes were significantly downregulated following EPA or DHA (50 μM) treatment, including insulin-like growth factor 2 (IGF-2), troponin T3 (Tnnt3), myoglobin (Mb), myosin light chain phosphorylatable fast skeletal muscle (Mylpf) and myosin heavy polypeptide 3 (Myh3). IGF-2 was crucial for the growth and differentiation of skeletal muscle and could activate the PI3K/Akt and the MAPK/ERK cascade. We found that EPA and DHA (50 μM) decreased the phosphorylation levels of ERK1/2 and Akt in C2C12 myoblasts. Thus, this study suggested that EPA and DHA exerted an inhibitory effect on myoblast proliferation and differentiation and downregulated muscle-related genes expression.
View Full-Text
►

▼

Figures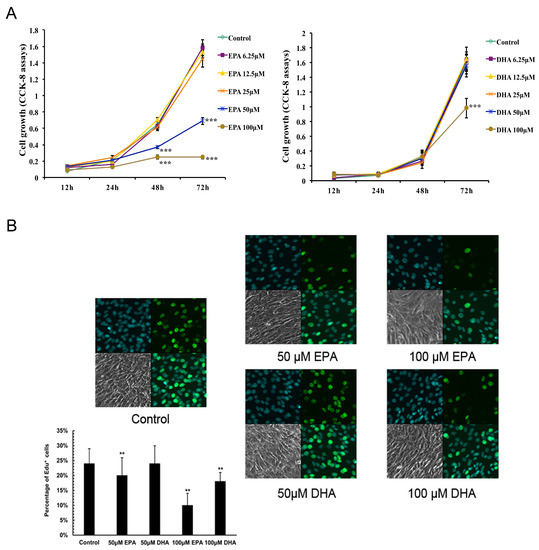 Figure 1
This is an open access article distributed under the
Creative Commons Attribution License
which permits unrestricted use, distribution, and reproduction in any medium, provided the original work is properly cited (CC BY 4.0).

Share & Cite This Article
MDPI and ACS Style
Zhang, J.; Xu, X.; Liu, Y.; Zhang, L.; Odle, J.; Lin, X.; Zhu, H.; Wang, X.; Liu, Y. EPA and DHA Inhibit Myogenesis and Downregulate the Expression of Muscle-related Genes in C2C12 Myoblasts. Genes 2019, 10, 64.
Note that from the first issue of 2016, MDPI journals use article numbers instead of page numbers. See further details here.
Related Articles
Comments
[Return to top]