Combination Therapy of Mesenchymal Stromal Cells and Interleukin-4 Attenuates Rheumatoid Arthritis in a Collagen-Induced Murine Model
1
Department of Microbiology and Immunology, Faculty of Pharmacy, Cairo University, Cairo 11562, Egypt
2
Department of Biochemistry and Molecular Biology, Faculty of Medicine, Cairo University, Cairo 11562, Egypt
3
Department of Anatomy and Embryology, Faculty of Medicine, Cairo University, Cairo 11562, Egypt
4
Department of Medical Biochemistry, National Research Center, Cairo 11562, Egypt
*
Author to whom correspondence should be addressed.
Received: 14 June 2019 / Revised: 22 July 2019 / Accepted: 23 July 2019 / Published: 3 August 2019
Abstract
Rheumatoid arthritis (RA) is a disease of the joints that causes decreased quality of life. Mesenchymal stromal cells (MSCs) have immunosuppressive properties, with possible use in the treatment of RA. Similarly, interleukin (IL)-4 has been shown as a potential RA treatment. However, their combination has not been explored before. Therefore, this study aimed to investigate the effect of a combination therapy of MSCs and IL-4 in the treatment of RA, using a murine collagen-induced arthritis (CIA) model. Arthritis was induced in Balb/c mice by two intradermal injections of type II collagen (CII), at days 0 and 21. CIA mice were randomly assigned to four groups; group I received an intravenous injection of mouse bone marrow-derived MSCs, while group II received an intraperitoneal injection of IL-4. Group III received a combined treatment of MSC and IL-4, while group IV served as a CIA diseased control group receiving phosphate buffer saline (PBS). A fifth group of healthy mice served as the normal healthy control. To assess changes induced by different treatments, levels of RA-associated inflammatory cytokines and biomarkers were measured in the serum, knee joints, and synovial tissue, using ELISA and Real Time-qPCR. Histopathological features of knee joints were analyzed for all groups. Results showed that combined MSC and IL-4 treatment alleviated signs of synovitis in CIA mice, reverting to the values of healthy controls. This was evident by the decrease in the levels of rheumatic factor (RF), C-reactive protein (CRP) and anti-nuclear antibodies (ANA) by 64, 80, and 71%, respectively, compared to the diseased group. Moreover, tumor necrosis factor-alpha (TNF- α) and monocyte chemoattractant protein-1 (MCP-1) levels decreased by 63 and 68%, respectively. Similarly, our gene expression data showed improvement in mice receiving combined therapy compared to other groups receiving single treatment, where cartilage oligomeric matrix protein (Comp), tissue inhibitor metalloproteinase-1 (Timp1), matrix metalloproteinase1 (Mmp-1), and IL-1 receptor (Il-1r) gene expression levels decreased by 75, 70, and 78%, respectively. Collectively, treatment with a combined therapy of MSC and IL-4 might have an efficient therapeutic effect on arthritis. Thus, further studies are needed to assess the potential of different MSC populations in conjugation with IL-4 in the treatment of experimental arthritis.
View Full-Text
►

▼

Figures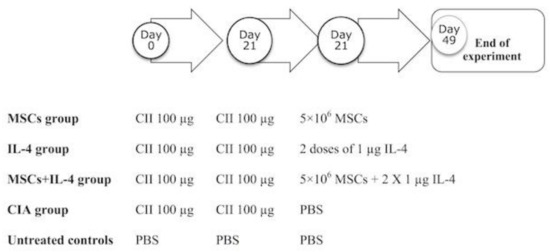 Figure 1
This is an open access article distributed under the
Creative Commons Attribution License
which permits unrestricted use, distribution, and reproduction in any medium, provided the original work is properly cited (CC BY 4.0).

Share & Cite This Article
MDPI and ACS Style
Haikal, S.M.; Abdeltawab, N.F.; Rashed, L.A.; Abd El-Galil, T.I.; Elmalt, H.A.; Amin, M.A. Combination Therapy of Mesenchymal Stromal Cells and Interleukin-4 Attenuates Rheumatoid Arthritis in a Collagen-Induced Murine Model. Cells 2019, 8, 823.
Note that from the first issue of 2016, MDPI journals use article numbers instead of page numbers. See further details here.
Related Articles
Comments
[Return to top]