Chronic Hepatitis C Virus Infection Impairs M1 Macrophage Differentiation and Contributes to CD8+ T-Cell Dysfunction
1
Department of Biochemistry, Microbiology and Immunology, Faculty of Medicine, University of Ottawa, Ottawa, ON K1H 8M5, Canada
2
Chronic Disease Program, Ottawa Hospital Research Institute, Ottawa, ON K1H 8L6, Canada
3
Clinical Epidemiology Program, Ottawa Hospital Research Institute, Ottawa, ON K1H 8L6, Canada
4
Department of Medicine, Division of Infectious Diseases, The Ottawa Hospital, Ottawa, ON K1H 8L6, Canada
5
Public Health and Preventative Medicine, School of Epidemiology, Faculty of Medicine, University of Ottawa, Ottawa, ON K1G 5Z3, Canada
6
Department of Pathology and Laboratory Medicine, Faculty of Medicine, University of Ottawa, Ottawa, ON K1H 8M5, Canada
7
Department of Pathology, The Children's Hospital of Eastern Ontario Research Institute, Ottawa, ON K1H 8L1, Canada
8
Department of Biology, Faculty of Science, Carleton University, Ottawa, ON K1S 5B6, Canada
*
Authors to whom correspondence should be addressed.
Received: 25 February 2019 / Revised: 15 April 2019 / Accepted: 18 April 2019 / Published: 25 April 2019
Abstract
Chronic hepatitis C virus (HCV) infection causes generalized CD8
+
T cell impairment, not limited to HCV-specific CD8
+
T-cells. Liver-infiltrating monocyte-derived macrophages (MDMs) contribute to the local micro-environment and can interact with and influence cells routinely trafficking through the liver, including CD8
+
T-cells. MDMs can be polarized into M1 (classically activated) and M2a, M2b, and M2c (alternatively activated) phenotypes that perform pro- and anti-inflammatory functions, respectively. The impact of chronic HCV infection on MDM subset functions is not known. Our results show that M1 cells generated from chronic HCV patients acquire M2 characteristics, such as increased CD86 expression and IL-10 secretion, compared to uninfected controls. In contrast, M2 subsets from HCV-infected individuals acquired M1-like features by secreting more IL-12 and IFN-γ. The severity of liver disease was also associated with altered macrophage subset differentiation. In co-cultures with autologous CD8
+
T-cells from controls, M1 macrophages alone significantly increased CD8
+
T cell IFN-γ expression in a cytokine-independent and cell-contact-dependent manner. However, M1 macrophages from HCV-infected individuals significantly decreased IFN-γ expression in CD8
+
T-cells. Therefore, altered M1 macrophage differentiation in chronic HCV infection may contribute to observed CD8
+
T-cell dysfunction. Understanding the immunological perturbations in chronic HCV infection will lead to the identification of therapeutic targets to restore immune function in HCV
+
individuals, and aid in the mitigation of associated negative clinical outcomes.
View Full-Text
►

▼

Figures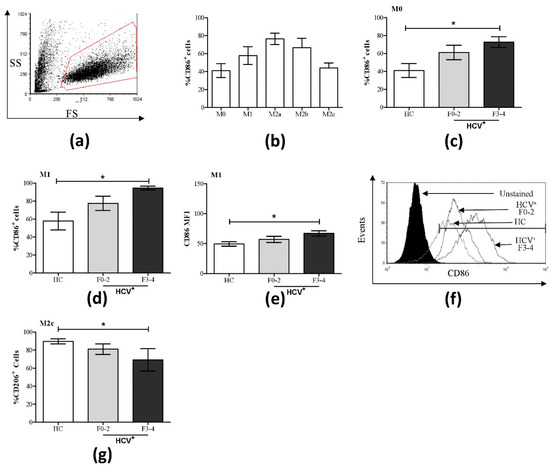 Figure 1
This is an open access article distributed under the
Creative Commons Attribution License
which permits unrestricted use, distribution, and reproduction in any medium, provided the original work is properly cited (CC BY 4.0).

Share & Cite This Article
MDPI and ACS Style
Ahmed, F.; Ibrahim, A.; Cooper, C.L.; Kumar, A.; Crawley, A.M. Chronic Hepatitis C Virus Infection Impairs M1 Macrophage Differentiation and Contributes to CD8+ T-Cell Dysfunction. Cells 2019, 8, 374.
Note that from the first issue of 2016, MDPI journals use article numbers instead of page numbers. See further details here.
Related Articles
Comments
[Return to top]