Open Access This article is
freely available
re-usable
Review
Metabolic Reprogramming in Breast Cancer and Its Therapeutic Implications
Department of Pharmacology and Therapeutics, Center for Genetics & Pharmacology, Roswell Park Comprehensive Cancer Center, Buffalo, NY 14263, USA
*
Author to whom correspondence should be addressed.
Received: 31 December 2018 / Accepted: 22 January 2019 / Published: 26 January 2019
Abstract
:
Current standard-of-care (SOC) therapy for breast cancer includes targeted therapies such as endocrine therapy for estrogen receptor-alpha (ERα) positive; anti-HER2 monoclonal antibodies for human epidermal growth factor receptor-2 (HER2)-enriched; and general chemotherapy for triple negative breast cancer (TNBC) subtypes. These therapies frequently fail due to acquired or inherent resistance. Altered metabolism has been recognized as one of the major mechanisms underlying therapeutic resistance. There are several cues that dictate metabolic reprogramming that also account for the tumors' metabolic plasticity. For metabolic therapy to be efficacious there is a need to understand the metabolic underpinnings of the different subtypes of breast cancer as well as the role the SOC treatments play in targeting the metabolic phenotype. Understanding the mechanism will allow us to identify potential therapeutic vulnerabilities. There are some very interesting questions being tackled by researchers today as they pertain to altered metabolism in breast cancer. What are the metabolic differences between the different subtypes of breast cancer? Do cancer cells have a metabolic pathway preference based on the site and stage of metastasis? How do the cell-intrinsic and -extrinsic cues dictate the metabolic phenotype? How do the nucleus and mitochondria coordinately regulate metabolism? How does sensitivity or resistance to SOC affect metabolic reprogramming and vice-versa? This review addresses these issues along with the latest updates in the field of breast cancer metabolism.
Keywords:
breast cancer; metabolism; estrogen receptors; p53; standard-of-care; resistance mechanisms; molecular subtypes; tumor microenvironment; mitochondria; mito-nuclear crosstalk; metabolism in metastatic cascade; metabolic reprogramming; precision medicine
1. Introduction
As an emerging hallmark of cancer, altered metabolism has gained significant traction for therapeutic intervention over the last decade. The emergence of this field stemmed from a seminal observation made by Dr. Otto Warburg that cancer cells, unlike normal cells, preferentially undergo glycolysis in the presence of an oxygen rich environment [
1
]. This phenomenon, termed the Warburg effect, was one of the first indicators of a metabolic vulnerability observed in cancer cells. With the advent of new technologies, a number of recent studies have reiterated the importance of metabolic reprogramming in various cancers. While the importance of glycolysis in the survival and progression of certain cancers is undeniable, it has increasingly become evident that cancer cells may preferentially utilize a number of alternative metabolic pathways to drive their phenotype [
2
,
3
]. Interestingly, recent reports suggest that cancer cells may use one or multiple metabolic pathways depending on their stage in the metastatic cascade [
4
]. Furthermore, cancer cells may adopt a specific metabolic program based on the site to which they metastasize [
5
,
6
,
7
,
8
]. Both cell extrinsic and intrinsic cues are believed to govern the type of metabolic program adopted by a cancer cell [
9
].
Altered metabolism is a characteristic feature of both treatment-naive and treatment-resistant breast cancer. The current treatment options for breast cancer depend on the broad classification of breast cancer into (i) estrogen receptor α (ERα)-positive, progesterone receptor (PR)-positive; (ii) human epidermal growth factor receptor 2 (HER2) enriched, and (iii) triple negative breast cancer (TNBC) that do not express any of these three receptors [
10
,
11
,
12
,
13
]. About 70% of the breast cancer cases present as ERα+ and are treated with hormone therapy [
12
]. HER2 overexpressing cancers occur in 25–30% of the cases and are frequently treated with Trastuzumab [
14
,
15
]. There is no targeted therapy for TNBC that constitutes 15–20% of breast cancer cases and therefore, conventional cytostatic chemotherapy remains the only therapeutic option. Treatment failure in all these breast cancer types occurs as a consequence of inherent or acquired resistance [
16
,
17
]. One of the ways cells become resistant to therapy is by rewiring their metabolism; therefore, these metabolic alterations can potentially be exploited for therapeutic intervention. The combination of metabolic intervention along with the above-mentioned standard-of-care (SOC) treatment has been investigated but the results have been mixed. While significant strides have been made in this area of research, several questions still warrant deeper investigation. What are the metabolic differences between the different subtypes of breast cancer? Do cancer cells have a metabolic pathway preference based on the site and stage of metastasis? How do the cell intrinsic and extrinsic cues dictate the metabolic phenotype? How does crosstalk between the nucleus and cytoplasm/mitochondria regulate metabolism? How does sensitivity or resistance to SOC affect metabolic reprogramming and vice-versa? This review attempts to address these important issues while summarizing the developments made in the field of altered metabolism in breast cancer.
2. Determinants of Metabolic Reprogramming
Several factors contribute towards driving metabolic reprogramming in cancer cells. These can be broadly classified into cell-intrinsic and -extrinsic cues. Intrinsic cues include oncogenes and tumor suppressor genes that regulate metabolic pathways at multiple levels in different cellular compartments. There are several regulators of breast cancer metabolism such as phosphatidylinositol-4,5-bisphosphate 3-kinase (PI3K), MYC, ER, breast cancer susceptibility gene 1 (BRCA1), and p53 [
18
,
19
,
20
,
21
,
22
,
23
,
24
,
25
,
26
,
27
,
28
,
29
]. Furthermore, there is functional interplay between MYC, ERα, BRCA, and p53 [
30
,
31
,
32
,
33
]. This review focuses on how ER and p53 intricately regulate breast cancer metabolism on their own or via inter-dependent mechanisms including protein–protein interactions.
In addition to the cell-intrinsic cues, cell-extrinsic cues comprise of nutrient availability, hypoxia, acidosis and the interaction of the tumor with components of its microenvironment (TME), including surrounding blood vessels, immune cells, fibroblasts, bone marrow-derived inflammatory cells, lymphocytes, and the extracellular matrix. These factors create a selection pressure on cancer cells, where only those cells that undergo a favorable metabolic transformation survive. The changes in metabolic pathways/fluxes induced by either extrinsic or intrinsic factors often impinge on each other providing avenues for several feedforward and feedback loops. Both of these factors are discussed in greater detail in the following sections.
2.1. Cell Intrinsic Cues: Role of Estrogen Receptors and p53 in Breast Cancer
Estrogen receptors alpha and beta (ERα and ERβ) play a critical role in mediating the development and maturation of the normal mammary gland. The two estrogen receptors vary significantly in their tissue distribution. While ERα is predominantly expressed in the nuclei of epithelial cells, ERβ on the other hand has been reported to be expressed in both cytoplasmic and nuclear compartments of a variety of cells [
34
]. ERβ's expression has been reported in luminal epithelial cells, myoepithelial cells, intralobular stromal cells, endothelial cells lining blood vessels as well as in lymphocytes. In the normal mammary gland, ERβ's expression is far more widespread than ERα [
35
]. Studies involving the genetic deletion of these receptors in mice have reported that ERβ
−/−
but not ERα
−/−
undergo normal mammary gland development, highlighting the importance of ERα in this process [
36
]. Although early studies showed that mice that were homozygous null for p53 had overall normal development [
37
,
38
] and were normal in mammary gland involution and remodeling [
39
], p53 has been shown to play a critical role in regulating mammary stem cell properties such as self-renewal and differentiation [
40
,
41
]. Notably, a delay in apoptosis and involution was observed in p53
−/−
mice compared to mice bearing wild-type p53 [
42
]. When the effect of p53 dosage on mammary gland development was analyzed utilizing the p53
+/m
virgin mouse, defect in mammary gland ductal morphogenesis was observed. This phenotype was rescued by the induction of pregnancy or treatment with estrogen, progesterone, combination of both, or IGF1 [
43
].
A number of studies have reported p53 playing a tumor suppressive role in mammary tumorigenesis [
44
,
45
,
46
,
47
]. Furthermore, several epidemiological studies have shown a reduced risk of breast cancer in women who underwent full-pregnancy early in their lives [
48
,
49
,
50
,
51
]. These observations were further validated in several in vivo models [
52
,
53
,
54
,
55
,
56
]. Subsequently, it was shown that treatment with the combination of estrogen and progesterone or human chorionic gonadotrophin mimicked the protection to a carcinogen challenge similar to early stage, full-term pregnancy as mentioned above [
55
,
57
,
58
]. Elegant studies have shown p53 to play a crucial role in mediating hormone-induced refractoriness to carcinogen-induced breast cancer [
45
,
56
]. Together, these studies showed that hormone treatment induced a sustained induction of nuclear localization of functional p53 and that loss of p53 abrogated the hormone-induced refractoriness to breast cancer.
2.2. Cell Extrinsic Cues and Metabolic Interactions with the Tumor Microenvironment
2.3. Cytoplasmic/Mitochondrial-Nuclear Crosstalk Regulates Breast Cancer Metabolism
3. Altered Metabolism in Primary versus Metastatic Lesions and Site-Specific Metabolic Alterations
One of the major challenges in cancer treatment deals with providing therapeutic options once the primary tumor has metastasized to distant organs. Disease prognosis drops drastically once metastasis has occurred and therapeutically recurrent primary and metastatic lesions are typically not sensitive to first line therapy. The metastatic process is complex and multifactorial in nature. Cancer cells in order to metastasize have to overcome a number of hurdles from intravasation to survival in the circulatory system and extravasation to a distant site. For solid tumors such as breast cancer, in order to survive anchorage independence, subsequent growth and proliferation in a foreign microenvironment presents a significant challenge. One of the ways cancer cells overcome these hurdles is by altering their metabolism. Several reports have looked into differences in metabolic reprogramming in primary tumors compared with their metastatic counter parts [
4
,
5
,
6
,
7
,
8
].
A distinguishing feature between cancer cells with enhanced metastatic potential compared to non-metastatic cancer cells is their metabolic plasticity (
Figure 3
). This means that metastatic cancer cells do not overbearingly rely on a single metabolic pathway such as glycolysis or OXPHOS to meet their metabolic needs. These cells often run multiple metabolic pathways in parallel, regulating the utilization of the various pathways based on their adaptive needs as governed by cell extrinsic and intrinsic cues. A study investigating metabolic pathway differences between primary, circulating, and metastatic cancer cells in an isogenic mammary tumor background reported the importance of increased mitochondrial biogenesis and OXPHOS for cancer cells to metastasize. The authors found that several processes involved in the metastatic cascade such as invasion and migration favored mitochondrial respiration and ATP generation compared to anabolic pathways. It was reported that the transcription of PGC-1α was increased in circulating and metastatic cancer cells compared to the primary cancer cells [
4
]. Clinical data analysis showed correlation between the expression of PGC1-α in invasive cancer cells with their ability to form metastatic lesions. This study helped establish how a cell intrinsic cue was modified to meet the specific metabolic requirements of invasive and metastatic cancer cells. Another study utilizing dynamic magnetic resonance spectroscopy of radiolabeled carbon isotopomers reported an increase in glycolysis and OXPHOS in the highly metastatic 4T1 cells compared to non-metastatic 67NR breast cancer cells. This study also demonstrated that the metastatic cells displayed metabolic plasticity in that they were able to regulate flux between glycolysis and the TCA cycle depending on extrinsic cues [
6
]. A recurrent observation is that cancers originating from a particular histology preferentially metastasize to specific organs. Breast cancer has often been observed to metastasize to the lung, bone, liver, and brain. It has been hypothesized that the microenvironmental niche of these organs favors the metastasis of primary tumors to these sites. One might hence wonder if site-specific metastasis is governed by unique metabolic alterations. In a study using stable isotope tracer assay and microarrays, liver metastatic as compared to bone and lung metastatic breast cancer cells displayed an increase in glycolytic pathway and a reduction in glutamine metabolism and OXPHOS. The study also reported that PDK-1 was required to form efficient liver metastases and that the glycolytic phenotype observed in these cells was governed by both HIF-1α and PDK1 [
5
]. A previous study investigating metabolic alterations in brain metastatic breast cancer reported enhanced glycolysis coupled with mitochondrial respiration for energy production as well as increase in PPP. Interestingly, brain metastatic breast cancer cells were less susceptible to glucose deprivation as compared to parental or bone metastatic cells [
7
]. A recent study reported that increased levels of PGC1-α augmented the ability of breast cancer cells to metastasize to the lung and bone. This study argued the role of PGC1-α as a cell intrinsic cue responsible not only for promoting metastasis but also for playing a vital role in dictating the specific site of metastasis. The elevated expression levels of PGC1-α also provided metabolic flexibility to these cells, apart from increasing their respiratory capacity. Increased expression of PGC1-α facilitated the cells' ability to opt for an alternate metabolic program when mitochondrial respiration was inhibited by biguanides such as metformin [
8
]. A similar study demonstrated that brain metastatic breast cancer cells were able to survive and proliferate independent of glucose by upregulating glutamine and branched chain amino acid oxidation [
227
]. As mentioned earlier, either local or distant recurrence poses a significant treatment challenge. Recurrence arises from cancer cells that manage to survive treatment insults and is broadly termed as minimal residual disease (MRD). A study investigating the metabolic changes accompanied with MRD reported gene expression pattern depicting altered lipid metabolism along with elevated ROS levels. Interestingly, they found that inhibiting either lipid synthesis or transport for oxidation resulted in reduced ROS levels and DNA damage. This study provided rationale for targeting lipid metabolism in MRD warranting further mechanistic and clinical evaluation [
228
].
4. Effects of Treatment and Resistance to SOC on Metabolic Reprogramming
Response to SOC and development of resistance to it are dependent on the specific subtype of breast cancer targeted.
4.1. Luminal A/B Subtype
Luminal breast cancer has been shown to exhibit an intermediate metabolic phenotype in the glycolysis-OXPHOS spectrum. Compared to TNBC these cancers are more reliant on OXPHOS [
229
]. As mentioned earlier, based on the amount of glucose available, E2 can promote glycolysis preferentially as compared to OXPHOS. Under conditions of high glucose E2 promoted glycolysis while in the case of low glucose it promoted OXPHOS [
67
]. This depicts an example of how external cues, in this case nutrient availability, can affect metabolic reprogramming. Nuclear magnetic resonance spectroscopy and proton magnetic resonance imaging showed that E2 induced glycolysis while Tamoxifen reduced it [
230
,
231
]. The induction of glycolysis by E2 and its reduction by tamoxifen were replicated in an orthotopic mouse model. This regulation was mediated via GLUT1 that was transcriptionally upregulated by E2 [
232
]. It has also been shown that E2 induces membrane-initiated rapid activation of the PI3K-Akt pathway as well as the transcriptional upregulation of 6-phosphofructo-2-kinase (PFKFB3) [
233
,
234
]. Both of these studies reveal additional therapeutic targets to be used in conjunction with hormonal therapy. Based on hormone receptor status; ER+ tumors had lower levels of glycine, choline, lactate, and glutamate (high glutamine) compared to ER-tumors. Low glutamate to glutamine ratio correlates with lower levels of glutaminolysis observed in ER+ tumors compared to TNBC [
235
].
Resistance to endocrine therapy occurs through multiple mechanisms. An increase in HER2 levels has been identified in tamoxifen resistant cells (TAM-R). One of the factors responsible for the increased HER2 levels is its post-transcriptional regulation by miR-26a/b and the RNA-binding protein human antigen R (HuR) [
236
]. Increased HER2 has been shown to regulate glycolysis indicating a potential role of dysregulated glycolysis in TAM-R cells. Increased glycolysis has also been observed in TAM-R cells via the activation of Akt/mTOR/HIF-1α axis. Inhibiting glycolysis via hexokinase II inhibition decreased Akt/mTOR/HIF-1α signaling and restored Tamoxifen sensitivity in antiestrogen-resistant breast cancer cells [
237
]. A study corroborating an increase in glycolysis in TAM-R cells also observed a counter intuitive increase in NRF-1 and its target TFAM [
238
]. Similarly, RNA sequencing studies to identify genes differentially expressed in tamoxifen-resistant vs. -sensitive cells found gene expression pattern suggesting dysfunctional mitochondria and altered OXPHOS in TAM-R cells [
239
]. Upregulation of these factors would typically increase mitochondrial activity via an increase in mitochondrial biosynthesis. The miR-29 transcriptome has also been shown to have differential effects in endocrine sensitive vs. resistant breast cancer cells. miR-29 has been shown to suppress growth of TAM-R cells in part by repressing genes involved in mitochondrial bioenergetics [
240
]. MYC has been found to be overexpressed in AI resistant breast cancer through the crosstalk between ER and HER2 pathways. Glutamine transporter SLC1A5 and GLS was significantly upregulated in AI resistant breast cancer cells and the inhibition of MYC, SLC1A5, and GLS was found to decrease the proliferation of AI resistant cells [
241
]. Hormonal therapy resistant metastatic cancer displays characteristics of enriched CD133, IL6 signaling, and low levels of ER. CD133
hi/
ER
lo
leads to a suppression of mitochondrial OXPHOS [
242
]. A recent study reported a critical role of branched chain amino acid transaminase 1 (BCAT1) in antiestrogen-resistant and ERα- breast cancers. BCAT1 plays a major role in catabolizing the reversible transamination of branched chain amino acids into branched chain keto acids that might serve as substrates for TCA cycle activity [
243
]. Another study reported an increase in cholesterol/lipid and nucleotide metabolism in tamoxifen-resistant breast tumors. The authors from this study reported MUC1-induced lipid metabolism-related gene alterations, generating a gene signature predictive of response to tamoxifen treatment [
244
].
4.2. HER2-Enriched Breast Cancer
HER2+ breast cancer has been reported to exhibit a glycolytic phenotype. HER2 mediated signaling promotes glucose utilization, regulates lactate dehydrogenase-A (LDH-A) levels, PFKFB3 levels, and lactate accumulation in tumors [
245
,
246
,
247
,
248
,
249
]. In addition to these mechanisms, it has been reported in both cell lines and patient samples that HER2 translocates to the mitochondria in association with mitochondrial heat shock protein-70 (mtHSP70). Mitochondrial HER2 negatively regulates complex activity and oxygen consumption indirectly promoting glycolysis [
250
]. A novel EGFR/HER2 inhibitor KU004 was reported to decrease cancer cell proliferation via reduction in glycolysis [
251
]. Inhibition of PFKFB3 a critical enzyme involved in glycolysis suppressed growth of HER2 driven cancers. Using a mouse model driven by HER2 activation and LKB1 loss it was identified that therapies targeting mTORC1/mTORC2 and glycolysis provide the best therapeutic outcome [
241
]. Significantly higher expression of carnitine palmitoyltransferase-1A (CPT1A), perilipin-1(PLIN1), fatty acid synthase (FASN) have been reported in HER2+ tumors and cell lines compared to other subtypes [
252
]. It has also been observed that HER2+ tumors exhibit elevated levels of glycine, glutamine, succinate, and creatinine while displaying a reduction in alanine levels as compared to HER2- tumors [
235
].
Trastuzumab resistant cells have been reported to exhibit increased glycolysis. Glycolytic inhibition sensitized trastuzumab resistant (and responsive) HER2+ breast cancers to trastuzumab treatment [
253
]. Several mechanisms have been attributed to trastuzumab resistance in HER2+ breast cancer. One study identified increased levels of the truncated form of the dopamine and cAMP-regulated neuronal phosphoprotein 32 (t-Darpp) that interacts with the insulin growth factor receptor (IGF-1R) stimulating activation of IGF-1R signaling and glycolytic capacity. Hence t-Darpp was identified as a potential target inhibiting IGF-1R signaling and increased glycolysis in trastuzumab resistant HER2 cancer [
254
]. In a similar study, citrate therapy was shown to inhibit the phosphorylation of IGF-1R. By inhibiting the IGF-1R-Akt-PTEN-peIF2 pathway citrate therapy inhibited an inducible Her2 driven breast cancer model via the inhibition of both the TCA cycle and glycolysis [
255
]. Another study reported Skp2 SCF complex as the E3 ubiquitin ligase responsible for HER2 mediated Akt ubiquitination. Akt signaling cascade has been reported to increase glucose uptake and glycolysis via increased GLUT1 transcription and membrane translocation. While targeting glycolysis via Skp2, this study identified a means to sensitize HER2+ tumors to trastuzumab treatment [
256
]. The neuropeptide neuromedin U (NmU) has been shown to be increased in trastuzumab resistant HER2+ cancers. Ectopic expression of NmU has been shown to increase glycolysis likely via PDK activity positing as a potential therapeutic target [
257
].
In addition to the reliance of HER2+ breast cancers on glycolysis, these cells are also dependent on fatty acid synthesis, increased levels of stored fats and disruption of synthetic processes. In the presence of palmitate, FA synthesis was inhibited and glutamine, glucose, and serine/glycine metabolism was significantly altered via the activation of AMPK [
258
]. High levels of EphA2 in HER2+ tumors increase its dependency on glutamine metabolism via increase in transcription of glutamine transporter SLC1A5 and GLS identifying a novel therapeutic target in EphA2 [
259
]. These studies reflect the myriad of mechanisms involved in resistance to SOC and how metabolic intervention can be used to re-sensitize resistant cells to SOC.
4.3. TNBC/Basal-Like-Cancer
The triple negative/basal-like subtype of breast cancer currently lacks therapeutic targets. Coupled with an inherently aggressive phenotype, TNBC often have a poorer prognosis compared to the other subtypes. TNBC has been reported to have a greater glycolytic phenotype as compared to luminal breast cancer based on their high extra cellular acidification rate (ECAR)/OCR ratio [
229
]. Other studies have reported increased glycolysis in TNBC via EGF signaling and that c-MYC drives glucose metabolism by suppressing thioredoxin-interacting protein (TXNIP)—an inhibitor of glycolysis [
260
]. In patients, the standard chemotherapy regimen in the adjuvant and neoadjuvant setting is sequential anthracycline-taxane based that maybe supplemented by platinum-based chemotherapy in some cases. Other regimens include combinations of adriamycin-taxane-cyclophosphamide, and 5-fluorouracil-epirubicin-cyclophosphamide followed by taxanes [
261
]. Combining doxorubicin with metabolic inhibitors such as metformin and sodium oxamate maximized tumor growth inhibition as compared to any bi-drug combination [
262
]. The expression of transketolase (TKT), a metabolic enzyme involved in the non-oxidative branch of the PPP also linking it to glycolysis, was found to correlate with tumor size in a syngeneic TNBC murine model. Pharmacological inhibition of this enzyme by oxythiamine treatment sensitized TNBC cells to doxorubicin or docetaxel [
263
]. The plant flavonoid luteolin, has been reported to reduce glycolytic flux and sensitize mouse mammary 4T1 cells to doxorubicin treatment [
264
]. Doxorubicin resistant breast cancers exhibit features of enhanced glycolysis as well as an increase in biosynthetic pathways. Using orthotopic mouse models it has been reported that targeting glycolysis made doxorubicin-resistant tumors sensitive to doxorubicin treatment. Others have reported that repressing phosphoglycerate dehydrogenase (PHGDH) sensitizes TNBC to doxorubicin [
265
]. Another study reported an increase in glucose metabolism in doxorubicin resistant cells mediated via an increase in FGFR4 expression levels. Inhibition of the FGFR4-Erk pathway led to a reduction in glucose metabolism and increased chemosensitivity [
266
].
Illustrating the metabolic plasticity of TNBC, two recent reports highlight the importance of OXPHOS in TNBC via an increased susceptibility to fatty acid oxidation inhibitors. In one study the authors showed that the tumors expressing high levels of MYC were susceptible to fatty acid oxidation while in the other study the authors showed that TNBC displayed elevated levels of fatty acid oxidation and activation of Src. Significant heterogeneity in metabolic adaptation exists even within TNBC [
267
,
268
]. Metabolic profiling of different subtypes of TNBC revealed differential susceptibility to metabolic modulators [
269
]. In terms of metabolites, TNBC showed a decrease in glutamine and an increase in choline and glutamate levels compared to triple positive breast cancer (TPBC). Another study in tumors from African American women reported a similar increase in glutaminolysis in TNBC compared to ER+ tumors. They also reported an increase in succinate, fumarate, and isoleucine indicating potential increase in TCA activity in TNBC compared to ER+ tumors [
270
]. These studies while highlighting metabolic plasticity within TNBC also suggest multiple potential adjuvant therapeutic targets.
5. Current Status of Metabolic Intervention in Breast Cancer: Challenges that Lie Ahead
The past decade has seen a massive resurgence in the field of altered metabolism and targeting such pathways with a number of drugs in different stages of preclinical and clinical development (
Table 2
). However, the extremely promising preclinical studies have had at best modest clinical benefits. One of the major reasons for this stems from metabolic plasticity. This implies that drugs targeting specific metabolic pathways have an increased likelihood of failure owing to the ability of tumor cells to bypass the targeted pathway. This problem is often compounded by intra-tumoral heterogeneity, interactions with the tumor microenvironment and metastases. Another problem stemming from metabolic monotherapy and metabolic plasticity is that doses required to elicit an adequate response are often high and lead to unacceptable toxicities [
271
,
272
,
273
]. Hence, drugs fail due to insufficient dose and/or exposure to the tumor. To combat these problems, a multi-pronged approach targeting multiple metabolic pathways is warranted. In some cases, this can be achieved by using two or more drugs targeting different metabolic pathways. More importantly, in some cases one could leverage of the impact of standard of care therapies on altered metabolism, complimenting it with a drug targeting a compensatory metabolic pathway. Another approach to increasing the efficacy of metabolic therapy is by stratifying patients based on their genetic susceptibility to a specific intervention. Biguanides such as metformin and phenformin have been shown to be more efficacious in p53 null cells compared to wild-type p53 harboring cells [
274
].
Currently, one of the most attractive therapeutic opportunities is targeting tumors harboring mutations in IDH1/IDH2. This has been proven to be especially successful in hematologic malignancies [
275
]. Similarly, auxotrophies created as a result of the genetic make-up of certain tumors allow for a favorable therapeutic opportunity. For example, drugs that deplete arginine or serine in ASS1-deficient or p53 mutant tumors may prove to be successful candidates for clinical intervention [
276
].
6. Concluding Remarks
Altered metabolism as a therapeutic vulnerability is as promising as it is challenging. Metabolic plasticity need not be inherent but may be adaptive, based on the stage of tumor progression, metastatic site, and the type of treatment administered. Another layer of complexity arises from cell extrinsic cues such as nutrient availability; hypoxia and extracellular pH levels that often dictate the metabolic program of a cancer cell. The tumor microenvironment is often modified by tumor cells to aid in their metabolic reprogramming facilitating their growth and proliferation in a symbiotic manner. Information from these active areas of research should help in discovering new therapeutic strategies and repurposing existing drugs for effective intervention. Effective metabolic therapy would require precision medicine with integration of genomics, proteomics and metabolomics, stratifying patients into groups likely to benefit from specific intervention.
Funding
This research was funded by National Cancer Institute (NCI) at the National Institutes of Health (NIH), USA, CA164572, and the Roswell Park Alliance Foundation research grant. NG was funded by Mark Hamister-Christopher Lee Award for Doctoral Student Research from the Roswell Park Alliance Foundation.
Conflicts of Interest
The authors declare no conflict of interest.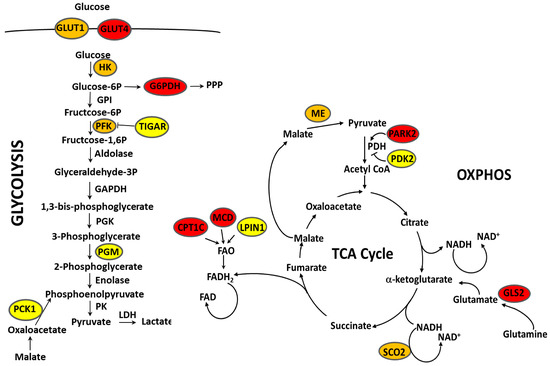 Figure 1. Metabolic crosstalk between ERα and p53. Metabolic targets regulated by both p53 and ERα are shown. These targets maybe regulated in the same direction (yellow: activated or repressed), opposite direction (red: repressed by one and activated by the other) or are bi-directionally regulated (orange: both activated and repressed).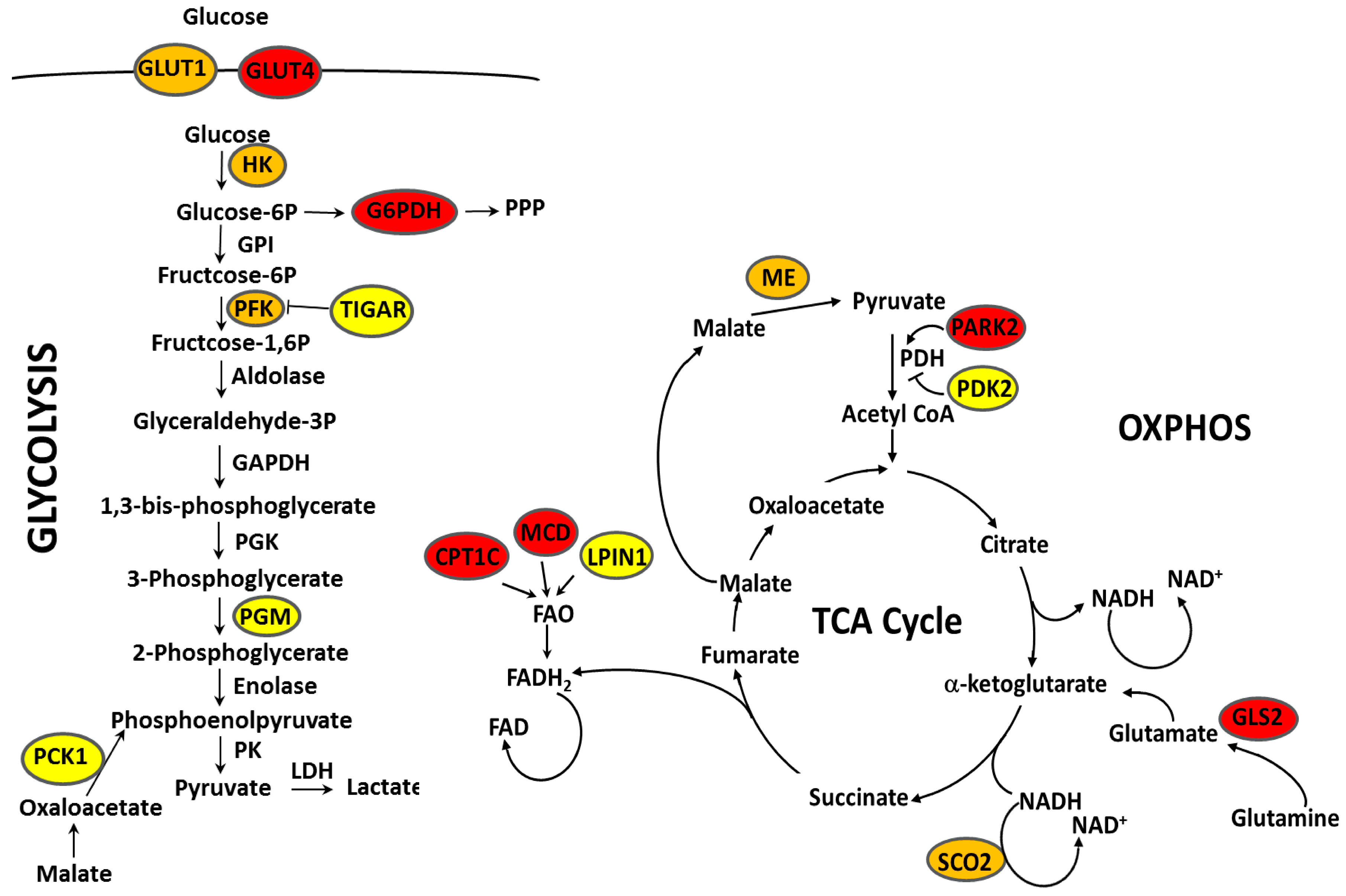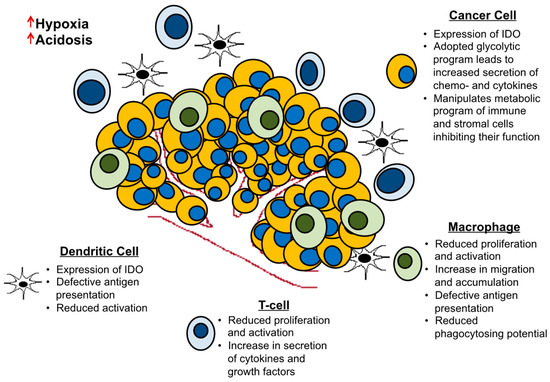 Figure 2. Metabolic interactions between the tumor and its microenvironment. T-cells, dendritic cells, and macrophages undergo metabolic reprogramming with different functional consequences (noted in the figure) that often propel tumor growth and progression.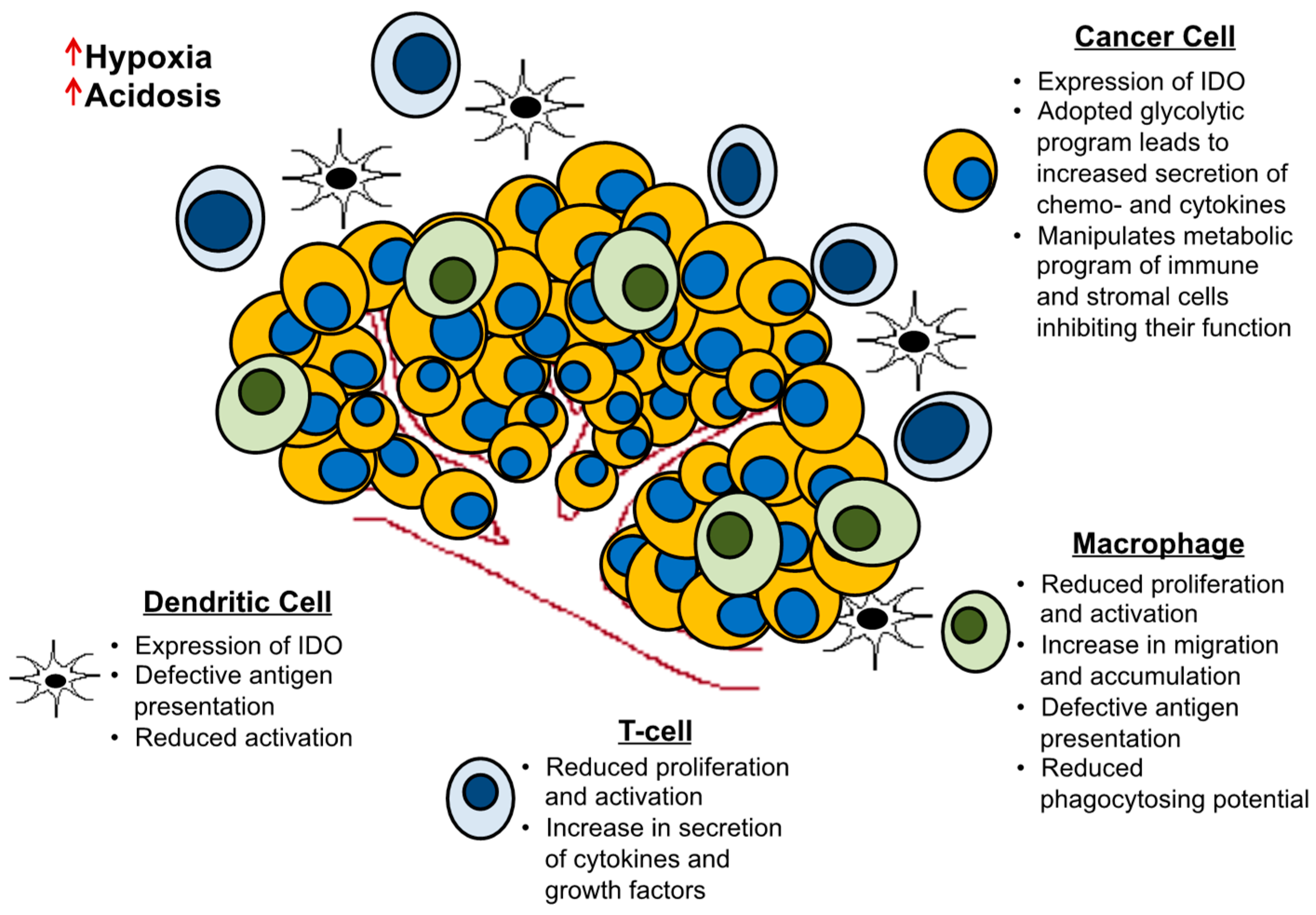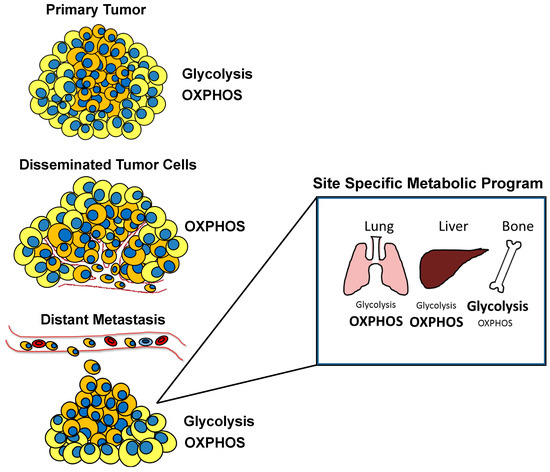 Figure 3. Metabolic plasticity of cancer cells during metastatic cascade. Cancer cells may adopt different energy pathways, i.e., glycolysis or OXPHOS based on their stage in the metastatic cascade as well as the site to which they metastasize.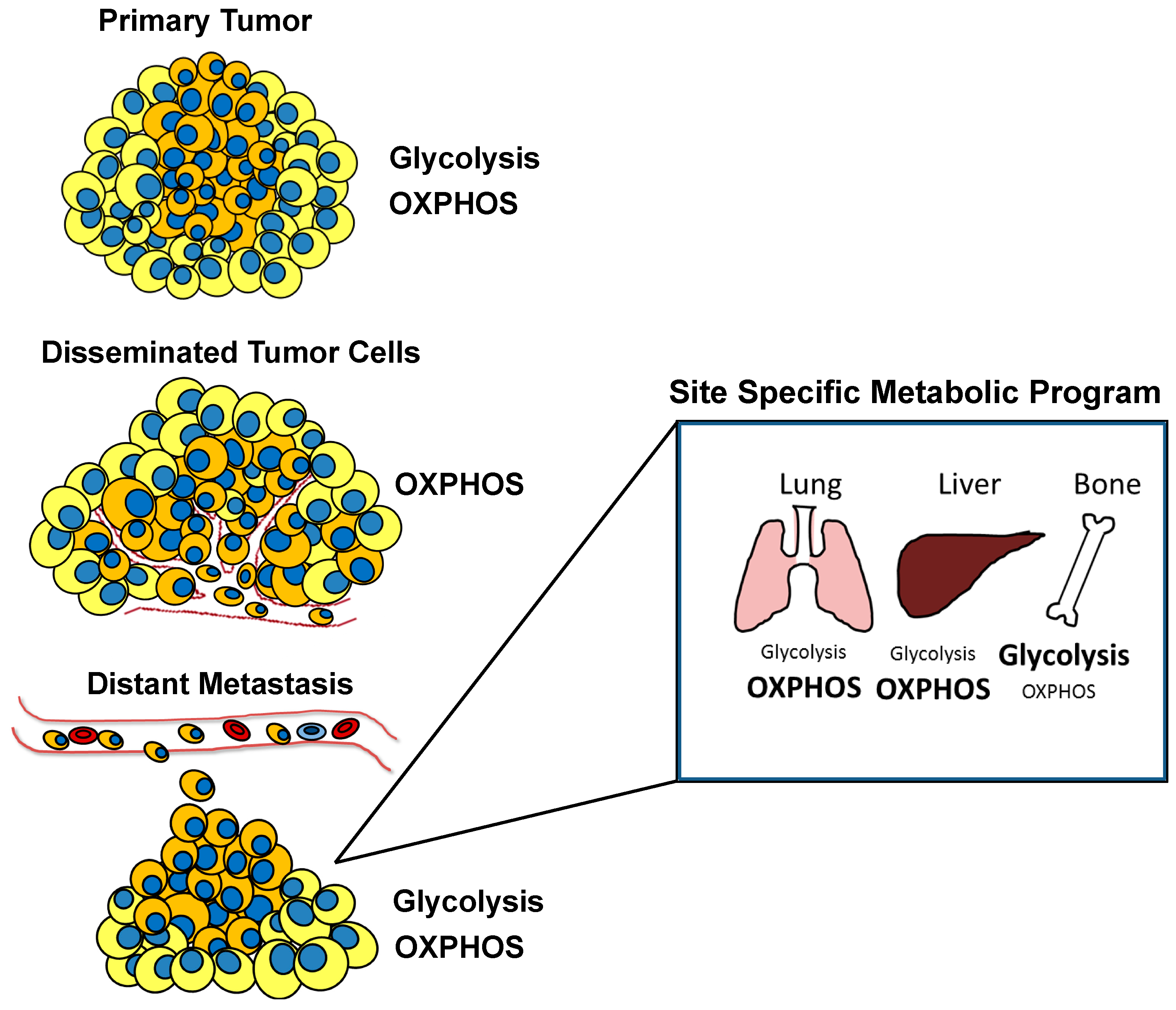 Metabolic Targets of p53
Regulation by p53
p53 Status ∗
Regulation by ERα
p53 Status ∗
References
G6PD
Repression
wt
Activation
wt
[135,136]
SREBP1
Repression
wt
Activation
wt
[136]
Repression
wt
[135]
PFK1(PFKM)
Repression
wt
Repression
wt
[135]
Activation
wt
[137]
PGM1
Repression
wt
Repression
wt
[136,138]
PDK2
Repression
wt
Repression
wt
[135]
PCK1
Repression
wt
Activation
wt, R280K
[139,140]
HK2
Repression/Activation
G103S, E256G
Repression
wt
[141,142]
Activation
wt
[136,138,143]
GLUT1(SLC2A1)
Repression
wt
Repression
wt
[136,142,144]
Activation
wt, R280K, E285K
[135,138,140,143,145,146,147]
GLUT4(SLC2A4)
Repression
wt
Activation
wt
[135,148]
ME1
Repression
wt
Repression
wt, L194F, E285K
[135,138,149]
Activation
wt
[136,139,141]
ME2
Repression
wt
Repression
wt
[136]
Activation
wt
[138]
TIGAR
Activation
wt
Activation
wt, L194F, E285K
[149]
PARK2
Activation
wt
Repression
wt
[150]
SCO2
Activation
wt
Activation
wt
[144]
Repression
wt
[138]
LPIN1
Activation
wt
Activation
wt
[150]
CPT1C
Activation
wt
Repression
wt
[136]
GLS2
Activation
wt
Repression
wt
[135]
MCD (MLYCD)
Activation
wt
Repression
wt
[136]
∗ p53 status of cell lines used to determine the ability of p53 and ER to regulate the metabolic enzymes listed in the table. wt: wild-type.

Table 2. Drugs currently in different stages of development as metabolic interventions in breast cancer
Target Protein and Pathway
Drug
Type
Indications
Clinical Trials
Glycolysis
SGLT-2
Dapagliflozin
Retrospective/Observational
Incidence of breast and bladder cancer
NCT02695121
Hexokinase
2-deoxy-D-glucose (2DG)
Phase I
Breast cancer and advanced solid malignancies
NCT00096707
TCA Cycle and MRC
PDK
Dichloroacetate
Phase II
Metastatic breast cancer or NSCLC
NCT01029925
PDH/KGDH
CPI-613
Phase II
Advanced solid tumors
NCT01832857
ME-344
Early Phase I
Her2- metastatic breast cancer
NCT02806817
Complex I
Metformin
Phase I/Phase II/Phase III
All breast cancer
multiple clinical trials
Lipid Synthesis
FASN
TVB-2640
Phase II
Her2+ metastatic breast cancer resistant to trastuzumab and taxanes
NCT03179904
Omeprazole
Phase II
Triple negative breast cancer
NCT02595372
Conjugated Linoleic Acid (CLA)
Phase I
Metastatic breast cancer
NCT00908791
AA Metabolism
Glutaminase
CB-839
Phase I/Phase II
Advanced solid tumors/advanced TNBC
NCT02071862 NCT03057600
Indoleamine 2,3 dioxygenase (IDO1)
Indoximod
Phase I/Phase II
Metastatic breast cancer
NCT01792050 NCT01042535
Epacadostat
Phase I/Phase II
TNBC and other selected cancers
NCT02178722
Arginine deiminase (ADI)
ADI-PEG20
Phase I
Her2- metastatic breast cancer
NCT01948843

© 2019 by the authors. Licensee MDPI, Basel, Switzerland. This article is an open access article distributed under the terms and conditions of the Creative Commons Attribution (CC BY) license (http://creativecommons.org/licenses/by/4.0/).