Manganese Suppresses the Haploinsufficiency of Heterozygous
trpy1Δ/TRPY1

Saccharomyces cerevisiae

Cells and Stimulates the TRPY1-Dependent Release of Vacuolar Ca2+ under H2O2 Stress

Department of Organic Chemistry, Biochemistry and Catalysis, Faculty of Chemistry, University of Bucharest, Sos. Panduri 90-92, 050663 Bucharest, Romania

*

Author to whom correspondence should be addressed.

Received: 17 December 2018 / Revised: 9 January 2019 / Accepted: 18 January 2019 / Published: 22 January 2019
Abstract
Transient potential receptor (TRP) channels are conserved cation channels found in most eukaryotes, known to sense a variety of chemical, thermal or mechanical stimuli. The
Saccharomyces cerevisiae
TRPY1 is a TRP channel with vacuolar localization involved in the cellular response to hyperosmotic shock and oxidative stress. In this study, we found that
S. cerevisiae
diploid cells with heterozygous deletion in
TRPY1
gene are haploinsufficient when grown in synthetic media deficient in essential metal ions and that this growth defect is alleviated by non-toxic Mn
2+
surplus. Using cells expressing the Ca
2+
-sensitive photoprotein aequorin we found that Mn
2+
augmented the Ca
2+
flux into the cytosol under oxidative stress, but not under hyperosmotic shock, a trait that was absent in the diploid cells with homozygous deletion of
TRPY1
gene. TRPY1 activation under oxidative stress was diminished in cells devoid of Smf1 (the Mn
2+
-high-affinity plasma membrane transporter) but it was clearly augmented in cells lacking Pmr1 (the endoplasmic reticulum (ER)/Golgi located ATPase responsible for Mn
2+
detoxification via excretory pathway). Taken together, these observations lead to the conclusion that increased levels of intracytosolic Mn
2+
activate TRPY1 in the response to oxidative stress.
View Full-Text
►

▼

Figures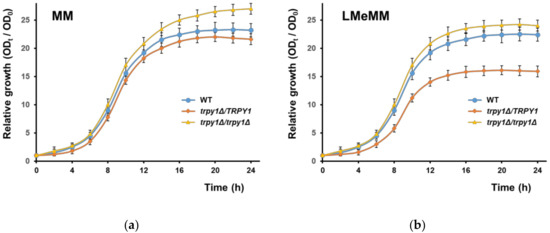 Figure 1
This is an open access article distributed under the
Creative Commons Attribution License
which permits unrestricted use, distribution, and reproduction in any medium, provided the original work is properly cited (CC BY 4.0).

Share & Cite This Article
MDPI and ACS Style
Ruta, L.L.; Nicolau, I.; Popa, C.V.; Farcasanu, I.C. Manganese Suppresses the Haploinsufficiency of Heterozygous trpy1Δ/TRPY1 Saccharomyces cerevisiae Cells and Stimulates the TRPY1-Dependent Release of Vacuolar Ca2+ under H2O2 Stress. Cells 2019, 8, 79.
Note that from the first issue of 2016, MDPI journals use article numbers instead of page numbers. See further details here.
Related Articles
Comments
[Return to top]