Metformin Increases Proliferative Activity and Viability of Multipotent Stromal Stem Cells Isolated from Adipose Tissue Derived from Horses with Equine Metabolic Syndrome
1
Department of Experimental Biology, The Faculty of Biology and Animal Science, University of Environmental and Life Sciences, 50375 Wroclaw, Poland
2
Laboratory of Gene Expression, Institute of Biotechnology CAS, Biocev, 25250 Vestec, Czech Republic
3
Laboratory of Growth Regulators, Faculty of Science, Palacky University, 78371 Olomouc, Czech Republic
4
Gene Core BIOCEV, Průmyslová 595, 25250 Vestec, Czech Republic
5
Department of Anthropology and Human Genetics, Faculty of Science, Charles University, 12843 Prague, Czech Republic
6
TATAA Biocenter AB, 41103 Gothenburg, Sweden
7
Faculty of Veterinary Medicine, Equine Clinic-Equine Surgery, Justus-Liebig-University, 35392 Giessen, Germany
*
Author to whom correspondence should be addressed.
Received: 5 December 2018 / Revised: 18 January 2019 / Accepted: 21 January 2019 / Published: 22 January 2019
Full-Text
|
PDF
[3900 KB, uploaded 30 January 2019]
|
|

Review Reports
Abstract
In this study, we investigated the influence of metformin (MF) on proliferation and viability of adipose-derived stromal cells isolated from horses (EqASCs). We determined the effect of metformin on cell metabolism in terms of mitochondrial metabolism and oxidative status. Our purpose was to evaluate the metformin effect on cells derived from healthy horses (EqASC
HE
) and individuals affected by equine metabolic syndrome (EqASC
EMS
). The cells were treated with 0.5 μM MF for 72 h. The proliferative activity was evaluated based on the measurement of BrdU incorporation during DNA synthesis, as well as population doubling time rate (PDT) and distribution of EqASCs in the cell cycle. The influence of metformin on EqASC viability was determined in relation to apoptosis profile, mitochondrial membrane potential, oxidative stress markers and
BAX
/
BCL-2
mRNA ratio. Further, we were interested in possibility of metformin affecting the Wnt3a signalling pathway and, thus, we determined mRNA and protein level of
WNT3A
and β-catenin. Finally, using a two-tailed RT-qPCR method, we investigated the expression of
miR-16-5p
,
miR-21-5p
,
miR-29a-3p
,
miR-140-3p
and
miR-145-5p
. Obtained results indicate pro-proliferative and anti-apoptotic effects of metformin on EqASCs. In this study, MF significantly improved proliferation of EqASCs, which manifested in increased synthesis of DNA and lowered PDT value. Additionally, metformin improved metabolism and viability of cells, which correlated with higher mitochondrial membrane potential, reduced apoptosis and increased
WNT3A
/β-catenin expression. Metformin modulates the miRNA expression differently in EqASC
HE
and EqASC
EMS
. Metformin may be used as a preconditioning agent which stimulates proliferative activity and viability of EqASCs.
View Full-Text
►

▼

Figures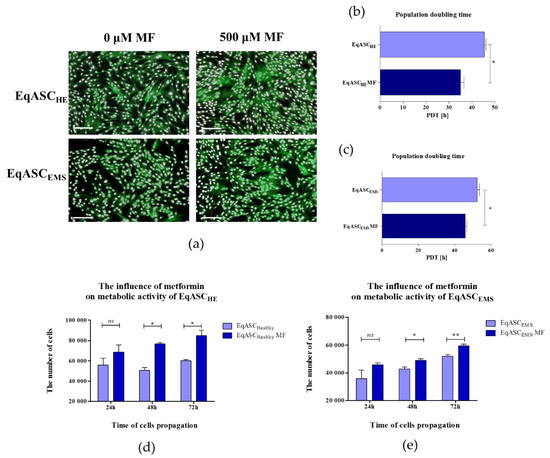 Figure 1
This is an open access article distributed under the
Creative Commons Attribution License
which permits unrestricted use, distribution, and reproduction in any medium, provided the original work is properly cited (CC BY 4.0).

Share & Cite This Article
MDPI and ACS Style
Smieszek, A.; Kornicka, K.; Szłapka-Kosarzewska, J.; Androvic, P.; Valihrach, L.; Langerova, L.; Rohlova, E.; Kubista, M.; Marycz, K. Metformin Increases Proliferative Activity and Viability of Multipotent Stromal Stem Cells Isolated from Adipose Tissue Derived from Horses with Equine Metabolic Syndrome. Cells 2019, 8, 80.
Note that from the first issue of 2016, MDPI journals use article numbers instead of page numbers. See further details here.
Related Articles
Comments
[Return to top]