Extended Assemblies of Ru(bpy)(CO)2X2 (X = Cl, Br, I) Molecules Linked by 1,4-Diiodotetrafluoro-Benzene (DITFB) Halogen Bond Donors
Department of Chemistry, University of Jyväskylä, P.O. Box 35, FI-40014 Jyväskylä, Finland
*
Author to whom correspondence should be addressed.
Received: 20 May 2019 / Revised: 12 June 2019 / Accepted: 19 June 2019 / Published: 24 June 2019
Abstract
The ruthenium carbonyl compounds, Ru(bpy)(CO)
2
X
2
(X = Cl, Br or I) act as neutral halogen bond (XB) acceptors when co-crystallized with 1,4-diiodotetrafluoro-benzene (DITFB). The halogen bonding strength of the Ru-X⋅⋅⋅I halogen bonds follow the nucleophilic character of the halido ligand. The strongest halogen bond occurs between the chlorido ligand and the iodide atoms of the DITFB. All three halogen bonded complexes form polymeric assemblies in the solid state. In Ru(bpy)(CO)
2
Cl
2
⋅DITFB (1) and in Ru(bpy)(CO)
2
Br
2
⋅DITFB (2) both halido ligands are halogen bonded to only one DITFB donor. In Ru(bpy)(CO)
2
I
2
⋅DITFB (3) only one of the halido ligands is involved in halogen bonding acting as ditopic center for two DITFB donors. The polymeric structures of 1 and 2 are isomorphic wave-like single chain systems, while the iodine complexes form pairs of linear chains attached together with weak F⋅⋅⋅O≡C interactions between the closest neighbors. The stronger polarization of the iodide ligand compared to the Cl or Br ligands favors nearly linear C-I⋅⋅⋅I angles between the XB donor and the metal complex supporting the linear arrangement of the halogen bonded chain.
View Full-Text
►

▼

Figures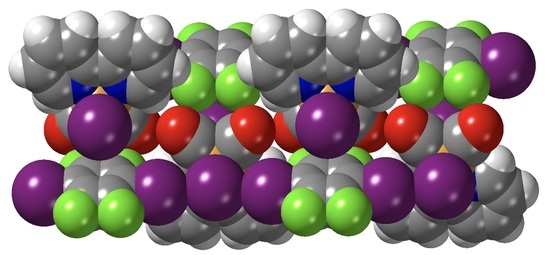 Graphical abstract
This is an open access article distributed under the
Creative Commons Attribution License
which permits unrestricted use, distribution, and reproduction in any medium, provided the original work is properly cited (CC BY 4.0).

Share & Cite This Article
MDPI and ACS Style
Ding, X.; Tuikka, M.; Rissanen, K.; Haukka, M. Extended Assemblies of Ru(bpy)(CO)2X2 (X = Cl, Br, I) Molecules Linked by 1,4-Diiodotetrafluoro-Benzene (DITFB) Halogen Bond Donors. Crystals 2019, 9, 319.
Note that from the first issue of 2016, MDPI journals use article numbers instead of page numbers. See further details here.
Related Articles
Comments
[Return to top]