STAT3 but Not HIF-1α Is Important in Mediating Hypoxia-Induced Chemoresistance in MDA-MB-231, a Triple Negative Breast Cancer Cell Line
1
Faculty of Pharmacy and Pharmaceutical Sciences, University of Alberta, Edmonton, AB T6G 2E1, Canada
2
Department of Laboratory Medicine and Pathology, University of Alberta, Edmonton, AB T6G 2E1, Canada
3
Department of Oncology, University of Alberta, Edmonton, AB T6G 2E1, Canada
4
DynaLIFEDx Medical Laboratories, Edmonton, AB T5J 5E2, Canada
5
Department of Chemical & Materials Engineering, Faculty of Engineering, University of Alberta, Edmonton, AB T6G 1H9, Canada
*
Authors to whom correspondence should be addressed.
Received: 10 September 2017 / Revised: 2 October 2017 / Accepted: 10 October 2017 / Published: 14 October 2017
Abstract
Hypoxia-induced chemoresistance (HICR) is a well-recognized phenomenon, and in many experimental models, hypoxia inducible factor-1α (HIF-1α) is believed to be a key player. We aimed to better understand the mechanism underlying HICR in a triple negative breast cancer cell line, MDA-MB-231, with a focus on the role of HIF-1α. In this context, the effect of hypoxia on the sensitivity of MDA-MB-231 cells to cisplatin and their stem-like features was evaluated and the role of HIF-1α in both phenomena was assessed. Our results showed that hypoxia significantly increased MDA-MB-231 resistance to cisplatin. Correlating with this, intracellular uptake of cisplatin was significantly reduced under hypoxia. Furthermore, the stem-like features of MDA-MB-231 cells increased as evidenced by the significant increases in the expression of ATP-binding cassette (ABC) drug transporters, the proportion of CD44
+
/CD24
−
cells, clonogenic survival and cisplatin chemoresistance. Under hypoxia, both the protein level and DNA binding of HIF-1α was dramatically increased. Surprisingly, siRNA knockdown of HIF-1α did not result in an appreciable change to HICR. Instead, signal transducer and activator of transcription 3 (STAT3) activation was found to be important. STAT3 activation may confer HICR by upregulating ABC transporters, particularly ABCC2 and ABCC6. This study has demonstrated that, in MDA-MB-231 cells, STAT3 rather than HIF-1α is important in mediating HICR to cisplatin.
View Full-Text
►

▼

Figures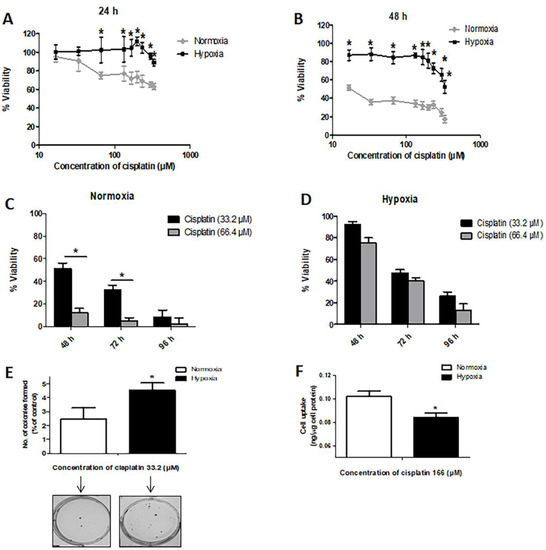 Figure 1
This is an open access article distributed under the
Creative Commons Attribution License
which permits unrestricted use, distribution, and reproduction in any medium, provided the original work is properly cited (CC BY 4.0).

Share & Cite This Article
MDPI and ACS Style
Soleymani Abyaneh, H.; Gupta, N.; Radziwon-Balicka, A.; Jurasz, P.; Seubert, J.; Lai, R.; Lavasanifar, A. STAT3 but Not HIF-1α Is Important in Mediating Hypoxia-Induced Chemoresistance in MDA-MB-231, a Triple Negative Breast Cancer Cell Line. Cancers 2017, 9, 137.
Note that from the first issue of 2016, MDPI journals use article numbers instead of page numbers. See further details here.
Related Articles
Comments
[Return to top]