Overexpression of Periostin and Lumican in Esophageal Squamous Cell Carcinoma
1
Institute of Bioinformatics, International Technology Park, Bangalore 560066, India
2
McKusick-Nathans Institute of Genetic Medicine, Johns Hopkins University School of Medicine, Baltimore, MD 21205, USA
3
Department of Biological Chemistry, Johns Hopkins University School of Medicine, Baltimore, MD 21205, USA
4
Department of Oncology, Johns Hopkins University School of Medicine, Baltimore, MD 21205, USA
5
Department of Medicine, Johns Hopkins University School of Medicine, Baltimore, MD 21205, USA
6
Department of Pathology, Johns Hopkins University School of Medicine, Baltimore, MD 21205, USA
7
Department of Biotechnology, Kuvempu University, Shimoga District, Karnataka 577451, India
8
Biostatistics and Bioinformatics, Fox Chase Cancer Center, Philadelphia, PA 19111-2497, USA
9
Department of Surgical Oncology, Kidwai Memorial Institute of Oncology, Bangalore, Karnataka 560029, India
10
Department of Pathology, Kidwai Memorial Institute of Oncology, Bangalore, Karnataka 560029, India
*
Authors to whom correspondence should be addressed.
Received: 27 January 2010 / Revised: 8 February 2010 / Accepted: 20 February 2010 / Published: 1 March 2010
Abstract
To identify biomarkers for early detection for esophageal squamous cell carcinoma (ESCC), we previously carried out a genome-wide gene expression profiling study using an oligonucleotide microarray platform. This analysis led to identification of several transcripts that were significantly upregulated in ESCC compared to the adjacent normal epithelium. In the current study, we performed immunohistochemical analyses of protein products for two candidates genes identified from the DNA microarray analysis, periostin (
POSTN
) and lumican (
LUM
), using tissue microarrays. Increased expression of both periostin and lumican was observed in 100% of 137 different ESCC samples arrayed on tissue microarrays. Increased expression of periostin and lumican was observed in carcinoma as well as in stromal cell in the large majority of cases. These findings suggest that these candidates can be investigated in the sera of ESCC patients using ELISA or multiple reaction monitoring (MRM) type assays to further explore their utility as biomarkers.
View Full-Text
►

▼

Figures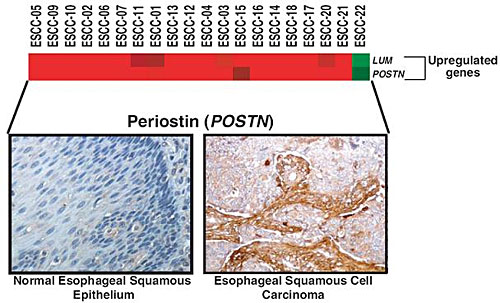 Graphical abstract

Share & Cite This Article
MDPI and ACS Style
Kashyap, M.K.; Marimuthu, A.; Peri, S.; Kumar, G.S.S.; Jacob, H.K.; Prasad, T.S.K.; Mahmood, R.; Kumar, K.V.V.; Kumar, M.V.; Meltzer, S.J.; Montgomery, E.A.; Kumar, R.V.; Pandey, A. Overexpression of Periostin and Lumican in Esophageal Squamous Cell Carcinoma. Cancers 2010, 2, 133-142.
Related Articles
Comments
[Return to top]