Open Access This article is
freely available
re-usable
Review
Reactive Oxygen Species in the Tumor Microenvironment: An Overview
1
Division of Hematology and Oncology, Department of Medicine, University of Michigan, Ann Arbor, MI 48109, USA
2
VA Ann Arbor Health Care System, Ann Arbor, MI 48109, USA
3
Department of Biomedical Engineering, University of Michigan, Ann Arbor, MI 48109, USA
4
Biointerfaces Institute, University of Michigan, Ann Arbor, MI 48109, USA
5
Department of Chemical Engineering, University of Michigan, Ann Arbor, MI 48109, USA
*
Author to whom correspondence should be addressed.
Received: 1 July 2019 / Accepted: 13 August 2019 / Published: 16 August 2019
Abstract
:
Reactive oxygen species (ROS) are important signaling molecules in cancer. The level of ROS will determine physiological effects. While high levels of ROS can cause damage to tissues and cell death, low levels of ROS can have a proliferative effect. ROS are produced by tumor cells but also cellular components that make up the tumor microenvironment (TME). In this review, we discuss the mechanisms by which ROS can affect the TME with particular emphasis on tumor-infiltrating leukocytes. Greater insight into ROS biology in this setting may allow for therapeutic manipulation of ROS levels in order to remodel the tumor microenvironment and increase anti-tumor activity.
Keywords:
ROS; mitochondria; tumorigenesis; tumor microenvironment; stroma; tissue infiltrating lymphocytes; metabolism
1. Introduction
Reactive oxygen species (ROS) include superoxide, hydrogen peroxide and hydroxyl radicals. While ROS can be damaging to lipids, proteins and DNA, in recent years their role as important intracellular and extracellular signaling molecules has become evident [
1
]. The mitochondria are the major source of ROS within a cell and play an essential role in regulation of proliferative, apoptotic and metabolic pathways [
2
,
3
,
4
]. It is established that the hallmarks of cancer include metabolic reprogramming as well as a tumor promoting microenvironment [
5
]. At the interface of both of these important biological events are ROS which are produced by cancer cells as well as cellular components in the microenvironment [
6
,
7
,
8
,
9
]. Understanding how the crosstalk between both extracellular and intracellular ROS not only within the tumor but also with regards to cells that make up the tumor microenvironment (TME) will be critical to our understanding of the process of tumorigenesis. In this review, we will discuss the role of ROS in tumorigenesis. We will also focus a significant portion of the review on describing how ROS regulate the biological processes of cells within the TME including cancer-associated fibroblasts (CAFs) and tumor-infiltrating immune (TII) cells.
2. Role of Reactive Oxygen Species (ROS) in Tumorigenesis
3. Cancer-Associated Fibroblasts, ROS and the Tumor Microenvironment (TME)
4. Tumor Immunity and ROS
Taken together, this again suggests that the level of ROS within a specific cell type has important consequences for the function of that cell. As discussed, high levels of ROS in CTLs may have an anti-tumoricidal effect while low levels of ROS in Tregs seem to be associated with decreased immunosuppression. Furthermore, similar levels of ROS may also have contradicting effects in varying cell types. As shown above, while in CD8 TILs from renal cell carcinoma, high levels of ROS led to impairment and lack of anti-tumor response, high levels of ROS in TILs from mice with colon carcinoma treated with anti-PD-1 blockade were associated with increased tumoricidal effects. Greater research into how ROS within tumor infiltrating immune cells as well as extracellular ROS involvement in modulating tumor immunity will be needed to further characterize how differing levels, locations and types of ROS are affecting tumor immunity.
5. The Microbiome and ROS
Another element that comprises the TME is the microbiome. Over the past few years much research has revolved around the relationship between host microbiota and how the disruption in homeostasis of microbial communities (dysbiosis) affects pathologic conditions such as cancer. It is well known that host microbiota can promote carcinogenesis through induction of pro-inflammatory toxins, alterations in signaling pathways or through impairment of antitumor immune functions [
129
,
130
,
131
,
132
]. Another way host microbiota can potentially induce a tumorigenic state is through production of ROS [
133
]. For example,
Enterococcus faecalis
, a commensal strain of bacteria, can produce large amounts of extracellular superoxide that is converted to H
2
O
2
which can damage eukaryotic cell DNA [
134
]. Pathogenic
Bacteroides fragilis
produces its toxin, which upregulates bacterial polyamine catabolism pathways, generating ROS that can cause DNA damage and lead to tumor formation in the colon [
135
]. Further studies have demonstrated that certain species of bacteria utilize bile acids for their respiration producing DNA-damaging ROS by-products that can induce gastrointestinal cancers [
136
,
137
]. Alternatively, injured mucosa relies upon redox signaling and ROS for repair. Microbiota produce and excrete formylated peptides which activate colonic epithelial formyl peptide receptors inducing localized ROS generation that activates signaling pathways important for epithelial wound healing [
138
]. Taken together this illustrates the dichotomous role of ROS in the microenvironment: as damaging agents as well as growth and healing promoters. In order to understand how ROS fully affect the TME, more research will need to be undertaken to explore the specific role bacterial species-specific ROS have upon tumor, immune and stromal cell function.
While much data supports a role for microbiota derived ROS in tumorigenesis within the TME, studies have associated changes in host mitochondrial metabolism with changes in host microbiota [
139
]. A recent study by Yardeni et al. demonstrated that host mitochondria influence gut microbiome diversity through ROS [
140
]. By examining the gut microbiota of mice with various mutations in genes that alter mitochondrial function the authors were able to show that mitochondrial genetic variations altered the composition of the gut microbiota. Further analysis of mitochondrial DNA variants associated with an altered gut microbiome suggested that diversity correlated with host ROS production. Furthermore, they were able to demonstrate that modulation of ROS levels within mice led to altered gut microbiota. The authors find that decreased mitochondrial ROS leads to a higher diversity of species within the gut microbiota. Recently, a study demonstrated melanoma patients who respond to immunotherapy, have increased gut microbiota diversity [
141
]. Taken together, this suggests that modulation of mitochondrial ROS could be used to enhance a cancer patient's sensitivity to immunotherapy.
6. Therapeutic Implications of ROS Targeting
As reviewed, ROS lies at a crossroads potentially linking the tumor and immune microenvironment. Therefore, ROS are attractive therapeutic targets as a modality to manipulate the tumor and microenvironment cross-talk and improve cancer outcomes. Recently, targeting of mitochondrial complex I, important for mitochondrial ROS generation, has gained clinical traction. Over 10 years ago, metformin, widely used in the treatment of type II diabetes mellitus, demonstrated reduced risk of cancer in diabetic patients [
142
]. Further studies, exploring metformin's mechanism of action demonstrated the ability of metformin to inhibit complex I in vitro [
143
,
144
,
145
]. A further study demonstrated that targeting mitochondrial complex I with metformin led to inhibition of complex I, reduction of complex I generated ROS and reduced tumorigenesis in xenograft mouse models [
146
]. Impart, this led to a multitude of clinical studies which to date have produced disappointing results. Currently, there are multiple clinical trials in progress or actively recruiting centered around the use of metformin in the treatment of cancer. These new trials largely involve use of metformin in combination with immunotherapy (NCT03311308, NCT03874000, NCT03994744), chemotherapy (NCT02122185, NCT01310231, NCT03238495, NCT02122185, NCT03243851) doxycycline (NCT02874430), and intermittent fasting (NCT03709147) in specific sub-populations of cancer patients. There is also significant evidence to show that metformin may influence tumor progression by modulating the TME [
147
]. Through regulation of complex I ROS and mitochondrial metabolism, metformin has the ability to skew the phenotype of TME cell populations. Further studies could potentially address combining metformin with specific cytokine inhibitors, such as IL-6, IL-17, or FOXP3 along with PD-1/PD-L1 to more effectively remodel the TME. Of note, metformin is a weak complex I inhibitor and other clinical studies are currently underway using stronger, more specific mitochondrial ROS inhibitors. In a Phase I study, ME-344, an isoflavone-derived complex I mitochondrial inhibitor, is being evaluated in early stage HER2-negative breast cancer patients in combination with bevacizumab, an anti-vascular endothelial growth factors A (VEGF-A) inhibitor, assessing whether combination of ME-344 and bevacizumab can offset the metabolic changes that occur with anti-VEGF treatment (NCT02806817). These metabolic changes with anti-angiogenic therapies are linked to drug resistance. It is well known that chemotherapy induces ROS generation and that over time tumors become resistant to chemotherapy. Using metformin in combination with second line treatments or at specific time-points during front-line treatment may potentially abrogate or prolong the development of drug resistance. Finally, other clinical studies are focused on finding targeted approaches to blocking not only complex I but complex III of the ETC as well, which is thought to be the major generator of mitochondrial ROS important for induction of cellular signaling pathways. One such study is being performed in patients with chronic myelogenous leukemia (CML) using the antibiotic, Tigecycline, which impairs mitochondrial DNA translation and subsequently inhibits formation of complex I, III, IV and V of the ETC (NCT02883036). In the future, understanding and repurposing drugs that have specific effects on mitochondrial ROS generation could potentially lead to combination therapies that improve outcomes in cancer patients.
Another potential target for therapeutic intervention is the TCA cycle. Cancers have dysregulated metabolism and it is now well appreciated that mitochondrial metabolism is required for a tumor's growth. Recent studies have focused on targeting specific TCA cycle enzymes. One such drug is CPI-613 which is a lipoate analog. Lipoate is a co-factor for both pyruvate dehydrogenase and the alpha-ketoglutarate-dehydrogenase complex both required for rate-limiting steps in the TCA cycle. Inhibition of these enzymes causes mitochondrial dysregulation. As expected, this impairment leads to induction of mitochondrial ROS [
148
]. This induction of mitochondrial ROS by CPI-613 has the potential to tip the redox balance within a tumor cell towards cytotoxicity (
Figure 2
B). CPI-613 would also be expected to have effects on immune cells present in the TME. For example, immunosuppressive immune cells such as M2 macrophages, Tregs and MDSCs depend on oxidative phosphorylation and mitochondrial metabolism. CPI-613 can potentially target these pro-tumor cell types and tip the redox balance in favor of cellular dysfunction or toxicity. Already there is exciting Phase I data in metastatic pancreatic cancer patients suggesting that CPI-613 in combination with standard of care chemotherapy significantly improves overall response rates and potentially progression free survival [
149
]. Currently, there are several clinical trials exploring CPI-613 in combination with chemotherapy in a number of different tumor subtypes (NCT02168140, NCT02232152, NCT03699319, NCT02484391). In the future, combining CPI-613 with immunotherapy could be a potential area of research as well as understanding how CPI-613 could be utilized in patients who have developed drug resistance.
Finally, another attractive therapeutic target is the antioxidant machinery. Recently, RTA-408, also known as omaveloxolone, has been studied in melanoma. RTA-408 is a semisynthetic triterpenoid known to induce nuclear factor erythroid 2-related factor 2 (Nrf2) which is a major cellular regulator of protection against oxidative or electrophilic stress [
150
,
151
,
152
]. Through this mechanism, RTA-408 suppresses reactive oxygen and nitrogen species which has been demonstrated in tumor xenografts [
153
]. This effect of RTA-408 has also been shown in MDSCs [
153
]. At higher concentrations RTA-408 also selectively inhibits tumor growth through nuclear factor kappa-B kinase subunit [
153
]. Together, this drug can potentially target tumor and the immunosuppressive TME concurrently. Currently, there is a clinical Phase I/II study underway combining RTA-408 with immunotherapy in patients with melanoma.
Altogether, targeting ROS within the tumor and TME has the potential to improve outcomes to current treatments. While it is unlikely that targeting ROS alone will derive therapeutic benefit, as evidenced by single agent metformin trials, in combination with cytotoxic or immune-regulating agents the potential exists to significantly improve response and survival. Understanding how to modulate the sensitive redox balance within and between tumor and different TME-infiltrating immune cells will potentially lead to more efficacious treatment. In the future, cell-specific ROS modulators may hold the key to optimizing potential treatments utilizing ROS as a target.
7. Conclusions
ROS play an important role in maintaining physiological homeostasis within healthy cells. In tumor cells, the exploitation of pathways that lead to ROS production which result in a pro-growth, pro-tumorigenic environment occurs. It is now known that not only tumor cells but the TME including non-cancer stromal cells such as CAFs as well as tumor-infiltrating immune cells play important roles in the cross-talk between tumor and environment in order to drive tumorigenesis. It is becoming increasingly clear that metabolic reprogramming and subsequent ROS generation are essential to this crosstalk. The differential effects of varying levels of ROS on biological outcomes within the cells that encompass a tumor and its microenvironment are becoming increasingly important to our understanding of tumor initiation, growth and progression. Understanding how to exploit ROS in order to modulate cell-specific biological functions will not only help with the possible creation of new anticancer treatments but may also allow for increased efficacy of those treatments already in existence.
Funding
D.N. is supported by grants from NCI R01CA227622, R01CA222251, & R01CA204969.
Conflicts of Interest
The authors declare no conflict of interest.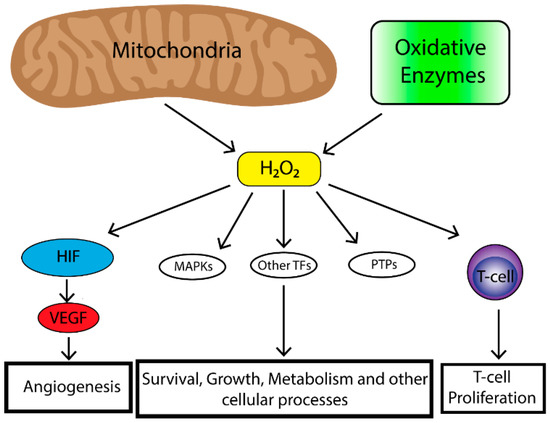 Figure 1. The mitochondria are the major contributor to cellular reactive oxygen species (ROS) levels while oxidative enzymes (e.g., NAPDH oxidases, cyclooxygenases, lipooxygenases and thymidine phosphorylase) also contribute to cellular ROS pooles. Mitochondrial ROS have many effects on cellular biology including, Mitogen-activated protein kinase (MAPK) (e.g., extracellular-signal-regulated kinase (ERK), p38 MAPK, Jun N-terminal kinase (JNK)), induction of transcription factors (e.g., nuclear factor kappa-light-chain-enhancer of activated B cells (NF-κβ), hypoxia-inducible transcription factors (HIF), activator protein 1 (AP-1), nuclear respiratory factor (NRF), heat shock factor 1 (HSF-1)) and deregulation of protein phosphatases (e.g., phosphatase and tensin homolog (PTEN)). This leads to enhancement of angiogenesis in the case of HIF, survival, growth, altered metabolism and other cellular processes through MAPKs, transcriptional factors and protein phosphatase and immune cell function and regulation.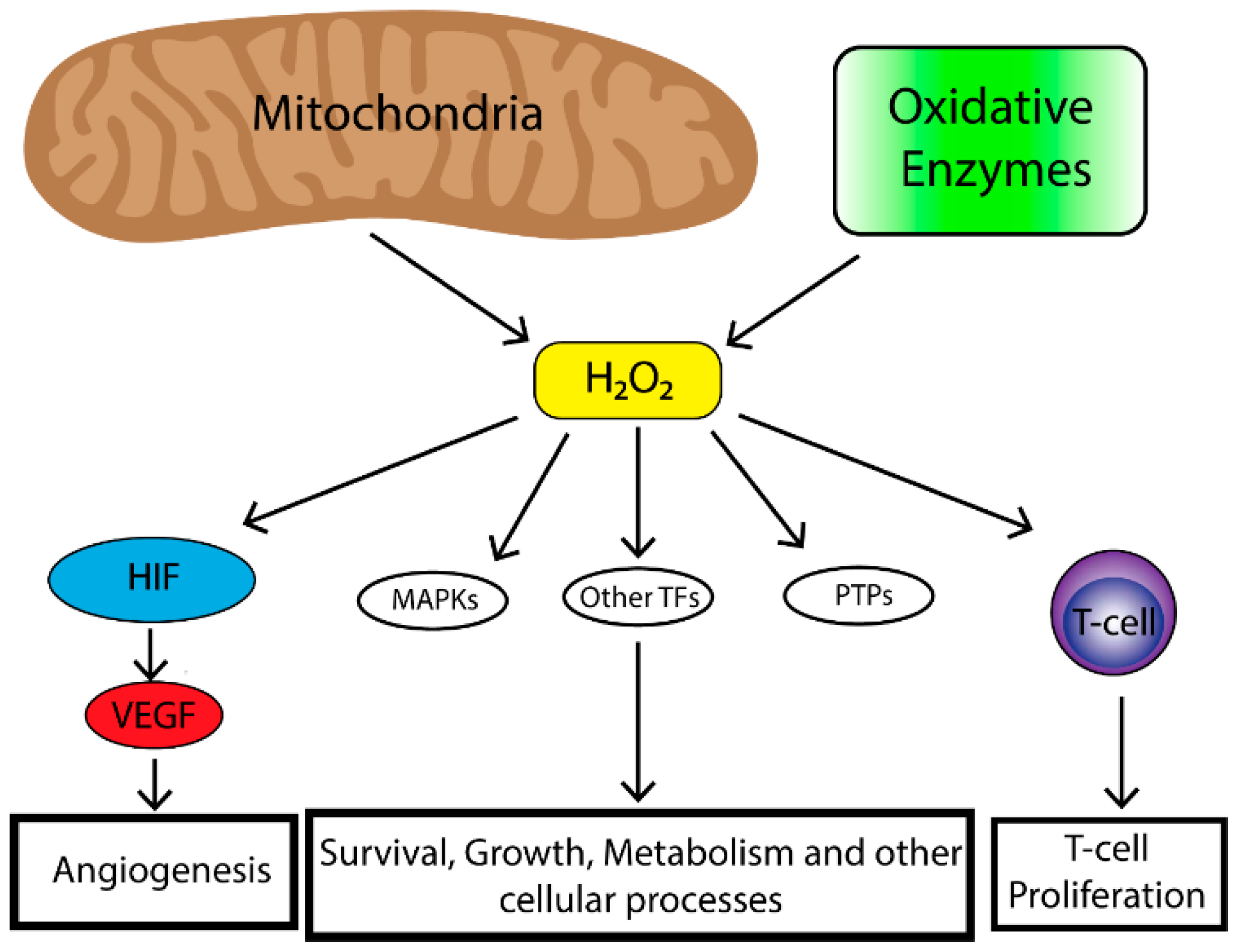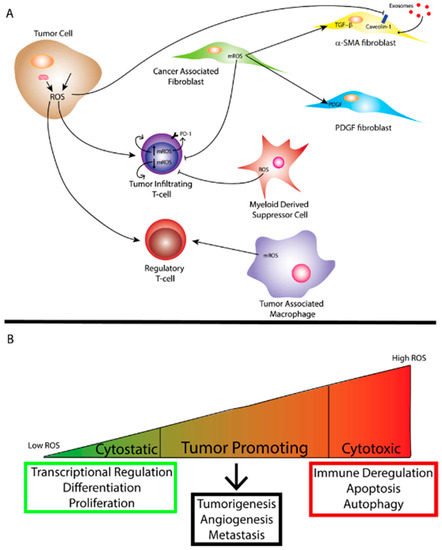 Figure 2. (A) Reactive oxygen species (ROS) generated by the mitochondria and/or exogenous sources within a tumor cell affect tumor immunity to promote a more tumorigenic environment. Mitochondrial ROS (mROS) can stimulate differentiation of cancer-associated fibroblasts (CAFs) and ROS produced by the tumor cell can facilitate uptake of exosomes through caveolin-1 inhibition leading to metabolic reprogramming of certain CAFs. ROS can also affect the function of tumor-infiltrating T-cells depending on the level of mROS. Myeloid-derived suppressor cells (MDSCs) and tumor-associated Macrophages (TAMs) also produce ROS that can affect the function of other immune cells and ROS can affect regulatory T-cell function as well. (B) The amount of ROS corresponds to differing effects on biological function. While cytostatic levels of ROS lead to maintenance of biological processes, cytotoxic levels of ROS lead to cell death as well as immune deregulation. Tumor promotion through ROS occurs when ROS reach super-physiological or cytostatic levels while avoiding levels conducive to cell death. As mentioned previously, oxidative stress can arise from tumor cells.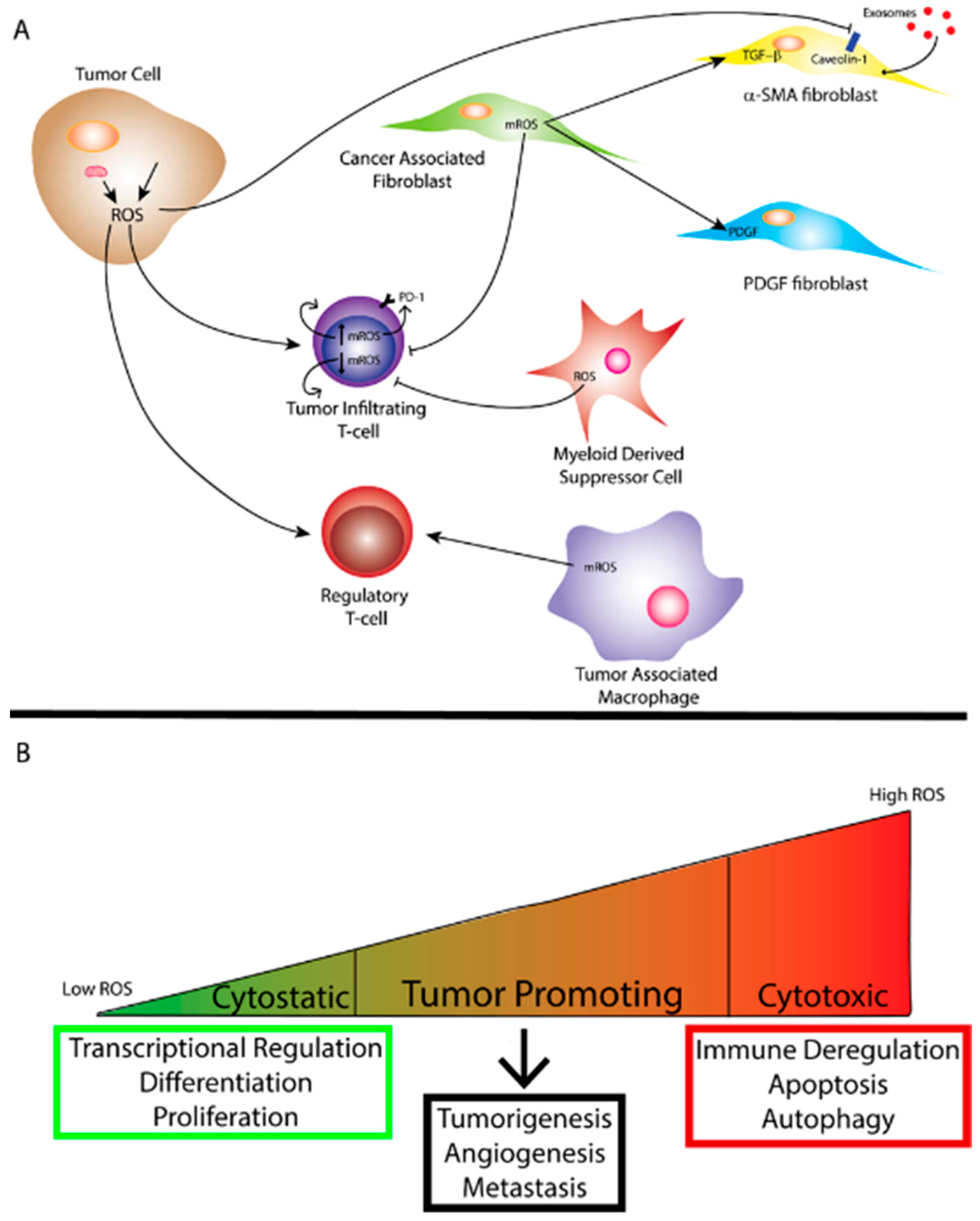 © 2019 by the authors. Licensee MDPI, Basel, Switzerland. This article is an open access article distributed under the terms and conditions of the Creative Commons Attribution (CC BY) license (http://creativecommons.org/licenses/by/4.0/).