Multi-Drug/Gene NASH Therapy Delivery and Selective Hyperspectral NIR Imaging Using Chirality-Sorted Single-Walled Carbon Nanotubes
1
Department of Physics and Astronomy, Texas Christian University, TCU Box 298840, Fort Worth, TX 76129, USA
2
The University of Texas MD Anderson Cancer Center, 1515 Holcombe Blvd, Houston, TX 77030, USA
3
Department of Biology, Texas Christian University, 2955 South University Drive, Fort Worth, TX 76129, USA
4
Ensysce Biosciences, 3210 Merryfield Row, San Diego, CA 92121, USA
*
Author to whom correspondence should be addressed.
Received: 9 July 2019 / Revised: 10 August 2019 / Accepted: 11 August 2019 / Published: 14 August 2019
Abstract
Single-walled carbon nanotubes (SWCNTs) can serve as drug delivery/biological imaging agents, as they exhibit intrinsic fluorescence in the near-infrared, allowing for deeper tissue imaging while providing therapeutic transport. In this work, CoMoCAT (Cobalt Molybdenum Catalyst) SWCNTs, chirality-sorted by aqueous two-phase extraction, are utilized for the first time to deliver a drug/gene combination therapy and image each therapeutic component separately via chirality-specific SWCNT fluorescence. Each of (7,5) and (7,6) sorted SWCNTs were non-covalently loaded with their specific payload: the PI3 kinase inhibitor targeting liver fibrosis or CCR5 siRNA targeting inflammatory pathways with the goal of addressing these processes in nonalcoholic steatohepatitis (NASH), ultimately to prevent its progression to hepatocellular carcinoma. PX-866-(7,5) SWCNTs and siRNA-(7,6) SWCNTs were each imaged via characteristic SWCNT emission at 1024/1120 nm in HepG2 and HeLa cells by hyperspectral fluorescence microscopy. Wavelength-resolved imaging verified the intracellular transport of each SWCNT chirality and drug release. The therapeutic efficacy of each formulation was further demonstrated by the dose-dependent cytotoxicity of SWCNT-bound PX-866 and >90% knockdown of CCR5 expression with SWCNT/siRNA transfection. This study verifies the feasibility of utilizing chirality-sorted SWCNTs for the delivery and component-specific imaging of combination therapies, also suggesting a novel nanotherapeutic approach for addressing the progressions of NASH to hepatocellular carcinoma.
View Full-Text
►

▼

Figures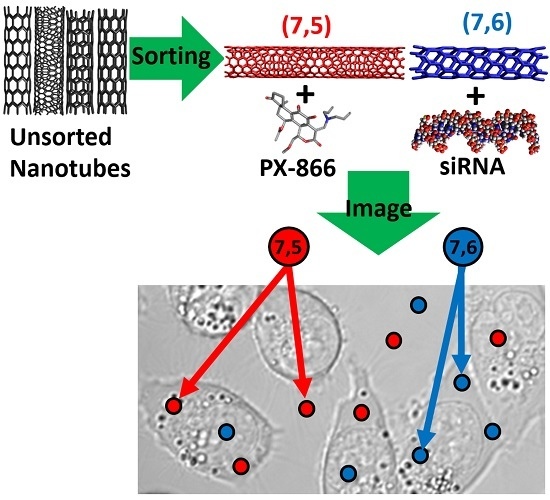 Graphical abstract
This is an open access article distributed under the
Creative Commons Attribution License
which permits unrestricted use, distribution, and reproduction in any medium, provided the original work is properly cited (CC BY 4.0).

Share & Cite This Article
MDPI and ACS Style
Hasan, M.T.; Campbell, E.; Sizova, O.; Lyle, V.; Akkaraju, G.; Kirkpatrick, D.L.; Naumov, A.V. Multi-Drug/Gene NASH Therapy Delivery and Selective Hyperspectral NIR Imaging Using Chirality-Sorted Single-Walled Carbon Nanotubes. Cancers 2019, 11, 1175.
Note that from the first issue of 2016, MDPI journals use article numbers instead of page numbers. See further details here.
Related Articles
Comments
[Return to top]