Dual Targeting of Y-Box Binding Protein-1 and Akt Inhibits Proliferation and Enhances the Chemosensitivity of Colorectal Cancer Cells
1
Division of Radiobiology & Molecular Environmental Research, Department of Radiation Oncology, University of Tuebingen, 72076 Tuebingen, Germany
2
German Cancer Consortium (DKTK), Partner Site Tuebingen, and German Research Center (DKFZ), 69120 Heidelberg, Germany
3
Department of Dermatology, University of Tuebingen, 72076 Tuebingen, Germany
4
Department of Radiation Oncology, University of Tuebingen, 72076 Tuebingen, Germany
*
Author to whom correspondence should be addressed.
Received: 15 March 2019 / Revised: 16 April 2019 / Accepted: 17 April 2019 / Published: 19 April 2019
Abstract
KRAS-mutated colorectal cancers (CRCs) are resistant to cetuximab treatment. The multifunctional Y-box binding protein 1 (YB-1) is overexpressed in CRC and is associated with chemoresistance. In this study, the effects of oncogenic mutated KRAS(G12V) and KRAS(G13D) on YB-1 phosphorylation were investigated in CRC cells. The effects of the inhibition of p90 ribosomal S6 kinase (RSK) on YB-1 phosphorylation, cell proliferation and survival were tested with and without treatment with 5-fluorouracil using pharmacological inhibitors and siRNA. YB-1 phosphorylation status and subcellular distribution in CRC patient tissues were determined by immunofluorescence staining and confocal microscopy. Endogenous expression of mutated KRAS(G13D) and conditional expression of KRAS(G12V) significantly stimulated YB-1 phosphorylation via RSK and were associated with cetuximab resistance. Inhibition of YB-1 by targeting RSK stimulated the Akt signaling pathway, and this stimulation occurred independently of KRAS mutational status. Akt activation interfered with the antiproliferative effect of the RSK inhibitor. Consequently, dual targeting of RSK and Akt efficiently inhibited cell proliferation in KRAS(G13D)-mutated HCT116 and KRAS wild-type SW48 cells. Treatment with 5-fluorouracil (5-FU) significantly enhanced YB-1 phosphorylation in KRAS(G13D)-mutated HCT116 cells but not in KRAS wild-type SW48 cells. Dual targeting of Akt and RSK sensitized HCT116 cells to 5-FU by stimulating 5-FU-induced apoptosis and inhibiting repair of 5-FU-induced DNA damage. YB-1 was highly phosphorylated in CRC patient tumor tissues and was mainly localized in the nucleus. Together, dual targeting of RSK and Akt may be an alternative molecular targeting approach to cetuximab for treating CRC in which YB-1 is highly phosphorylated.
View Full-Text
►

▼

Figures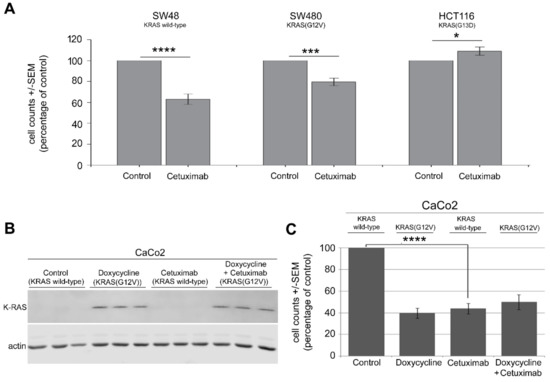 Figure 1
This is an open access article distributed under the
Creative Commons Attribution License
which permits unrestricted use, distribution, and reproduction in any medium, provided the original work is properly cited (CC BY 4.0).

Share & Cite This Article
MDPI and ACS Style
Maier, E.; Attenberger, F.; Tiwari, A.; Lettau, K.; Rebholz, S.; Fehrenbacher, B.; Schaller, M.; Gani, C.; Toulany, M. Dual Targeting of Y-Box Binding Protein-1 and Akt Inhibits Proliferation and Enhances the Chemosensitivity of Colorectal Cancer Cells. Cancers 2019, 11, 562.
Note that from the first issue of 2016, MDPI journals use article numbers instead of page numbers. See further details here.
Related Articles
Comments
[Return to top]