Mouse-Derived Isograft (MDI) In Vivo Tumor Models I. Spontaneous sMDI Models: Characterization and Cancer Therapeutic Approaches
1
In Vivo Pharmacology, ProQinase GmbH, Breisacher Str. 117, 79106 Freiburg, Germany
2
TPL Pathology Labs, Sasbacher Str. 10, 79111 Freiburg, Germany
*
Authors to whom correspondence should be addressed.
†
These authors contributed equally to this work.
‡
Current address: Charles River Discovery Research Services Germany GmbH, Am Flughafen 12-14, 79108 Freiburg, Germany.
Received: 1 December 2018 / Revised: 13 February 2019 / Accepted: 15 February 2019 / Published: 19 February 2019
Abstract
Syngeneic in vivo tumor models are valuable for the development and investigation of immune-modulating anti-cancer drugs. In the present study, we established a novel syngeneic in vivo model type named mouse-derived isografts (MDIs). Spontaneous MDIs (sMDIs) were obtained during a long-term observation period (more than one to two years) of naïve and untreated animals of various mouse strains (C3H/HeJ, CBA/J, DBA/2N, BALB/c, and C57BL/6N). Primary tumors or suspicious tissues were assessed macroscopically and re-transplanted in a PDX-like manner as small tumor pieces into sex-matched syngeneic animals. Nine outgrowing primary tumors were histologically characterized either as adenocarcinomas, histiocytic carcinomas, or lymphomas. Growth of the tumor pieces after re-transplantation displayed model heterogeneity. The adenocarcinoma sMDI model JA-0009 was further characterized by flow cytometry, RNA-sequencing, and efficacy studies. M2 macrophages were found to be the main tumor infiltrating leukocyte population, whereas only a few T cells were observed. JA-0009 showed limited sensitivity when treated with antibodies against inhibitory checkpoint molecules (anti-mPD-1 and anti-mCTLA-4), but high sensitivity to gemcitabine treatment. The generated sMDI are spontaneously occurring tumors of low passage number, propagated as tissue pieces in mice without any tissue culturing, and thus conserving the original tumor characteristics and intratumoral immune cell populations.
View Full-Text
►

▼

Figures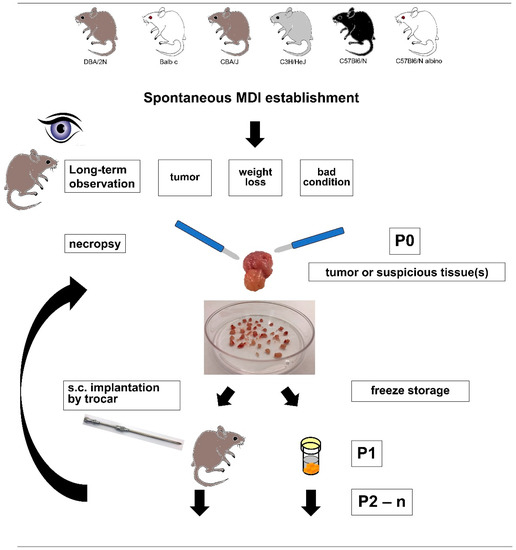 Figure 1
This is an open access article distributed under the
Creative Commons Attribution License
which permits unrestricted use, distribution, and reproduction in any medium, provided the original work is properly cited (CC BY 4.0).

Share & Cite This Article
MDPI and ACS Style
Jantscheff, P.; Beshay, J.; Lemarchand, T.; Obodozie, C.; Schächtele, C.; Weber, H. Mouse-Derived Isograft (MDI) In Vivo Tumor Models I. Spontaneous sMDI Models: Characterization and Cancer Therapeutic Approaches. Cancers 2019, 11, 244.
Note that from the first issue of 2016, MDPI journals use article numbers instead of page numbers. See further details here.
Related Articles
Comments
[Return to top]