Open Access This article is
freely available
re-usable
Article
Miniature 3D-Printed Centrifugal Pump with Non-Contact Electromagnetic Actuation
Institute for Microsensors, Actuators and Systems (IMSAS), Microsystems Center Bremen (MCB), University of Bremen, D-28359 Bremen, Germany
*
Author to whom correspondence should be addressed.
Received: 29 August 2019 / Accepted: 19 September 2019 / Published: 21 September 2019
Abstract
:
We present a miniature 3D-printed dynamic pump using the centrifugal operating principle. Dynamic pumps typically yield higher flow rates than displacement pumps at reasonable output pressure. Realizing smaller devices suitable for millifluidic and microfluidic applications brings challenges in terms of design, fabrication and actuation. By using microstereolithography printing we have reduced the overall size to an effective pumping volume of 2.58 mL. The free-moving rotor consists of an impeller and permanent magnets embedded during the printing process, which allow for non-contact electromagnetic actuation. The pump is driven by periodically switching the current through stator coils, controlled by a custom built circuit using a Hall effect sensor. It achieves a maximum flow rate of 124 mL/min and a hydrostatic pressure of up to 2400 Pa.
Keywords:
3D-printed pump; centrifugal pump; electromagnetic actuation; integrated magnets
1. Introduction
Pumps are a major component of many experiments using microfluidic devices. Despite years of research on different pumping mechanisms suitable for the microscale [
1
,
2
], large commercial pumps are still utilized for most laboratory setups, or the microdevices are filled manually via a syringe or passively by capillary forces from a droplet or reservoir. Micropumps are also usually limited by a relatively low flow rate due to their size and operation principles. On the other hand, using macroscopic pumping mechanisms on smaller scales is often challenging due to difficulties in design and fabrication. Working towards miniature pumps that offer high flow rates is a topic of ongoing research and development.
Additive manufacturing, commonly known as 3D-printing, can be used to address many challenges when working with microfluidic devices. The increased spatial freedom nowadays allows revolutionary new designs and approaches to microfluidcs [
3
,
4
,
5
] with functional feature sizes covering the centimeter, millimeter and sub-millimeter, down to the micron and even sub-micron scale. Our group recently highlighted the possibilities and solutions for microfluidic chip-to-world connections [
6
], addressing the challenges of suitable packaging for microfluidic chips requiring, for example, electrical, fluidic and optical access. Additionally, we realized miniature printed fluidic components with integrated free-moving permanent magnets as, for example, active check-valves, fluid dispensers and mixers. In recent years, a number of 3D-printed fluidic pumps using different mechanisms have been proposed. For example, Au et al., demonstrated pneumatic membrane valves that could be combined into a peristaltic pump 3D-printed from a photopolymer resin [
7
]. Gong et al., presented a comparable but smaller printed membrane pump also using external pneumatic actuation [
8
]. Habhab et al., fabricated a miniature rotary pump based on the Tesla turbine principle and externally driven by a magnetic stirrer [
9
]. Another useful component of a fluidic system is a flow sensor to accurately determine the flow rate, such as a 3D-printed rotary impeller using a ferromagnetic material [
10
].
In this work, we present a miniature 3D-printed centrifugal pump that achieves high flow rates for millifluidic and microfluidic applications. The internal rotor utilizes permanent magnets integrated during the printing process and thus allows non-contact electromagnetic coupling to stator coils outside the pump, resembling the driving principle of a brushless direct current (DC) motor [
11
].
3. Results and Discussion
4. Conclusions
We have presented a miniature 3D-printed centrifugal pump for very high flow rate applications of millifluidic and microfluidic devices. Permanent magnets integrated during the printing process allow for non-contact electromagnetic actuation of a free-moving rotor inside the pump housing. Using microstereolithography printing we have reduced the overall size of this dynamic pump to 28 mm × 30 mm × 24 mm with an active pumping volume of 2.58 mL. Customized stator coils and switching circuitry based on a Hall effect sensor complete the portable device package.
Our experimental characterization demonstrates a very high flow rate up to , which is highly dependent on the connected fluidic resistance. For a dynamic pumping principle, we measure a reasonably high hydrostatic pressure of up to 2400 Pa. Further miniaturization of the pump design is possible but limited by the size of high-strength permanent magnets necessary for non-contact actuation. We believe our work illustrates the feasibility of using additive manufacturing to realize miniature versions of macroscale pumping concepts not previously investigated for applications with microfluidic systems.
Supplementary Materials
The following are available online at
https://www.mdpi.com/2072-666X/10/10/631/s1
, Video S1: Real-time dark-field microscope video of oil bubble moved by water stream from centrifugal pump through 200 µm wide meander channel of a laminar micromixer.
Author Contributions
L.J. and F.L. conceived the pump principle and fabrication concept; L.J. performed the experiments; L.J. and F.L. analyzed the data; M.J.V. contributed valuable feedback and internal revision; F.L. wrote the paper.
Funding
The APC was funded by the State and University Library of Bremen.
Conflicts of Interest
The authors declare no conflict of interest.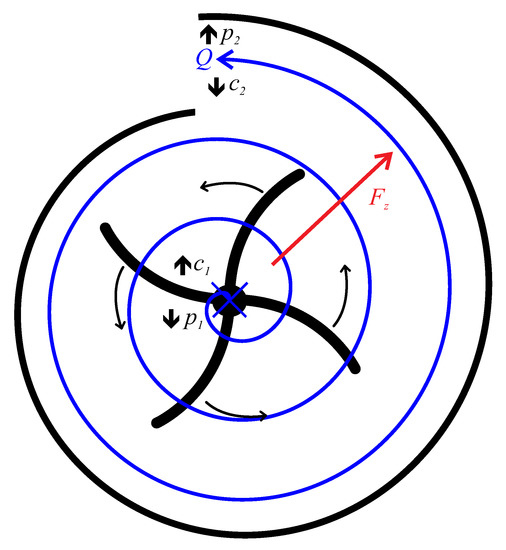 Figure 1.
Centrifugal pumping principle with fluid flow
Q
(blue arrow) coming from top, rotated by impeller (black) and pushed outwards due to centrifugal force (red) into spiral shape of pump chamber, creating a pressure gradient from inlet to outlet .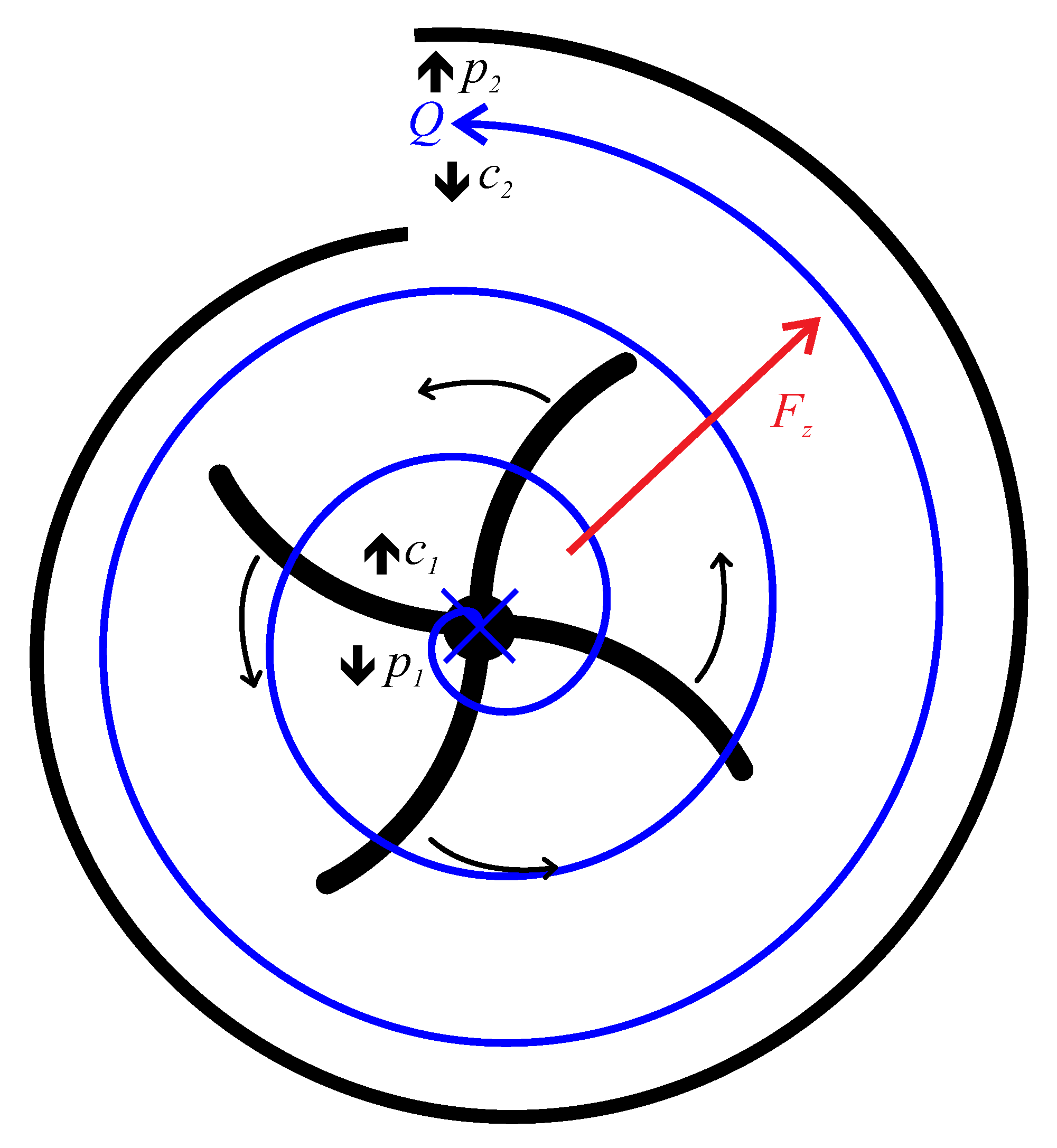 Figure 2. Perspective cut view from side (left) and top (right) of 3D-printed centrifugal pump design consisting of three separate parts: rotor with embedded permanent magnets (2 mm × 4 mm) and impeller blades, pump housing with outlet connector and inlet lid. The overall width, depth and height of the pump is 28 mm × 30 mm × 24 mm, respectively.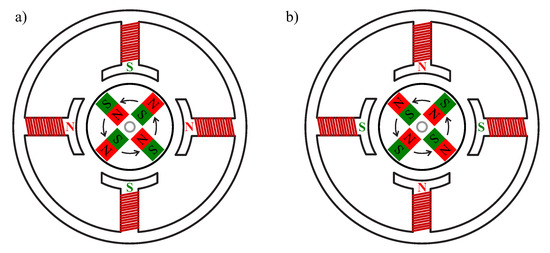 Figure 3. Principle of electromagnetic actuation of permanent magnets embedded in rotor (middle) through switching of the current direction through stator coils between state (a) and (b).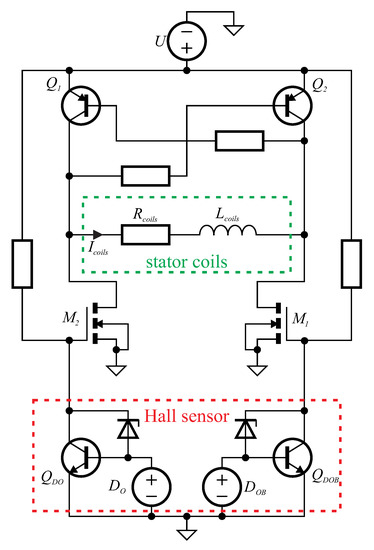 Figure 4. Schematic of coil current control circuit, with Hall sensor IC (given as schematic principle) switching two metal-oxide-semiconductor field-effect transistors (MOSFETs) and enabling current to flow in one or the other direction from driving PNP transistors and through the stator coils.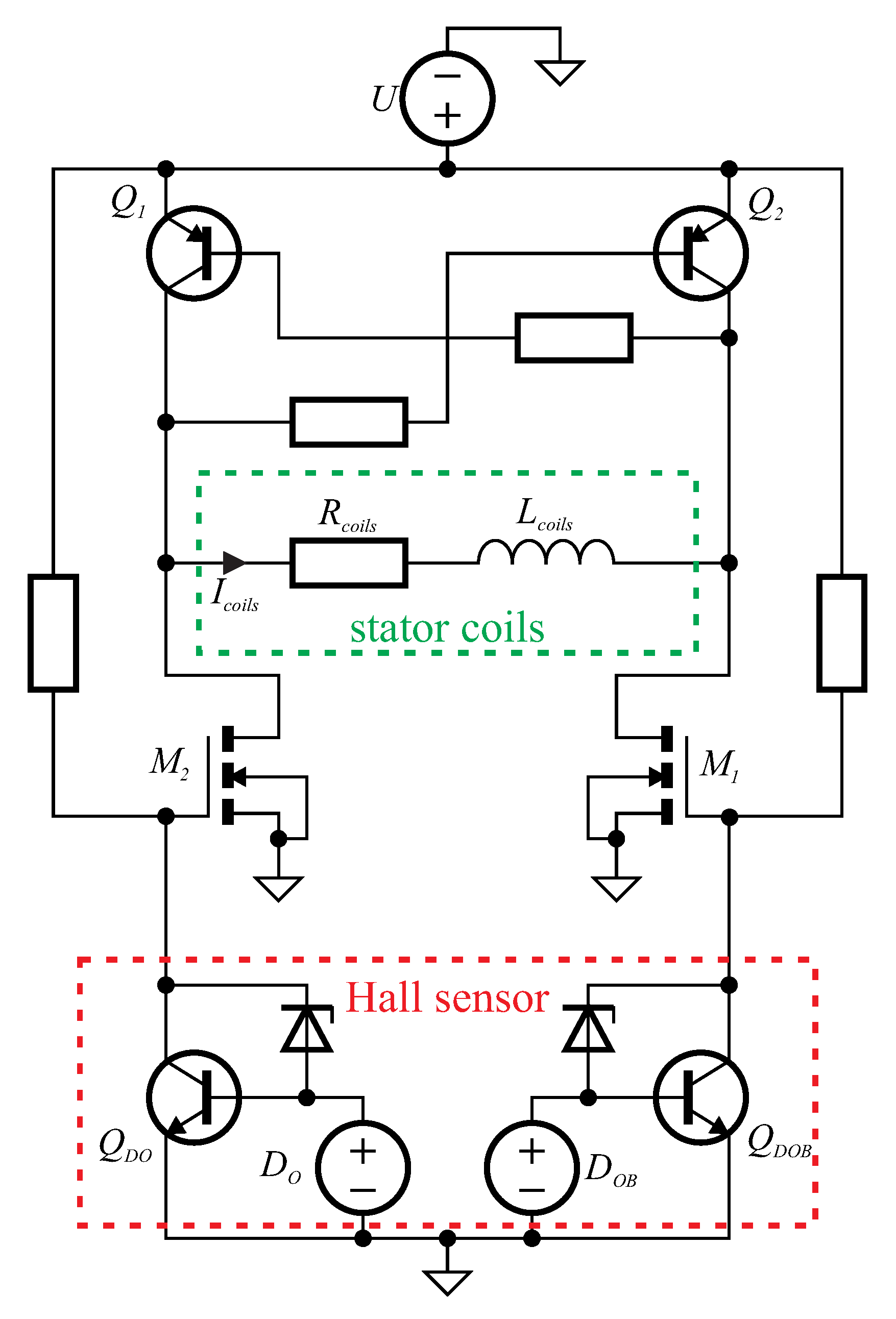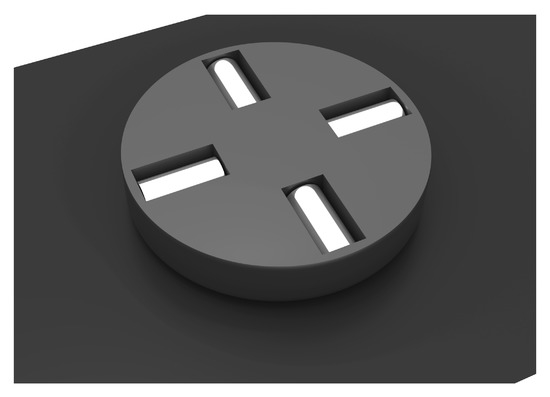 Figure 5. Principle of permanent magnet insertion by pausing printing process at last layer of magnet cavities and before printing closing layer, with magnets alternating in magnetization direction.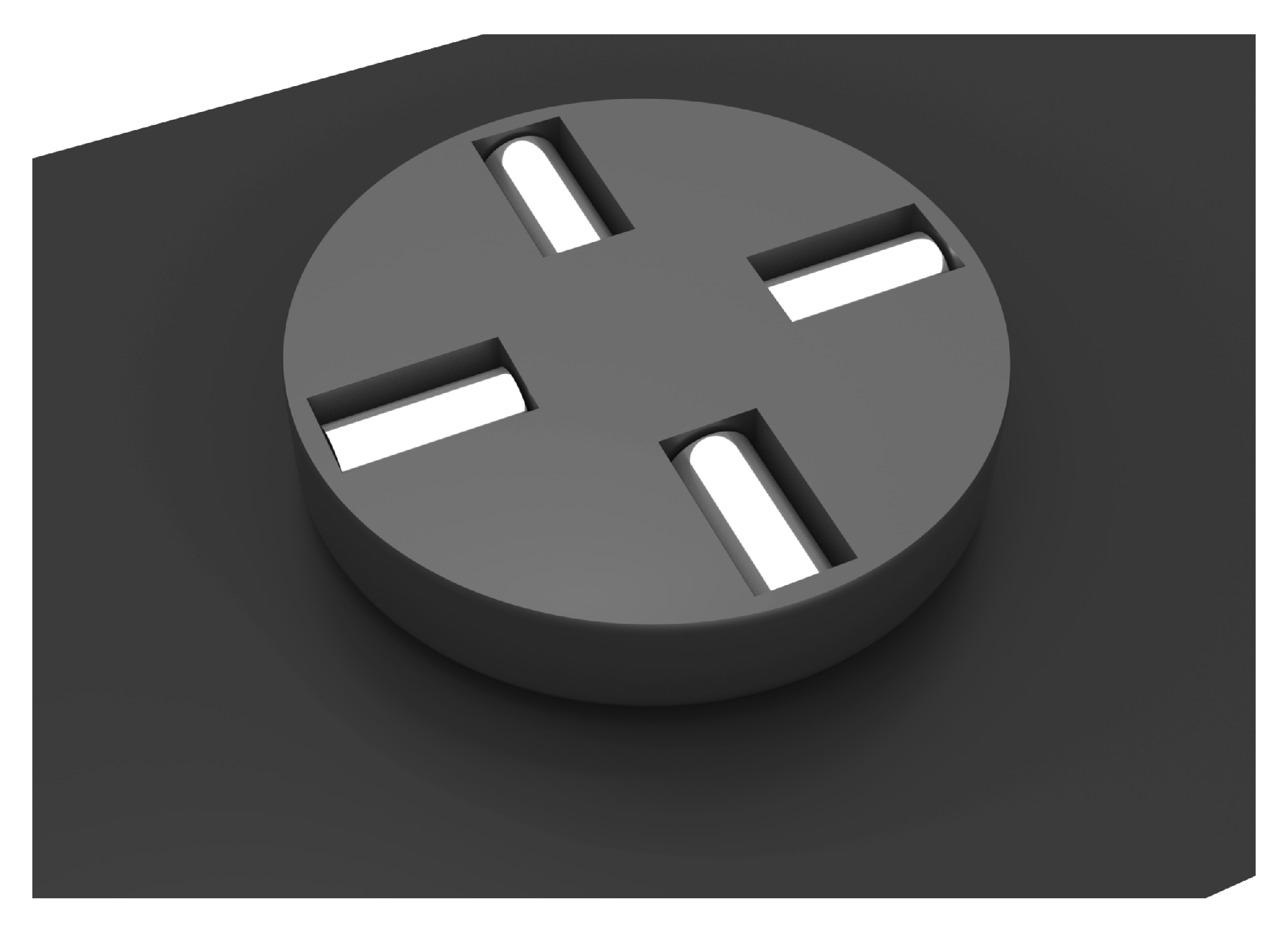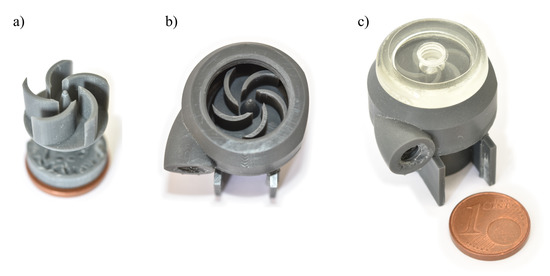 Figure 6. Photographs of (a) printed rotor with embedded magnets, (b) top view into pump chamber with inserted rotor and (c) complete pump with closed, transparent inlet lid and output connector on front. The overall width, depth and height of the pump is 28 mm × 30 mm × 24 mm, respectively.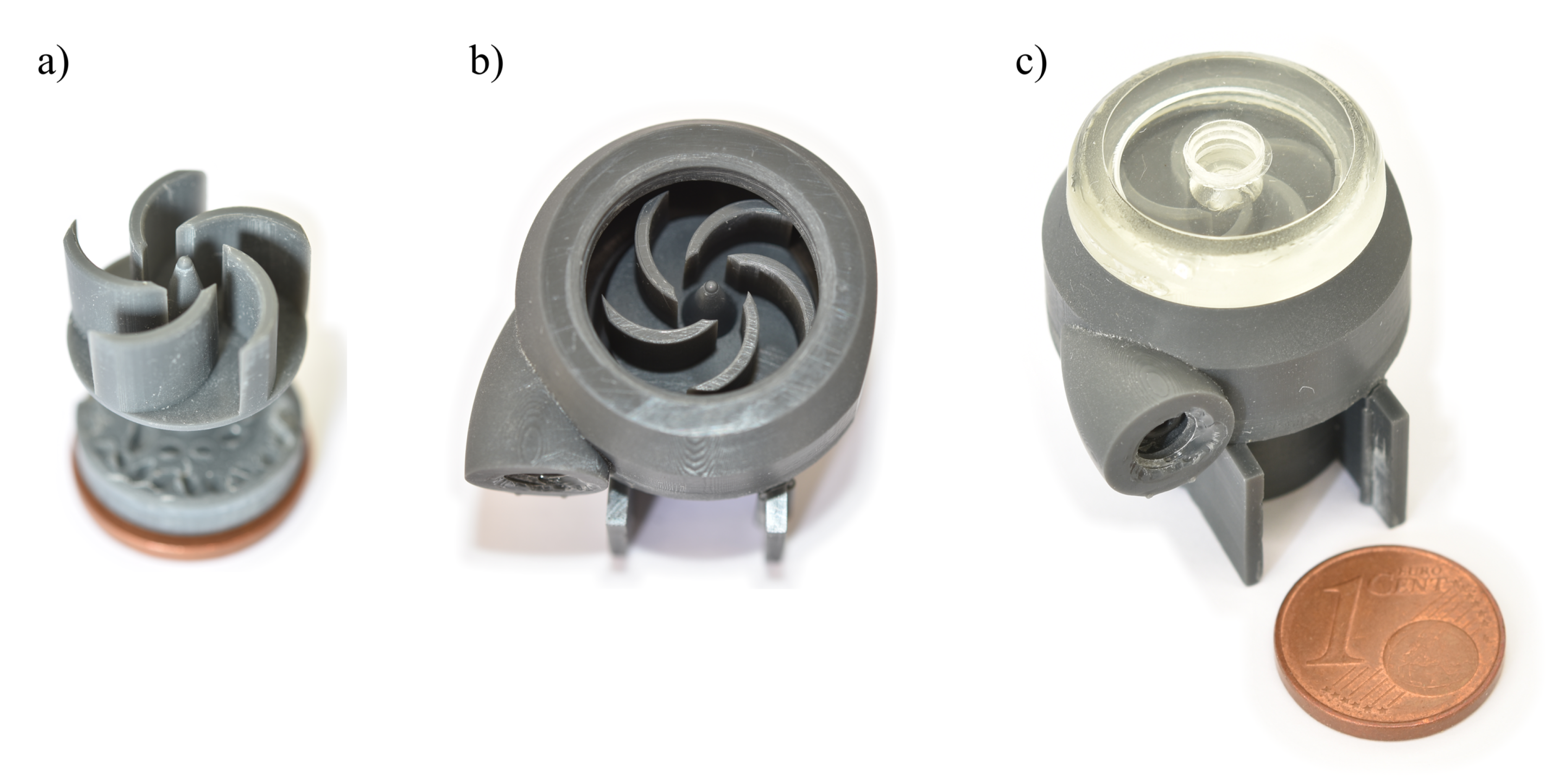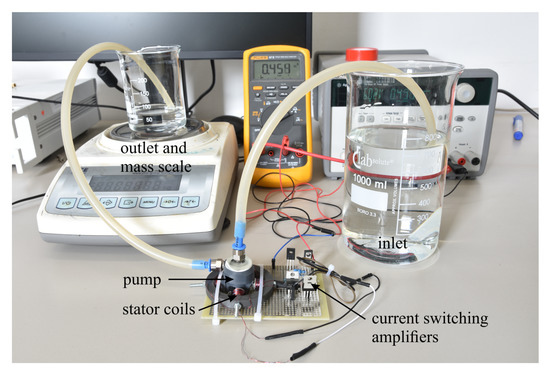 Figure 7. Photograph of experimental setup with printed, centrifugal pump placed inside stator coils on current switching circuit board (bottom center), board driven by laboratory power supply with applied current measured with a multimeter (back), inlet reservoir and outlet reservoir on similar liquid level to prevent hydrostatic flow, output flow measured with mass scale (left).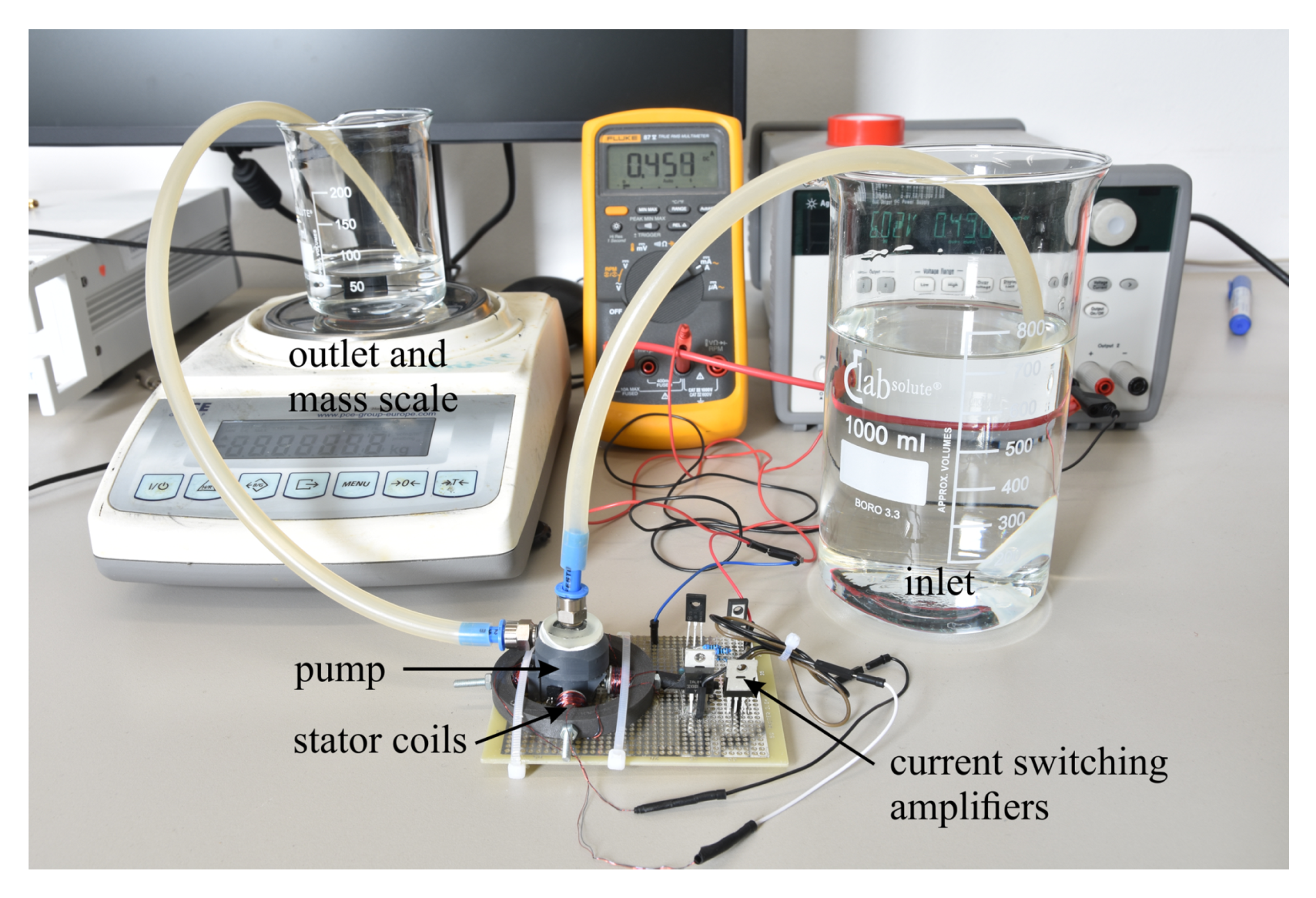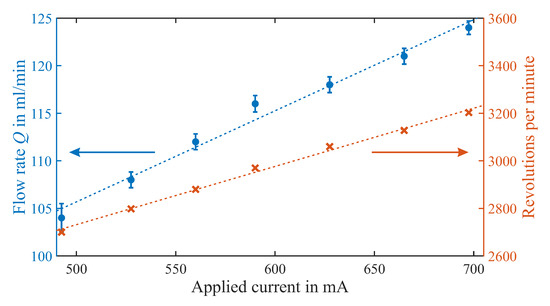 Figure 8.
Measurement results for average flow rate
Q
(blue dots, left axis) and rotation speed (orange crosses, right axis) plotted over applied current, with dashed lines as linear fit.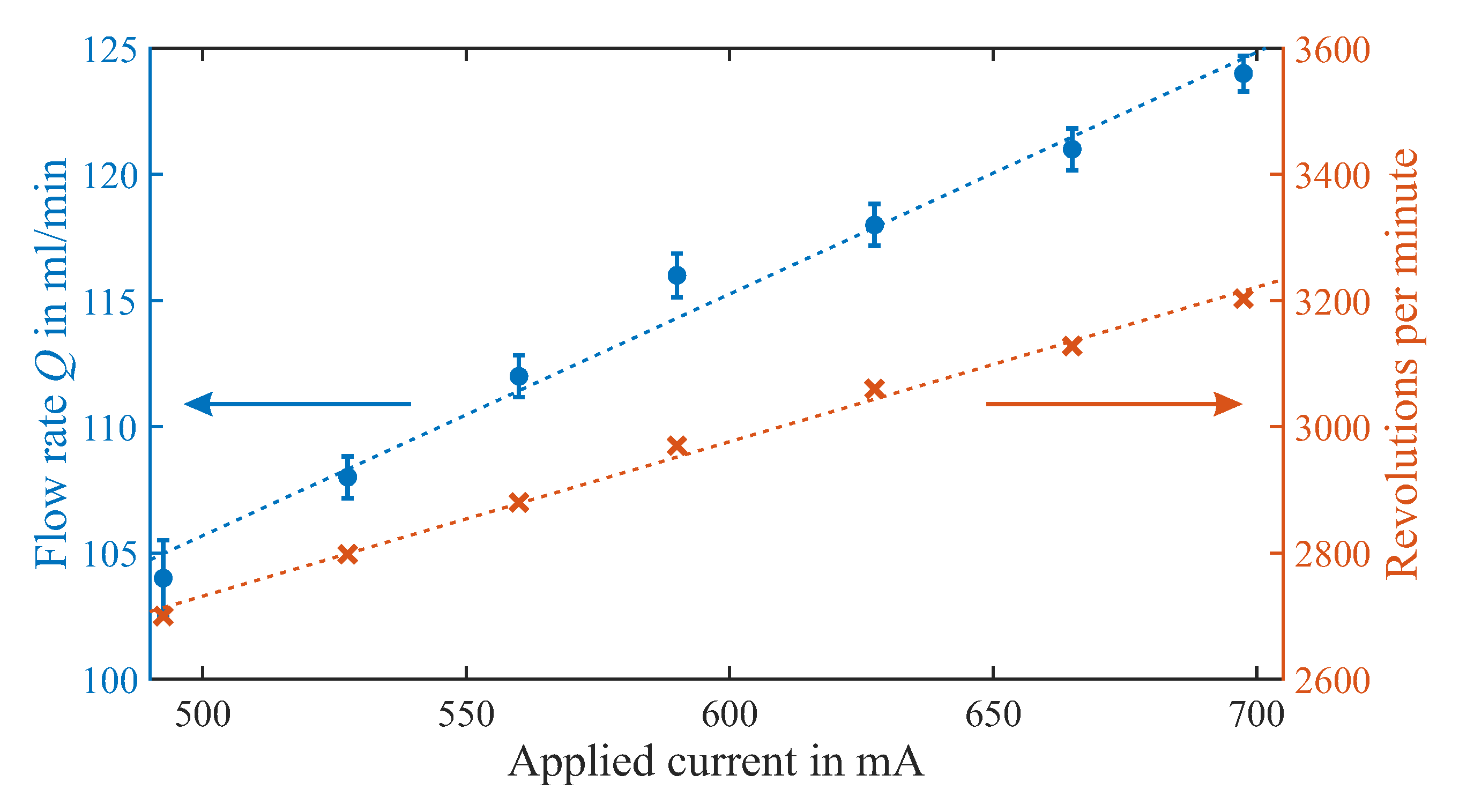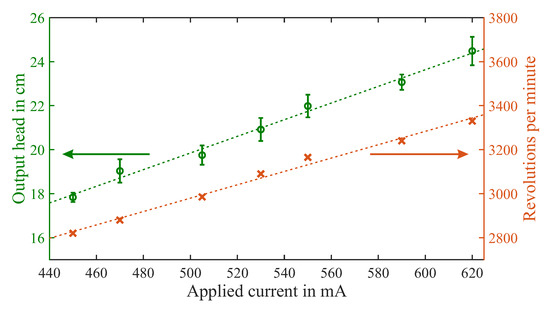 Figure 9. Measurement results for output pressure head (green circles, left axis) and rotation speed (orange crosses, right axis) plotted over applied current, with dashed lines as linear fit.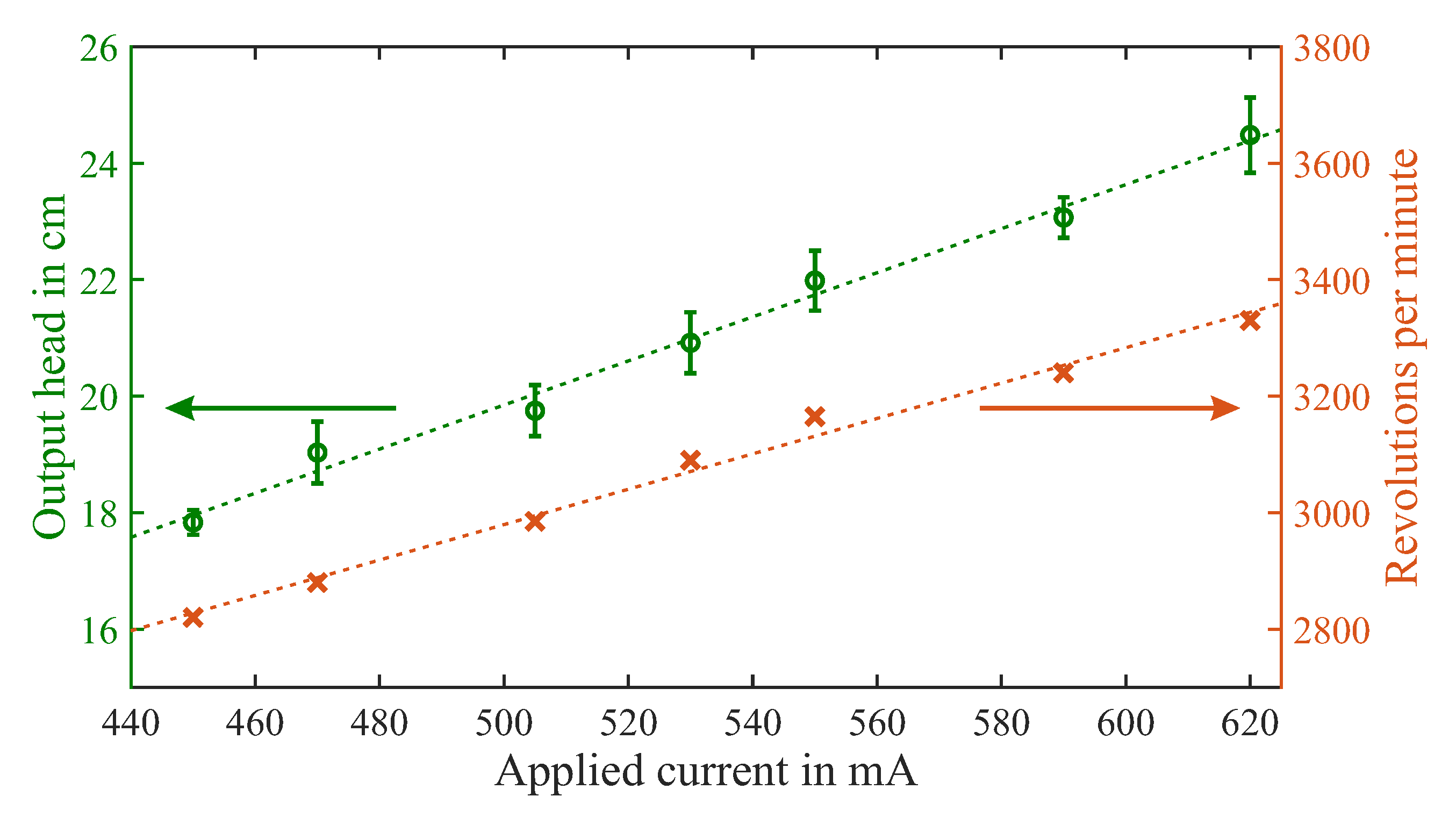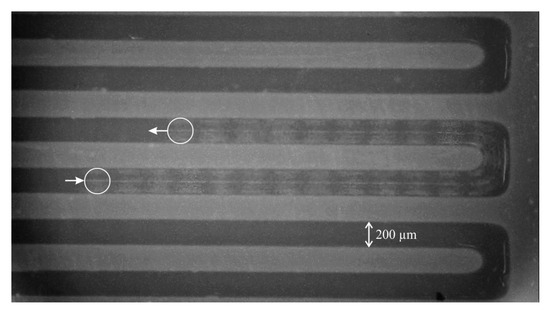 Figure 10. Dark-field microscope image of a laminar micromixer with a meander channel of 200 µm width, with 25 video frames (1 s) superimposed to illustrate movement of an oil droplet in the water flow driven by the centrifugal pump.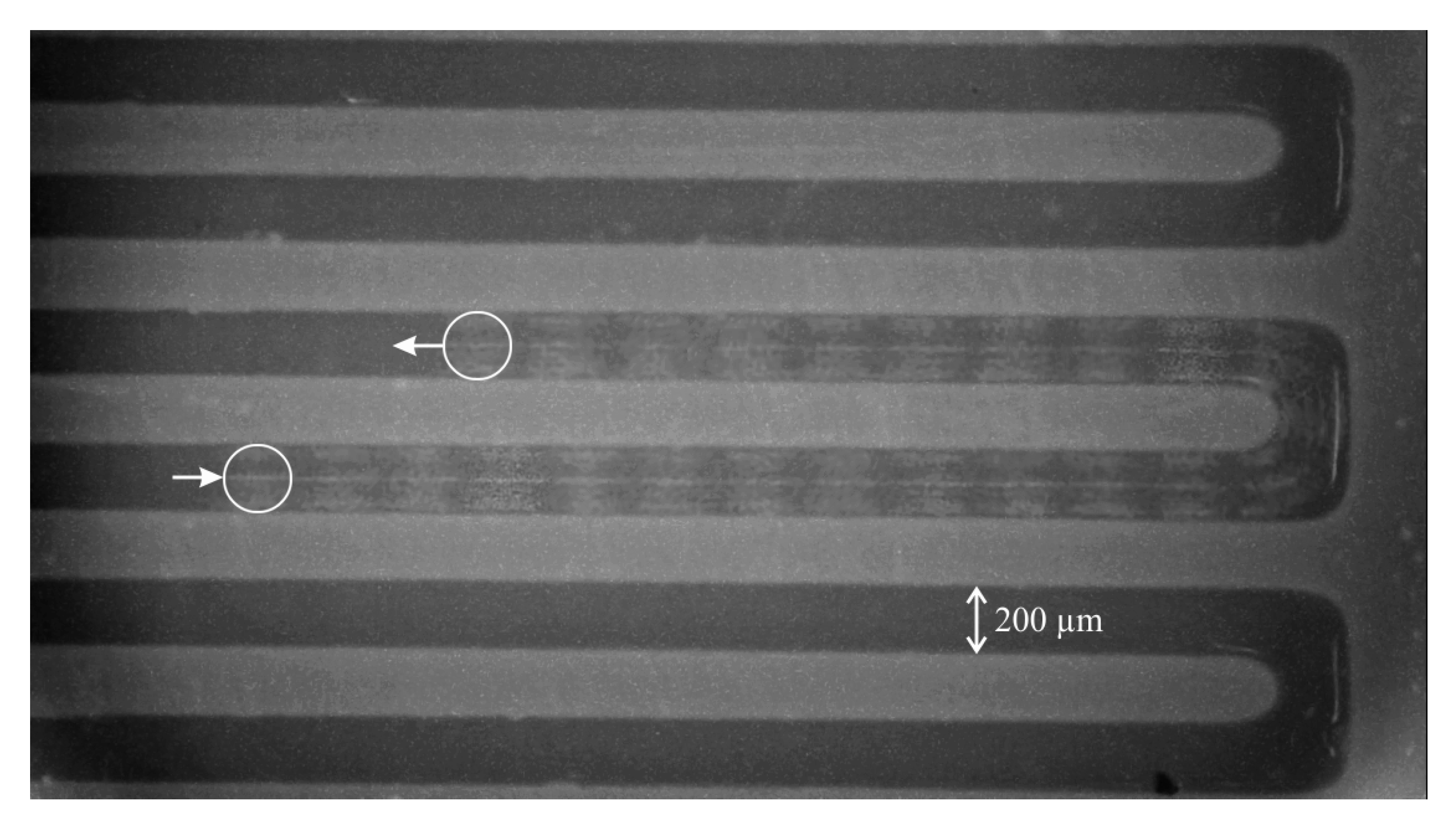 Table 1.
Comparison of selected miniaturized and 3D-printed pump types with this work, estimating pump chamber volume and giving maximum flow rate
Q
and maximum output pressure.
Pump Type
Volume/µL
Max.

Q

/mL·min−1
Max. Pressure/Pa
Ref.
Pneumatic check-valve
≈15.4
13
5900
[13]
Rotary micro-gear
≈0.14
0.055
12,500
[14]
Electrohydrodynamic
≈3.42
14
2480
[16]
Magnetohydrodynamic
0.19
0.0015
180.5
[17]
Peristaltic (3D-printed)
74.8
0.68
–
[7]
Membrane (3D-printed)
0.495
0.02
24,130
[8]
Tesla (3D-printed)
≈3380
12
253
[9]
Peristaltic (3D-printed)
120
0.71
≈56
[15]
Vibrating blades (3D-printed)
≈9000
107.8
–
[18]
Centrifugal (3D-printed)
≈4120
124
2400
this work

© 2019 by the authors. Licensee MDPI, Basel, Switzerland. This article is an open access article distributed under the terms and conditions of the Creative Commons Attribution (CC BY) license (http://creativecommons.org/licenses/by/4.0/).