Open Access This article is
freely available
re-usable
Review
The Fluid Aspect of the Mediterranean Diet in the Prevention and Management of Cardiovascular Disease and Diabetes: The Role of Polyphenol Content in Moderate Consumption of Wine and Olive Oil
1
Internal Medicine, Hospital General Universitario Gregorio Marañón, 28007 Madrid, Spain
2
Lipids and Atherosclerosis Unit, Department of Internal Medicine, Maimonides Biomedical Research Institute of Cordoba (IMIBIC), Reina Sofia University Hospital, University of Cordoba, Av. Menéndez Pidal s/n, 14004 Cordoba, Spain
3
CIBER Fisiopatología de la Obesidad y Nutrición (CIBEROBN), Instituto de Salud Carlos III (ISCIII), 28007 Madrid, Spain
4
Instituto de investigación sanitaria Gregorio Marañón, 28007 Madrid, Spain
5
Department of Medicine, School of Medicine, Universidad Complutense de Madrid, 28007 Madrid, Spain
6
First Department of Internal Medicine, Division of Endocrinology and Metabolism, Diabetes Center, Medical School, AHEPA University Hospital, Thessaloniki 54621, Greece
†
Both authors contributed equally.

Received: 16 October 2019 / Accepted: 13 November 2019 / Published: 19 November 2019
Abstract
:
A growing interest has emerged in the beneficial effects of plant-based diets for the prevention of cardiovascular disease, diabetes and obesity. The Mediterranean diet, one of the most widely evaluated dietary patterns in scientific literature, includes in its nutrients two fluid foods: olive oil, as the main source of fats, and a low-to-moderate consumption of wine, mainly red, particularly during meals. Current mechanisms underlying the beneficial effects of the Mediterranean diet include a reduction in inflammatory and oxidative stress markers, improvement in lipid profile, insulin sensitivity and endothelial function, as well as antithrombotic properties. Most of these effects are attributable to bioactive ingredients including polyphenols, mono- and poly-unsaturated fatty acids. Polyphenols are a heterogeneous group of phytochemicals containing phenol rings. The principal classes of red wine polyphenols include flavonols (quercetin and myricetin), flavanols (catechin and epicatechin), anthocyanin and stilbenes (resveratrol). Olive oil has at least 30 phenolic compounds. Among them, the main are simple phenols (tyrosol and hydroxytyrosol), secoroids and lignans. The present narrative review focuses on phenols, part of red wine and virgin olive oil, discussing the evidence of their effects on lipids, blood pressure, atheromatous plaque and glucose metabolism.
Keywords:
mediterranean diet; cardiovascular disease; diabetes; polyphenols; wine; olive oil
1. Introduction
The aim of the present narrative review is to summarize the evidence regarding the beneficial effects of polyphenols contained in the fluid components of the MedDiet, mainly olive oil and red wine, in terms of CVD risk factors [lipids, blood pressure (BP), endothelial dysfunction] and glucose metabolism.
2. Polyphenols and Phenolic Compounds
3. Polyphenols Content in Wine
4. Red Wine Polyphenols and Cardiometabolic Diseases
Overall, although alcohol intake has shown both risks and benefits, the phenolic compounds from red wine exert a favorable effect on improving CVD mortality in different populations, when consumed in low-to-moderate quantities on a regular basis, within a Mediterranean pattern.
4.1. Red Wine Polyphenols and Blood Lipids
Moderate alcohol consumption (30 g alcohol/d) can raise high-density lipoprotein cholesterol (HDL-C) concentrations and, until recently, this was thought to be the main cardiovascular protector effect of moderate alcohol intake [
52
]. Indeed, moderate alcohol consumption (up to one drink or 15 g alcohol a day for women and up to two drinks or 30 g alcohol a day for men, whatever the alcoholic beverage consumed) elevates HDL-C in a dose-dependent manner [
53
]. In addition, polyphenols affect apolipoproteins (Apo) A and B [
54
], modify Very Low Density Lipoproteins (VLDL) particles, and reduce plasma triglyceride (TG) levels by increasing the lipoprotein lipase (LPL) activity, which decreases low-density lipoprotein cholesterol (LDL-C) concentrations in the circulation [
55
]. Ethanol decreases plasma Apo B, whereas red wine (but not gin) increases ApoA-I and II in healthy volunteers [
56
,
57
]. Rimm et al. [
58
] also found a strong and consistent evidence linking moderate alcohol intake with higher concentrations of HDL-C and Apo A-I, as well as a weak association between moderate alcohol consumption and increased TG.
In individuals with dyslipidemia, LDL/HDL ratio was decreased (
p
= 0.05) after red wine consumption for 30 days (125 mL per day in women and 250 mL per day in men) [
59
]. Similarly, in hypercholesterolemic postmenopausal women, 400 mL/day of red wine consumption for 6 weeks significantly reduced LDL-C by 8% and increased HDL-C by 17% [
60
]. In patients with well-controlled T2DM, the intake of 150 mL/day of red wine at dinner for two years significantly increased HDL-C and Apo AI levels, and reduced total cholesterol (TC)/HDL ratio [
61
]. A randomized crossover trial showed that Apo AI, Apo A2 and HDL levels increased in men at high cardiovascular risk who consumed 30 g alcohol/day in the form of red wine for 4 weeks -compared with gin-, supporting a beneficial effect of the non-alcoholic fraction of red wine [
52
]. Furthermore, a daily glass of red wine (0.1 L women, or 0.2 L men) significantly improved the LDL/HDL ratio in 108 patients with carotid atherosclerosis, even in those on statin therapy [
62
].
Several studies showed that resveratrol can reduce serum levels of TC, LDL-C, and TG, as well as raise HDL-C [
63
,
64
,
65
,
66
,
67
,
68
,
69
,
70
,
71
]. Nevertheless, other studies reported no effect of resveratrol on serum lipids [
26
,
72
,
73
,
74
]. Therefore, resveratrol may play a role in CVD prevention, but robust evidence is lacking [
63
].
Overall, phenolic compounds, present in red wine, can modify the quantity, composition and function of different lipoproteins, thus subsequently affecting CVD risk.
4.2. Red Wine Polyphenols and Blood Pressure
Although it is well documented that heavy alcohol consumption is associated with arterial hypertension, low-to-moderate alcohol intake (15–30 g of alcohol) seems to exert a beneficial effect on both BP and CVD [
75
]. In this context, reduction of alcohol consumption in heavy drinkers led to a dose-response decrease in BP [
76
].
Red wines and grapes stimulate endothelium-dependent relaxation of vessels via enhanced generation and/or increased biological activity of nitric oxide (NO), leading to elevated cGMP levels [
77
,
78
,
79
,
80
]. In vivo red wine polyphenols reduced BP in normotensive and hypertensive rats [
81
,
82
,
83
,
84
]. In T2DM patients, daily consumption of 0.15 L of red wine taken with dinner for 2 years, transiently decreased BP in healthy volunteers at midnight and early in the morning compared with water, without differences in the mean 24 h BP [
61
]. In several prospective studies, the relationship between red wine consumption and BP is U- or J-shaped, suggesting a slight decrease in BP among those who consume one drink a day [
85
]. In healthy volunteers, the prolonged effect of wine was different from a control alcohol drink (13.5% alcohol) as wine decreased BP and reduced the complexity of the heart-interbeat interval and ventricular repolarization interval [
86
]. A randomized trial evaluated the effects of alcoholic and non-alcoholic red wine and gin consumption in 67 men with high cardiovascular risk and showed that dealcoholized red wine decreased systolic and diastolic BP, and these changes correlated with increases in plasma NO [
87
].
Overall, phenolic compounds from red wine can improve both systolic and diastolic BP in different populations, when consumed at low doses.
4.3. Molecular Mechanisms of the Effects of Red Wine Polyphenols on the Atheromatous Plaque
Overall, red wine polyphenols can promote endothelial-dependent vasodilation, inhibit the activity of inflammatory enzymes and the production of several types of proinflammatory and oxidant mediators, thus attenuating the development of atherosclerosis.
4.4. Red Wine Polyphenols and Glucose Metabolism
Several observational and prospective randomized trials reported a strong association between hyperglycemia and poor clinical outcomes with regard to mortality, morbidity, length of hospital stay, infections, and overall complications [
120
]. Identification of modifiable lifestyle interventions, including dietary factors, that can reduce the incidence of T2DM, is an important area of research [
121
,
122
].
One dietary factor of interest is polyphenol-rich food consumption, since dietary polyphenols have been shown to lower the risk of T2DM [
122
,
123
]. Red wine polyphenols can beneficially affect insulin resistance and lipoprotein plasma concentrations [
52
].
In diabetic animals, resveratrol improved glucose homeostasis, reduced blood glucose levels, protected pancreatic β-cells and increased insulin secretion [
124
,
125
]. Similarly, resveratrol decreased insulin resistance in T2DM patients [
126
,
127
], obese men [
128
], older adults with insulin resistance [
129
], and patients with metabolic syndrome (MetS) [
130
]. The effective doses of resveratrol fall into a wide range, from 10 to 1 g per day per person [
125
,
126
]. In addition, resveratrol improved β-cell function in T2DM patients [
127
], and decreased BP in T2DM patients [
127
,
131
] and in obese men with insulin resistance [
128
], and reduced diabetic ulcer size [
132
]. Moreover, a single 75 mg dose of resveratrol was shown to improve neurovascular coupling and cognitive performance in T2DM patients [
133
]. However, in a recent double-blind, randomized, placebo-controlled trial, supplementation with 40 or 500 mg/day resveratrol did not improve the metabolic pattern of T2DM patients [
134
]. In addition, a double-blind, randomized and crossover study, found that 5 weeks of resveratrol treatment (500 mg twice daily) had no effect on the secretion of glucagon-like peptide 1 (GLP-1), gastric emptying or glycemic control in 14 diet-controlled T2DM patients [
135
].
Overall, there is little evidence regarding the effect of wine polyphenols on glucose and insulin metabolism. Further trials are required to better understand the antidiabetic properties of resveratrol, as well as to establish the therapeutic potential of other stilbenoids in T2DM patients.
5. Polyphenols Content in Olive Oil
Olive oil and its different variants, virgin and extra virgin, are a symbol of the Mediterranean Diet. In all the traditional forms of this diet found in the Mediterranean area, virgin olive oil is obtained directly from olives, the fruit from
Olea europeae
tree, and by mechanical extraction, being a natural juice that constitutes the main source of fat from this dietary pattern. Olive oil is composed by glycerol fraction (90–99%) and non-glycerol (0.4–5%) [
136
]. One of the main characteristics of olive oil is the high content of monounsaturated fat and a low concentration of saturated fat. The main monounsaturated fat, oleic acid, represents 70–80% of the fatty acids present in olive oil and is the responsible of many health-promoting properties with effects that include a reduction in CVD, neurodegenerative diseases and cancer. Moreover, despite the content of monounsaturated fat, virgin olive oil contains a wide variety of bioactive compounds, that change between olives and the different virgin olive oils available for consumption. Polyphenols are probably the most relevant of these bioactive compounds [
137
]. Olive oil phenols include simple phenolic compounds (vanillic, gallic, coumaric, caffeic acids, tyrosol and hydroxytyrosol) and complex compounds like the secoroids (oleuropein and ligstroside), and the lignans (1-acetoxypinoresinol and pinoresinol) [
136
]. The concentration of polyphenols in olive oil is between 40 and 1000 ppm and is the result of an interaction of various factors including the olive cultivar, time to maturation, the climate or the extraction process [
138
].
6. Olive Oil Polyphenols and Cardiometabolic Diseases
The concept of the MedDiet is heterogeneous, comprising slightly different dietary patterns, mainly depending on the local preferences of the Mediterranean location. This composition includes a low saturated fat and a high monounsaturated fat content (mainly from oleic acid in olive oil).
Only extra virgin and virgin olive oils contain a significant percentage of phenols, since they are derived from the physical pressure of the olives when obtaining the oil. Olive oil has at least 30 phenolic compounds. Along with the phenols, as previously mentioned, several non-fatty minor components of great biological potential, including vitamin E, carotene or chlorophyll, make virgin olive oil a unique, nutraceutical product. Some of the healthy benefits of olive oil on cardiometabolic diseases may be due to these other compounds, although there is no evidence to ascribe a certain effect to one specific compound.
There is evidence linking phenolic compounds present in virgin olive oil with traditional and non-traditional CVD risk factors [
139
].
6.1. Olive Oil Polyphenols and BP
Arterial hypertension is a major risk factor for CVD, especially in elderly people [
51
]. The MedDiet is associated with a decrease in both systolic and diastolic BP [
140
]. The effect of virgin olive oil phenols on BP was described by Fito et al. [
141
], who reported a reduction in systolic BP after high-phenolic olive oil consumption, that was not reproduced after low-phenolic refined olive oil, in hypertensive patients with stable CHD. Moreno-Luna et al. [
142
] compared the effect of interventions with polyphenol rich virgin olive oil and high-oleic sunflower oil (polyphenol-free) in hypertensive women; the virgin olive oil rich diet lowered systolic and diastolic BP. In a substudy of the PREDIMED trial, in which the relationships between polyphenol intake, circulating inflammatory biomarkers and CVD risk factors were evaluated in elderly individuals, the investigators reported that high polyphenol intake improved CVD risk factors, and BP and lipid profile [
143
].
A recent study evaluated the effects of oral supplementation with hydroxityrosol on early atherosclerosis markers in middle-aged healthy adults [
143
]. Hydroxityrosol showed anti-atherosclerotic properties by improving endothelial function, BP and circulating oxidized LDL levels [
144
].
Overall, phenolic compounds from virgin olive oil have shown a favorable effect on both systolic and diastolic BP in different populations.
6.2. Olive Oil Polyphenols and Lipids
Overall, polyphenolic compounds present in virgin olive oil can modify not only the quantity, but also the quality of different lipoproteins.
6.3. Phenolic Compounds, Obesity, MetS and T2DM
During the past few decades, the burden of obesity has become a major public health challenge and strategies to establish dietary patterns to reduce obesity, MetS and T2DM are now a priority.
Overall, evidence supports that a MedDiet rich in extra virgin olive oil, an important source of phenols, and may prevent obesity, MetS and T2DM via multiple metabolic pathways, reinforcing the key role of diet in the treatment and prevention of these metabolic disorders.
6.4. Olive Oil Polyphenols and Endothelial Function
Overall, evidence shows that virgin olive oil phenols may improve endothelial function in large, medium and small size vessels, indicating the involvement of various mechanisms, including a higher NO bioavailability, upregulation of antioxidant pathways and a decrease in pro-oxidant substances production. Finally, gene–diet interactions have also been suggested.
6.5. Olive Oil Polyphenols: Inflammation, Oxidative Stress and Hemostasis
The pathogenesis of atherosclerosis is characterized by a low-grade chronic inflammation, caused by monocytes and other important inflammatory markers, including cytokines, neutrophils or natural killer cells [
199
]. Several studies have reported a direct association between the consumption of MedDiet and improved inflammation, oxidative stress and hemostasis [
4
,
200
,
201
,
202
]. Certain diet micronutrients are responsible for these effects [
203
,
204
,
205
]. In this context, extra virgin olive oil phenol fraction improves the hemostatic profile during postprandial state [
206
] and enhances endothelial function by reducing the redox state [
191
]. The expression of inflammatory genes is lower when the virgin olive oil used in meals is rich in polyphenols, compared with other diets [
204
]. In this context, the consumption of virgin olive oil rich in phenolic compounds was shown to reduce the risk of atherosclerosis by decreasing inflammation and improving the antioxidant profile in the vascular endothelium, inducing a decrease in MCP-1 and CAT gene expression [
207
].
Experimental studies reported a favorable effect of polyphenols in the virgin olive oil, and in other oils to which these polyphenols had been added. In a study with 20 obese people, who received breakfast based on oils after several heating cycles, postprandial oxidative stress and DNA oxidation damage were decreased after the breakfast enriched with virgin olive oil or seed oil with added polyphenols, compared with the breakfast prepared with sunflower or seed oil with an added artificial antioxidant (dimethylpolysiloxane) [
201
]. These results suggest that frying oils rich in phenolic compounds are a healthier alternative for frying [
208
]. Although the specific influence of polyphenols on hemostasis has not been properly studied, MedDiet, or meals enriched with virgin olive oil, have been reported to lower the procoagulant state [
209
,
210
]. This fact has been related to platelet function [
211
,
212
,
213
,
214
,
215
,
216
,
217
,
218
,
219
] or fibrinolysis [
218
].
Overall, polyphenols in olive oil can improve inflammation, oxidative stress and hemostasis, thus potentially preventing atherogenesis.
6.6. Phenolic Compounds and Gut Microbiota
In the last decade, microbiota has emerged as a novel pathway linked to CVD and non-cardiovascular diseases [
220
,
221
,
222
,
223
]. There is enough evidence to consider gut microbiota as a new marker of CVD, related to the major traditional CVD risk factors such as T2DM, arterial hypertension, dyslipidemia and obesity [
222
]. The gut microbiome effects can be altered by diet in a variable and complex way. Research in this field is focused on understanding the different pathways involved in the gut microbiota response to identify subjects at risk of developing CVD or metabolic disorders, as well as to apply personalized dietary interventions. Some of the reported gut microbiota-related mechanisms by which gut bacteria could influence CVD risk include the combination of short fatty acids generation, reduction in cholesterol available for reabsorption and production of active metabolites with cardioprotective properties [
224
].
Currently, no large studies on the effect of phenol compounds in olive oil on microbiota have been conducted. In the CORDIOPREV study, gut microbiota at baseline and after 2 years of dietary intervention were analyzed in 106 CHD patients, showing that the MedDiet rich in virgin olive oil partially restored the gut microbiome dysbiosis in obese patients [
173
]. Furthermore, another report from the same study showed that MedDiet can modulate gut microbiota, leading to an improvement in insulin sensitivity [
225
].
7. Polyphenols in Olive Oil and Red Wine and Nonalcoholic Fatty Liver Disease
In summary some promising data from animal and in vitro studies, as well from some short clinical trials, suggest that polyphenols could play a role in the management of NAFLD, thus collaborating to the beneficial effect of MedDiet on NAFLD.
8. Conclusions
Low-to-moderate consumption of red wine with meals and virgin olive oil have been reported to prevent cardiometabolic diseases, including CVD, T2DM, MetS and obesity. Current mechanisms underlying the beneficial effects of the MedDiet include a reduction in inflammatory and oxidative stress markers, improvements in lipid profile, insulin sensitivity and endothelial function, as well as antiatherosclerotic and antithrombotic properties, mainly attributable to their polyphenols content (
Figure 4
).
In 2004 and 2011, the FDA and the European Food Safety Authority, respectively, authorized a health claim for olive oil (and its phenolic compounds) consumption to prevent CHD, based on its effects on the lipid profile [
139
]. Consuming low-to-moderate amounts of red wine within the principal meals, in a Mediterranean style, can also exert cardioprotection.
Author Contributions
L.A.A.-S.-W. and J.D.-L. conceived the topic and revised the manuscript; J.D.-L., J.D.T.-P., A.I.P.-C. and J.L.-M. contributed to the Olive Oil section; P.D.-V., F.G.-V., P.D.-R. and L.A.A.-S.-W. contributed to the Wine section; J.D.T.-P., A.I.P.-C., P.D.-V. and F.G.-V. drafted the manuscript; J.D.-L., J.D.T.-P., F.G.-V. and L.A.A.-S.-W. prepared the
Figure 4
. P.D.-V. and L.A.A.-S.-W. generated the rest of figures; N.K., L.A.A.-S.-W. and J.D.-L. revised the final version; J.D.T.-P. formatted the bibliography. All authors made significant contributions to this review article.
Funding
This research received no external funding
Conflicts of Interest
The authors declare no conflict of interest.
Abbreviations
| | |
| --- | --- |
| Apo | Apolipoproteins |
| BP | blood pressure |
| CVD | Cardiovascular disease |
| GLP-1 | glucagon-like peptide 1 |
| HDL-c | High-density lipoprotein cholesterol |
| LDL-c | low-density lipoprotein cholesterol |
| LPL | Lipoprotein lipase |
| MedDiet | Mediterranean style diet |
| NO | nitric oxide |
| ROS | Reactive Oxygen Species |
| RWPs | Red Wine Polyphenols |
| TC | Total cholesterol |
| TG | triglyceride |
| T2D | Type 2 diabetes |
| VLDL | Very Low-Density Lipoproteins |
Figure 1. Classification and structure of the main polyphenol classes. Adapted from Pandey KB et al. Oxid. Med. Cell. Longev. 2009, 2, 270–8.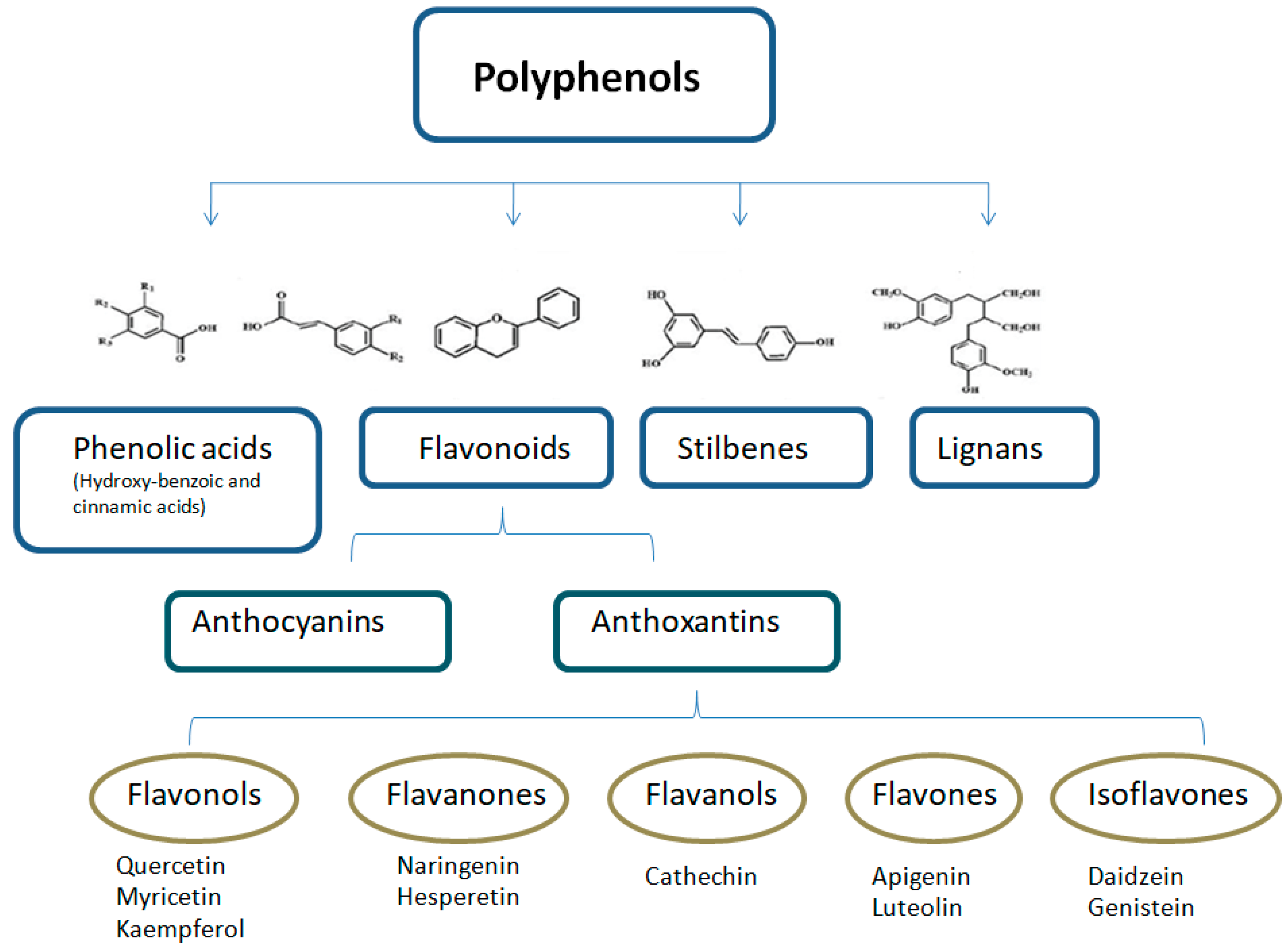 Figure 2.
Chemical structures of sub-classes of flavonoids. Adapted from Guasch-Ferré M 2017 [
1
].
Figure 3.
Components of table wine. Estimates of typical gross composition (percentage weight). Phenols constitute the major compositional difference between red and white table wines. Water and ethanol content is similar for both types of wine (87% and 10%, respectively) [
26
].
Figure 4. Impact of polyphenol content in moderate consumption of wine and olive oil on cardiovascular disease prevention and management.

Table 1.
Content of majority phenolic compounds of red and white wines, expressed in milligrams of gallic acid equivalent (mg/GAE/L). Adapted from Markoski MM, 2016 [
33
].
| Phenolic Compounds | Red Wine (mg/GAE/L) | White Wine (mg/GAE/L) |
| --- | --- | --- |
| Catequin | 191 | 35 |
| Epigallocatechin | 82 | 21 |
| Gallic Acid | 95 | 7 |
| Cyanidin-3-glucoside | 3 | 0 |
| Malvidin-3-glucoside | 24 | 1 |
| Rutine | 9 | 0 |
| Quercetin | 8 | 0 |
| Myricetin | 9 | 0 |
| Caffeic acid | 7.1 | 2.8 |
| Resveratrol | 1.5 | 0 |
| Total content of phenolics | 2567 | 239 |

Table 2.
The phenolic compounds in different parts of grape and its products. Adapted from [
39
].
| Resource | Phenolic Compounds |
| --- | --- |
| Seed | gallic acid, (+)-catechin, epicatechin, dimeric procyanidin, proanthocyanidins |
| Skin | Proanthocyanidins, ellagic acid, myricetin, quercetin, kaempferol, trans-resveratrol |
| Leaf | myricetin, ellagic acid, kaempferol, quercetin, gallic acid |
| Stem | rutin, quercetin 3-O-glucuronide, trans-resveratrol, astilbin |
| Raisin | hydroxycinnamic acid, hydroxymethylfurfural |

© 2019 by the authors. Licensee MDPI, Basel, Switzerland. This article is an open access article distributed under the terms and conditions of the Creative Commons Attribution (CC BY) license (http://creativecommons.org/licenses/by/4.0/).