Open Access This article is
freely available
re-usable
Article
Evaluation of Agraz Consumption on Adipocytokines, Inflammation, and Oxidative Stress Markers in Women with Metabolic Syndrome
1
Food and therapeutic alternatives area, Ophidism Program; School of Microbiology, Universidad de Antioquia UdeA, Calle 70 No. 52-21, Medellín 050010, Colombia
2
Research Group PHYSIS, School of Nutrition and Dietetics, Universidad de Antioquia UdeA, Calle 70 No. 52-21, Medellín 050010, Colombia
3
Department of Nutritional Sciences, University of Connecticut, Storrs, CT 06269, USA
*
Author to whom correspondence should be addressed.
Received: 2 October 2018 / Accepted: 24 October 2018 / Published: 2 November 2018
Abstract
:
Metabolic syndrome (MetS) is characterized by increased oxidative stress and a pro-inflammatory state.
Vaccinium meridionale
Swartz (known as "agraz") is a berry rich in polyphenolic compounds with demonstrated antioxidant activity and anti-inflammatory effects in preclinical studies. The aim of this study was to evaluate the effects of agraz consumption on inflammatory and oxidative stress markers in women with MetS. Forty women with MetS (47 ± 9 years) were randomly assigned to consume daily either 200 mL of agraz nectar or placebo over four weeks in a double-blind, cross-over design study, separated by a 4-week washout period. Metabolic and inflammatory markers in serum and antioxidant/oxidative stress markers in serum and urine were assessed at the end of each period. Serum antioxidant capacity measured by the 2,2-diphenyl-1-picrylhydrazyl (DPPH) method was significantly higher (
p
= 0.028), while urinary 8-hydroxy-2′-deoxyguanosine (8-OHdG) was lower (
p
= 0.041) after agraz consumption, compared to placebo. In conclusion, consumption of agraz during four weeks increased serum antioxidant capacity and decreased a marker of DNA oxidative damage in women with MetS, compared to placebo. These results suggest that agraz consumption may play a protective role in patients with MetS.
Keywords:
Vaccinium meridionale
; metabolic syndrome; polyphenols; berries; Andean berry; intervention
2. Materials and Methods
2.1. Experimental Design
Forty women (
n
= 40; 28–66 years old) classified with MetS, according to the revised American Diabetes Association-National Cholesterol Education Program (AHA-NCEP)-ATPIII definition [
37
], were recruited to participate in this study. According to this definition of MetS, participants must have 3 out of 5 of the following characteristics: waist circumference (WC) ≥ 88 cm, blood pressure (BP) ≥ 130/85 mm Hg, plasma triglycerides (TG) ≥ 150 mg/dL, HDL-c < 50 mg/dL, and fasting plasma glucose ≥ 100 mg/dL. Since there are no previous studies in people consuming this fruit, the sample size estimation and the time of supplementation were based on data from two previous studies following a similar protocol as this study, in which blood pressure, plasma triglyceride, low-density lipoprotein cholesterol (LDL-c), oxidative stress, and inflammatory markers were reduced significantly after grape supplementation (a fruit rich in polyphenols), compared to placebo [
38
,
39
]. The exclusion criteria were kidney disease, CVD, TG ≥ 500 mg/dL, fasting blood glucose ≥ 126 mg/dL or having diabetes, LDL-c ≥ 190 mg/dL, and BP > 140/90 mm Hg. In addition, individuals were excluded if they were taking lipid-lowering, hypoglycemic and anti-hypertensive medications, acetylsalicylic acid, warfarin or other anticoagulants, ibuprofen, clopidogrel, naproxen, dipyridamole, and any other nonsteroidal anti-inflammatory drug, as well as undergoing hormone replacement therapy, consuming >20 g per day of alcohol, cigarette smoking, being pregnant or planning to become pregnant, being a high performance athlete, and/or consumption of supplements or nutraceuticals.
The Human Bioethical Committee of the University Research Headquarters, University of Antioquia, approved the study with the Act No. 15-35-558-02. All participants signed the informed consent before entering the study. The first participant entering the study was randomly assigned to consume either agraz or placebo; the rest of the participants were assigned in such an order that each consumption period began with the same number of participants, in a double-blinded crossover experimental design over 12 weeks. The placebo was designed to match the agraz in terms of look, feel, taste, and macronutrients, but without polyphenols. The composition of agraz nectar and placebo is presented in
Table 1
and it has been previously described [
40
]. Following 4 weeks of consuming agraz or placebo, participants underwent a 4-week washout period and were allocated to the alternate treatment for the next 4 weeks. The daily dose of agraz was calculated taking into account the total content of phenols in 200 g of fresh fruit. The corresponding amount of lyophilized agraz and placebo was reconstituted in 200 mL of drinkable water. Participants were asked to abstain from consuming polyphenol-rich foods, including tea, berries, grapes, and wine, during the whole study, in addition to maintaining their level and type of physical activity and usual diet throughout the study. To monitor the adherence to the study, participants completed weekly questionnaires asking about timing and days of consumption of the product and if any prohibited food had been consumed, for which they needed an adherence greater than 80% to continue in the study. Additionally, participants completed physical activity and dietary registries at the beginning and last week of each consumption period (agraz and placebo). The adherence and physical activity registries and food frequency questionnaire were adapted from Barona et al. [
39
] and Monsalve et al. [
41
], respectively.
2.2. Anthropometrics: Body Weight, Height, Body Mass Index (BMI), and Waist Circumference (WC)
Body weight was measured to the nearest 0.1 kg on a calibrated digital scale (Seca 813, Seca, Chino, CA, USA). Height was measured to the nearest 0.1 cm using a portable stadiometer (Seca 213, Seca, Chino, CA, USA). BMI (kg/m
2
) was calculated to classify participants [
42
]. WC was measured at the upper border of the iliac crest to the nearest 0.1 cm using a non-stretching body measuring tape over the skin (Lufkin W606PM, Crescent Tools, MD, USA), at the beginning and end of each period.
2.3. Blood Pressure (BP)
Systolic and diastolic BP were measured in the left arm at the level of the heart after at least 5 min of resting in sitting position and using an automated BP monitor (Omron Healthcare Inc., Hoffman Estates, IL, USA). At least two measurements were made separated by 1 min and the mean value was used.
2.4. Blood and Urine Collection
After a 12-h overnight fast, blood was drawn from the antecubital vein using dry tubes (Vacutainer
®
, Franklin Lakes, NJ, USA) which were allowed to stand for 30 min and centrifuged at 2000×
g
for 10 min. Serum was aliquoted and frozen at −70 °C until analysis. Urine samples were collected for 24 h without preservatives and kept in refrigeration during collection. The urine was aliquoted and stored at −70 °C until analysis.
2.5. Blood Lipids, Glucose and Insulin, and Urinary Creatinine
Fasting blood lipids (total cholesterol, HDL-c, non-HDL-c, and TG) and glucose, and urinary creatinine were measured in an automatic analyzer (SIEMENS, Washington, DC, USA). LDL-c concentration was calculated using the Friedewald formula [
43
]. For the determination of insulin, a sandwich immunoassay was employed with direct chemiluminescence technology (SIEMENS, Washington, DC, USA) in an automated analyzer. Atherogenic indexes of plasma were calculated based on the literature [
44
,
45
].
2.6. Index of Insulin Resistance
The Homeostatic Model Assessment for Insulin Resistance (HOMA-IR) was calculated using the free software HOMA calculator V2.2.3 (Diabetes Trial Unit, University of Oxford, Headington, Oxford, UK). The QUICKI index was calculated using the formula Quicki = 1/[log insulin (mUI/L) + log glucose in fasting (mg/dL)] [
46
].
2.7. Inflammation Markers and Adipocytokines
Levels of high sensitive CRP (hs-CRP) were measured using the turbidimetric immunoassay technique (SIEMENS, Washington, DC, USA). Serum adiponectin, leptin, and resistin were measured using the human adipocyte magnetic panel kit (Millipore Sigma, Burlington, MA, USA), using Luminex xMAP® technology (Millipore Sigma) and following the manufacturer's instructions.
2.8. Total Phenols Concentration and Antioxidant Capacity
The serum of the patients was deproteinized by the method of Serafini et al. [
47
] with modifications. Total phenols were determined in deproteinized serum using the methodology described by Singleton V. L. et al. by the Folin–Ciocalteu method [
48
], the values were calculated from a calibration curve with gallic acid (GA) and the results were expressed as mg of GA equivalents (GAE)/L. Antioxidant capacity was determined by the free radical method 2,2-Diphenyl-1-Picrylhydrazyl (DPPH). DPPH scavenging activity was measured using a modification of the method described by Chrzczanowicz et al. [
49
], using deproteinized serum and control (mix of the reagent to deproteinize without serum). The scavenging effect (Sc%) of DPPH was calculated using the following formula. Sc% = (1 − (A517 serum sample/A517 control)) × 100.
2.9. Oxidative Stress Markers
The determination of thiobarbituric acid reactive substances (TBARS) was carried out with the TBARS (Trichloroacetic acid method) Assay Kit (Cayman Chemical, Ann Arbor, MI, USA) using a colorimetric standard and following manufacturer's recommendations. The measurement of F2-isoprostanes in 24-h urine was performed with the OxiSelect™ 8-iso-prostaglandin F2α ELISA kit (Cell Biolabs, Inc., San Diego, CA, USA). A competitive Elisa kit was used to measure 8-OHdG in 24-h urine (Abcam, Cambridge, MA, USA). Urinary creatinine was used as a control for the 24-h urine collection and to normalize the values of urinary F2-isoprostanes and 8-OHdG, which are presented as ng/mg creatinine.
2.10. Statistical Analysis
The Shapiro–Wilk normality test was used to determine the distribution of the variables. For those showing a normal distribution, a
t
-test was performed for paired samples and for non-normally distributed variables, the Wilcoxon test was used to analyze the differences between the periods of agraz and placebo. Pearson's and Spearman's correlation coefficients were used to evaluate associations between quantitative variables measured in agraz or placebo periods according to their distribution. A
p
-value ≤ 0.05 was considered significant. These analyses were carried out using SPSS software version 24.0 for Windows (IBM Corporation, Armonk, NY, USA, 2016). Results are presented as median (interquartile range—IQR) and mean ± standard deviation-SD.
3. Results
Participants maintained their usual diet and physical activity, and their body weight was constant throughout the study. Adherence to the study was greater than 90%. Thus, the obtained results were not associated with weight loss, changes in the composition (quantity and quality) of the diet, or changes in energy expenditure.
4. Discussion
In summary, our results suggest that chronic consumption of agraz in women with MetS decreases oxidative damage in DNA, possibly through a mechanism dependent on the increase in serum antioxidant capacity promoted by agraz. In addition, in women with three components of MetS, the consumption of this fruit reduced hs-CRP levels compared to placebo, but not in women with four or more components, suggesting a protective role in inflammation in less severe cases of MetS. Finally, important correlations with markers involved in lipid peroxidation and antiatherogenic molecules were observed after agraz consumption; supporting the potential of this Colombian fruit to modulate CVD risk factors.
This is one of the first studies evaluating the effects of this fruit in humans. Although the current sample size may have prevented us from finding other significant results, the dose and appearance (nectar) used represented the consumption of agraz in a usual Colombian diet. Due to the astringent flavor of agraz, a more concentrated nectar was not palatable for volunteers. However, more studies are needed to evaluate higher doses and time of supplementation in people at high risk for CVD.
Author Contributions
Conceptualization, J.B.-A. and M.L.F.; Methodology, J.B.-A. and M.L.F.; Validation, J.B.-A.; Formal Analysis, J.B.-A.; J.C.A.; G.C.-G.; J.E.-M.; C.M.-E.; and Y.G.-P.; Investigation, J.B.-A.; J.C.A.; G.C.-G.; and C.M.-E.; Y.G.-P. did the intervention and performed experiments; J.E.-M. performed experiments; resources, J.B.-A.; M.L.F; and C.N.B.; data curation, J.B.-A.; J.E.-M.; C.M.-E.; and Y.G.-P.; Writing—original draft preparation, J.E.-M.; and J.B.-A.; Writing—review and editing, J.B.-A.; J.C.A; M.L.F.; C.N.B.; and C.M.-E.; Visualization, J.E.-M.; Supervision, J.B.-A.; Project Administration, J.B.-A.; Funding Acquisition, J.B.-A.
Funding
This research was funded by Departamento Administrativo de Ciencia, Tecnología e Innovación—Colciencias, grant number 111565740563, Contract No. 657; and University of Antioquia UdeA, Medellin-Colombia.
Acknowledgments
We thank all the volunteers who were willing to participate in the study.
Conflicts of Interest
The authors declare no conflicts of interest. The funders had no role in the design of the study; in the collection, analyses, or interpretation of data; in the writing of the manuscript, or in the decision to publish the results.
Figure 1. Baseline clinical and anthropometric characteristics of women with metabolic syndrome [according to ATP-III guidelines (37)]. HDL-c: high-density lipoprotein cholesterol. D-BP: diastolic blood pressure. S-BP: systolic blood.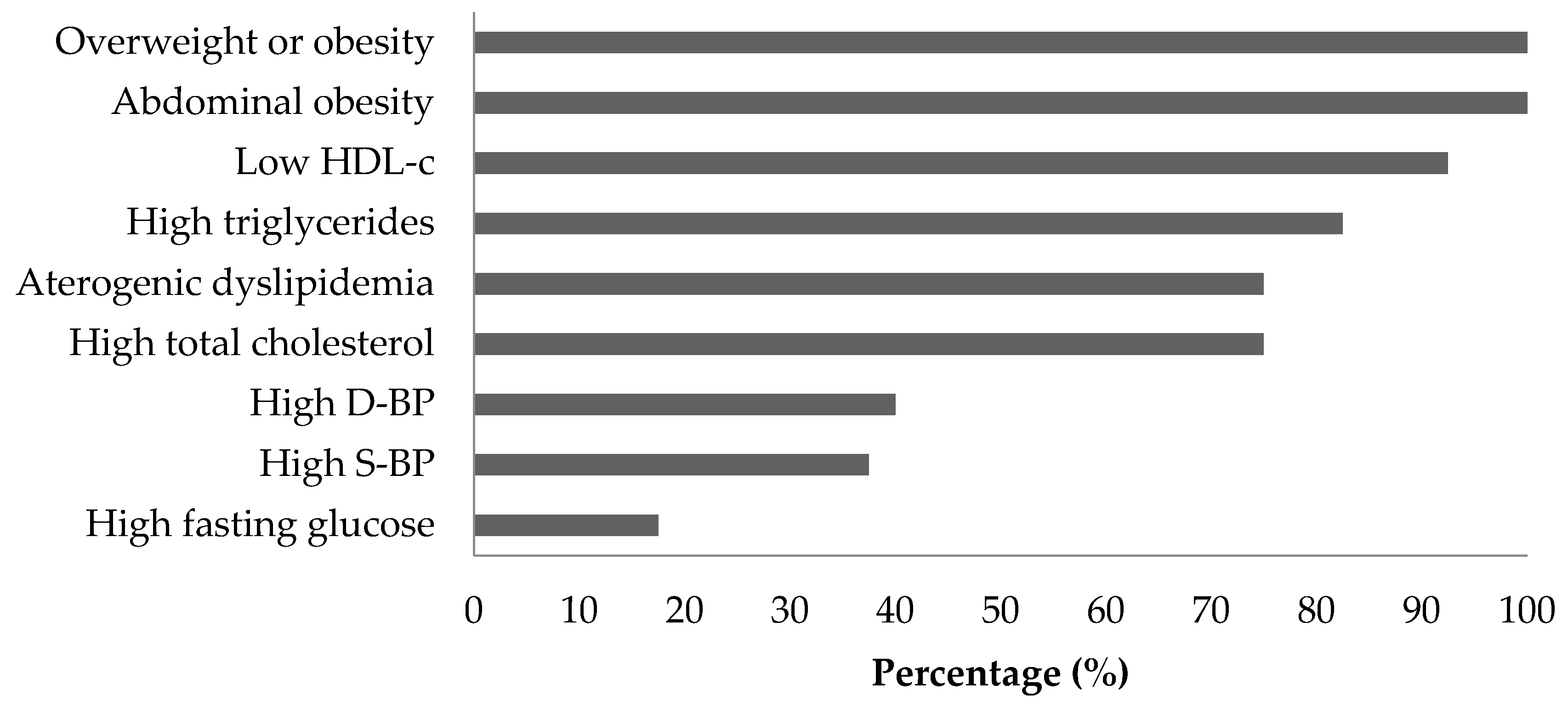 Figure 2.
High sensitive C-reactive Protein (hs-CRP) levels in patients who presented three and four+ metabolic syndrome (MetS) parameters after placebo and agraz consumption. Values are presented as mean ± standard deviation. * Significance
p
≤ 0.05.
Figure 3.
Spearman correlations between the concentrations of Triglycerides and TBARS (
A
) and HDL-c and adiponectin (
B
) after agraz and placebo consumption in women with MetS. *
p
≤ 0.05 is considered significant. r: correlation coefficient.

Table 1. Phytochemical composition and nutrient analysis of the freeze-dried agraz, nectar, and placebo.
Nutrient/Compound
Freeze-Dried Agraz
Nectar (Reconstituted from Freeze-Dried Agraz in 200 mL)
Placebo
(200 mL)
Macronutrients
Calories per dose (Kcal)
ND
26 ± 0.18
21.86 ± 0.21
Total carbohydrate (%)
78.85 ± 0.19
2.08 ± 0.19
2.50 ± 0.19
Protein (%)
1.39 ± 0.25
0.05 ± 0.01
0.21 ±0.05
Phytochemicals
Total Phenols (mg GAE/g of freeze-dried or L)
139.29 ± 5.69
1027.97 ± 41.99
31.91 ± 3.15
Anthocyanins (mg CE/g) a
4.66
ND
ND
Anthocyanins (mg/L) b
ND
75.65
ND
ND, non-determined. GAE, gallic acid equivalents; CE, cyanidin equivalents. a Freeze-dried agraz anthocyanins were analyzed using high performance liquid chromatography diode array detection (HPLC-DAD). b Nectar anthocyanins were measured by differential pH.

Table 2. Changes in anthropometric and biochemical variables in women with metabolic syndrome after consuming agraz compared to placebo.
Variables
Placebo
Agraz
Δ (Agraz-Placebo)

p

n

Mean or Median ± SD or IQR (p25-p75)

n

Mean or Median ± SD or IQR (p25-p75)
Mean or Median ± SD or IQR (p25-p75)
Weight (Kg) a
40
76.6 ± 11.6
40
76.6 ± 11.6
−0.05 ± 0.9
0.756
Body Mass Index (Kg/mt2) b
40
29.8 (4.26)
40
29.9 (3.87)
−0.11 (0.64)
0.975
Waist circumference (cm) b
40
98.7 (9.43)
40
98.5 (10.23)
−0.2 (3.87)
0.185
Systolic blood pressure (mm Hg) a
40
115.4 ± 12.5
40
116.0 ± 11.8
0.5 ± 8.6
0.692
Diastolic blood pressure (mm Hg) a
40
74.8 ± 8.0
40
75.1 ± 9.5
0.3 ± 5.2
0.73
Fasting glucose (mg/dL) a
40
96.8 ± 8.1
40
95.9 ± 8.0
−0.9 ± 0.3
0.291
Triglycerides (mg/dL) b
39
197.61 (104.59)
39
193.82 (105.32)
−9.79 (110.53)
0.759
Total cholesterol (mg/dL) a
40
219.6 ± 43.3
40
216.1 ± 45.1
−3.5 ± 38.7
0.574
HDL cholesterol (mg/dL) a
40
41.6 ± 6.4
40
41.7 ± 6.8
0.9 ± 4.4
0.905
LDL cholesterol (mg/dL) a
36
137.9 ± 39.3
36
132.2 ± 42.1
−5.7 ± 35.1
0.339
Non-HDL cholesterol (mg/dL) a
39
177.3 ± 42.3
39
174.5 ± 44.3
−2.8 ± 38.2
0.649
TG/HDL-c index b
39
4.45 (2.81)
39
4.84 (3.55)
−0.23 (3.57)
0.606
TC/HDL-c index a
40
5.35 ± 1.2
40
5.27 ± 1.2
−0.09 ± 0.9
0.565
LDL-c/HDL-c index a
36
3.29 ± 0.96
36
3.17 ± 0.95
−0.12 ± 0.8
0.357
a Paired T; b Wilcoxon; SD: Standard deviation; IQR: Interquartile range; Significance

p

≤ 0.05. TG: triglycerides. TC: total cholesterol. HDL: high-density lipoprotein cholesterol. LDL: Low-density lipoprotein cholesterol.

Table 3. Changes in antioxidant capacity and oxidation markers in women with metabolic syndrome after agraz consumption compared to placebo.
Variables
Placebo
Agraz
Δ (Agraz-Placebo)

p

n

Mean or Median ± SD or IQR
(p25-p75)

n

Mean or Median ± SD or IQR
(p25-p75)
Mean or Median ± SD or IQR
(p25-p75)
DPPH (% Scavenging effect) a
40
10.55 ± 6.19
40
12.63 ± 7.47
2.08 ± 5.75
0.028 *
Total phenols mgGA/L b
40
297.29 (57.29)
40
331.88 (56.04)
7.92 (72.70)
0.279
TBARS b
40
0.89 (0.39)
40
0.92 (0.45)
0.04 (0.42)
0.402
F2-Isoprostanes (ng/mg creatinine) b
35
2.86 (3.97)
35
3.03 (3.41)
0.11 (3.39)
0.863
OHdG (ng/mg creatinine) a
35
1.97 ± 0.66
35
1.66 ± 0.5
−0.27 ± 0.72
0.041 *
a Paired T; b Wilcoxon; SD: Standard deviation; IQR: Interquartile range; * Significance

p

≤ 0.05. DPPH: 2,2-Diphenyl-1-Picrylhydrazyl; TBARS: Thiobarbituric acid reactive substances; 8-OHdG: 8-hydroxy-2′-deoxyguanosine.

Table 4. Changes in markers of insulin resistance and inflammation in women with metabolic syndrome after agraz consumption compared to placebo.
Variables
Placebo
Agraz
Δ (Agraz-Placebo)

p

n

Mean or Median ± SD or IQR (p25-p75)

n

Mean or Median ± SD or IQR (p25-p75)
Mean or Median ± SD or IQR (p25-p75)
Insulin (mUI/L) b
39
16.34 (13.03)
39
15.0 (14.01)
0.26 (4.91)
0.922
HOMA 2 index b
38
2.33 (1.83)
40
2.21 (1.8)
0.02 (0.66)
0.577
QUICKI index a
39
0.314 ± 0.024
39
0.315 ± 0.024
0.0 ± 0.012
0.714
hs-CRP (mg/L) b
37
4.8 (2.81)
37
3.75 (2.80)
−0.54 (2.5)
0.103
Adiponectin (ug/mL) b
37
12.75 (14.53)
37
13.23 (11.38)
0.89 (4.43)
0.225
Resistin (ng/mL) a
38
31.96 ± 7.77
38
33.84 ± 10.1
1.88 ± 9.45
0.229
Leptin (ng/mL) a
38
3.58 ± 1.52
38
3.58 ± 1.66
0.025 ± 0.76
0.986
a Paired T; b Wilcoxon; SD: Standard deviation; IQR: Interquartile range; Significance

p

≤ 0.05. hs-CRP: high-sensitive C-reactive protein.

© 2018 by the authors. Licensee MDPI, Basel, Switzerland. This article is an open access article distributed under the terms and conditions of the Creative Commons Attribution (CC BY) license (http://creativecommons.org/licenses/by/4.0/).