The Benefits of the Ka-Band as Evidenced from the SARAL/AltiKa Altimetric Mission: Scientific Applications
1
Institut des Géosciences de l'Environnement (IGE), CNRS, 38041 Grenoble, France
2
SYRTE, Observatoire de Paris, PSL Research University, CNRS, Sorbonne Universités, UPMC Univ. Paris 06, LNE, 75014 Paris, France
3
Météo-France, 31057 Toulouse, France
4
Laboratoire d'Etudes en Géophysique et Océanographie Spatiales (LEGOS), 31400 Toulouse, France
5
Space Applications Centre (ISRO), Ahmedabad 380015, India
6
Universidade do Estado de Amazonas, Manaus 69020, Brazil
7
Centre National d'Etudes Spatiales (CNES), 31400 Toulouse, France
8
Collecte Localisation Satellites (CLS), 31520 Ramonville Saint-Agne, France
9
Mercator Océan, 31520 Ramonville Saint-Agne, France
10
Institut Mediterrani d'Estudis Avançats (IMEDEA) (CSIC-UIB), 07190 Esporles, Illes Balears, Spain
11
Laboratory for Satellite Altimetry, NOAA, College Park, MD 20740-3818, USA
12
Laboratoire d'Océanographie Physique et Spatiale (LOPS), 29280 Plouzané, France
*
Author to whom correspondence should be addressed.
Received: 29 November 2017 / Revised: 12 January 2018 / Accepted: 19 January 2018 / Published: 24 January 2018
Abstract
The India–France SARAL/AltiKa mission is the first Ka-band altimetric mission dedicated primarily to oceanography. The mission objectives were firstly the observation of the oceanic mesoscales but also global and regional sea level monitoring, including the coastal zone, data assimilation, and operational oceanography. SARAL/AltiKa proved also to be a great opportunity for inland waters applications, for observing ice sheet or icebergs, as well as for geodetic investigations. The mission ended its nominal phase after three years in orbit and began a new phase (drifting orbit) in July 2016. The objective of this paper is to highlight some of the most remarkable achievements of the SARAL/AltiKa mission in terms of scientific applications. Compared to the standard Ku-band altimetry measurements, the Ka-band provides substantial improvements in terms of spatial resolution and data accuracy. We show here that this leads to remarkable advances in terms of observation of the mesoscale and coastal ocean, waves, river water levels, ice sheets, icebergs, fine scale bathymetry features as well as for the many related applications.
View Full-Text
►

▼

Figures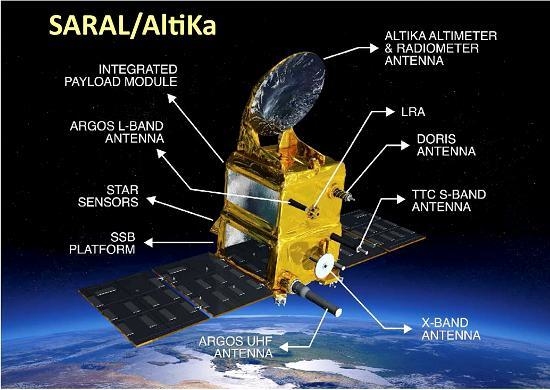 Graphical abstract
This is an open access article distributed under the
Creative Commons Attribution License
which permits unrestricted use, distribution, and reproduction in any medium, provided the original work is properly cited (CC BY 4.0).

Share & Cite This Article
MDPI and ACS Style
Verron, J.; Bonnefond, P.; Aouf, L.; Birol, F.; Bhowmick, S.A.; Calmant, S.; Conchy, T.; Crétaux, J.-F.; Dibarboure, G.; Dubey, A.K.; Faugère, Y.; Guerreiro, K.; Gupta, P.K.; Hamon, M.; Jebri, F.; Kumar, R.; Morrow, R.; Pascual, A.; Pujol, M.-I.; Rémy, E.; Rémy, F.; Smith, W.H.F.; Tournadre, J.; Vergara, O. The Benefits of the Ka-Band as Evidenced from the SARAL/AltiKa Altimetric Mission: Scientific Applications. Remote Sens. 2018, 10, 163.
Note that from the first issue of 2016, MDPI journals use article numbers instead of page numbers. See further details here.
Related Articles
Comments
[Return to top]