Effect of Cationic Lipid Type in Folate-PEG-Modified Cationic Liposomes on Folate Receptor-Mediated siRNA Transfection in Tumor Cells
1
Department of Drug Delivery Research, Hoshi University, 2-4-41 Ebara, Shinagawa, Tokyo 142-8501, Japan
2
Education and Research Center for Pharmaceutical Sciences, Osaka University of Pharmaceutical Sciences, 4-20-1 Nasahara, Takatsuki, Osaka 569-1094, Japan
*
Author to whom correspondence should be addressed.
Received: 12 March 2019 / Revised: 6 April 2019 / Accepted: 12 April 2019 / Published: 15 April 2019
Abstract
In this study, we examined the effect of cationic lipid type in folate (FA)-polyethylene glycol (PEG)-modified cationic liposomes on gene-silencing effects in tumor cells using cationic liposomes/siRNA complexes (siRNA lipoplexes). We used three types of cationic cholesterol derivatives, cholesteryl (3-((2-hydroxyethyl)amino)propyl)carbamate hydroiodide (HAPC-Chol),
N
-(2-(2-hydroxyethylamino)ethyl)cholesteryl-3-carboxamide (OH-Chol), and cholesteryl (2-((2-hydroxyethyl)amino)ethyl)carbamate (OH-C-Chol), and we prepared three types of FA-PEG-modified siRNA lipoplexes. The modification of cationic liposomes with 1–2 mol % PEG-lipid abolished the gene-silencing effect in human nasopharyngeal tumor KB cells, which overexpress the FA receptor (FR). In contrast, FA-PEG-modification of cationic liposomes restored gene-silencing activity regardless of the cationic lipid type in cationic liposomes. However, the optimal amount of PEG-lipid and FA-PEG-lipid in cationic liposomes for selective gene silencing and cellular uptake were different among the three types of cationic liposomes. Furthermore, in vitro transfection of polo-like kinase 1 (PLK1) siRNA by FA-PEG-modified liposomes exhibited strong cytotoxicity in KB cells, compared with PEG-modified liposomes; however, in in vivo therapy, intratumoral injection of PEG-modified PLK1 siRNA lipoplexes inhibited tumor growth of KB xenografts, as well as that of FA-PEG-modified PLK1 siRNA lipoplexes. From these results, the optimal formulation of PEG- and FA-PEG-modified liposomes for FR-selective gene silencing might be different between in vitro and in vivo transfection.
View Full-Text
►

▼

Figures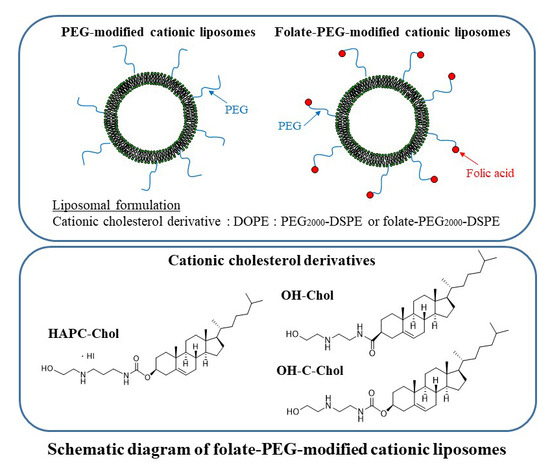 Graphical abstract
This is an open access article distributed under the
Creative Commons Attribution License
which permits unrestricted use, distribution, and reproduction in any medium, provided the original work is properly cited (CC BY 4.0).

Share & Cite This Article
MDPI and ACS Style
Hattori, Y.; Shimizu, S.; Ozaki, K.-I.; Onishi, H. Effect of Cationic Lipid Type in Folate-PEG-Modified Cationic Liposomes on Folate Receptor-Mediated siRNA Transfection in Tumor Cells. Pharmaceutics 2019, 11, 181.
Note that from the first issue of 2016, MDPI journals use article numbers instead of page numbers. See further details here.
Related Articles
Comments
[Return to top]