Biodistribution and Physiologically-Based Pharmacokinetic Modeling of Gold Nanoparticles in Mice with Interspecies Extrapolation
1
School of Pharmacy, University of Waterloo, Kitchener, ON N2G 1C5, Canada
2
Grand River Regional Cancer Centre, Grand River Hospital, Kitchener, ON N2G 1G3, Canada
3
Department of Physics and Astronomy, University of Waterloo, Waterloo, ON N2L 3G1, Canada
4
Department of Clinical Studies, Ontario Veterinary College, University of Guelph, Guelph, ON N1G 2W1, Canada
5
Department of Systems Design Engineering, University of Waterloo, Waterloo, ON N2L 3G1, Canada
*
Author to whom correspondence should be addressed.
Received: 14 February 2019 / Revised: 4 April 2019 / Accepted: 10 April 2019 / Published: 12 April 2019
Abstract
Gold nanoparticles (AuNPs) are a focus of growing medical research applications due to their unique chemical, electrical and optical properties. Because of uncertain toxicity, "green" synthesis methods are emerging, using plant extracts to improve biological and environmental compatibility. Here we explore the biodistribution of green AuNPs in mice and prepare a physiologically-based pharmacokinetic (PBPK) model to guide interspecies extrapolation. Monodisperse AuNPs were synthesized and capped with epigallocatechin gallate (EGCG) and curcumin. 64 CD-1 mice received the AuNPs by intraperitoneal injection. To assess biodistribution, groups of six mice were sacrificed at 1, 7, 14, 28 and 56 days, and their organs were analyzed for gold content using inductively coupled plasma mass spectrometry (ICP-MS). A physiologically-based pharmacokinetic (PBPK) model was developed to describe the biodistribution data in mice. To assess the potential for interspecies extrapolation, organism-specific parameters in the model were adapted to represent rats, and the rat PBPK model was subsequently evaluated with PK data for citrate-capped AuNPs from literature. The liver and spleen displayed strong uptake, and the PBPK model suggested that extravasation and phagocytosis were key drivers. Organ predictions following interspecies extrapolation were successful for rats receiving citrate-capped AuNPs. This work lays the foundation for the pre-clinical extrapolation of the pharmacokinetics of AuNPs from mice to larger species.
View Full-Text
►

▼

Figures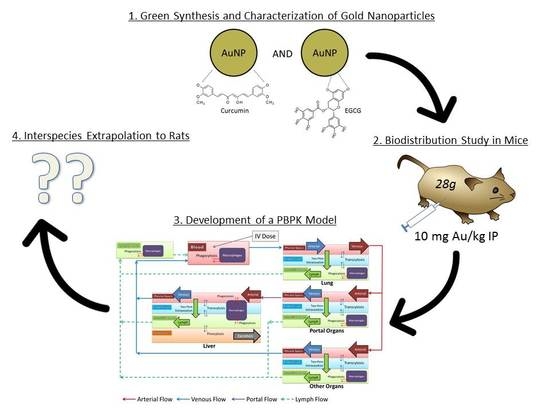 Graphical abstract
This is an open access article distributed under the
Creative Commons Attribution License
which permits unrestricted use, distribution, and reproduction in any medium, provided the original work is properly cited (CC BY 4.0).

Share & Cite This Article
MDPI and ACS Style
Aborig, M.; Malik, P.R.V.; Nambiar, S.; Chelle, P.; Darko, J.; Mutsaers, A.; Edginton, A.N.; Fleck, A.; Osei, E.; Wettig, S. Biodistribution and Physiologically-Based Pharmacokinetic Modeling of Gold Nanoparticles in Mice with Interspecies Extrapolation. Pharmaceutics 2019, 11, 179.
Note that from the first issue of 2016, MDPI journals use article numbers instead of page numbers. See further details here.
Related Articles
Comments
[Return to top]