A Loop Region in the N-Terminal Domain of Ebola Virus VP40 Is Important in Viral Assembly, Budding, and Egress
1
Department of Chemistry and Biochemistry, the Eck Institute for Global Health, University of Notre Dame, Notre Dame, IN 46556, USA
2
Department of Biochemistry and Molecular Biology, Indiana University School of Medicine-South Bend, South Bend, IN 46617, USA
3
Department of Biomedical Engineering, University of California, Irvine, CA 92697, USA
4
Centre for Bioactive Discovery in Health and Ageing, School of Science and Technology, University of New England, Armidale NSW 2351, Australia
*
Author to whom correspondence should be addressed.
†
Current address: Department of Molecular Biosciences/HHMI, Northwestern University, Evanston, IL 60208, USA.
‡
These authors contributed equally to this work.
Received: 1 July 2014 / Revised: 9 October 2014 / Accepted: 11 October 2014 / Published: 17 October 2014
Abstract
Ebola virus (EBOV) causes viral hemorrhagic fever in humans and can have clinical fatality rates of ~60%. The EBOV genome consists of negative sense RNA that encodes seven proteins including viral protein 40 (VP40). VP40 is the major Ebola virus matrix protein and regulates assembly and egress of infectious Ebola virus particles. It is well established that VP40 assembles on the inner leaflet of the plasma membrane of human cells to regulate viral budding where VP40 can produce virus like particles (VLPs) without other Ebola virus proteins present. The mechanistic details, however, of VP40 lipid-interactions and protein-protein interactions that are important for viral release remain to be elucidated. Here, we mutated a loop region in the N-terminal domain of VP40 (Lys
127
, Thr
129
, and Asn
130
) and find that mutations (K127A, T129A, and N130A) in this loop region reduce plasma membrane localization of VP40. Additionally, using total internal reflection fluorescence microscopy and number and brightness analysis we demonstrate these mutations greatly reduce VP40 oligomerization. Lastly, VLP assays demonstrate these mutations significantly reduce VLP release from cells. Taken together, these studies identify an important loop region in VP40 that may be essential to viral egress.
View Full-Text
►

▼

Figures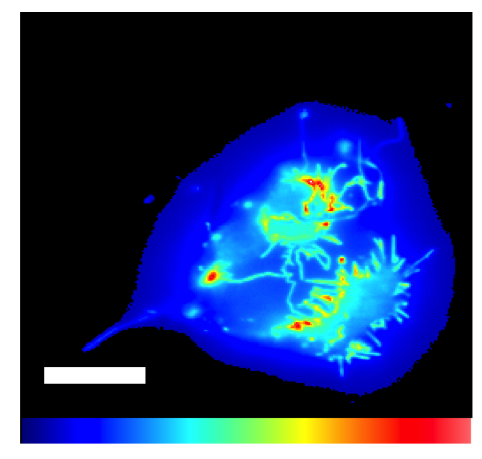 Graphical abstract
This is an open access article distributed under the
Creative Commons Attribution License
which permits unrestricted use, distribution, and reproduction in any medium, provided the original work is properly cited (CC BY 4.0).

Share & Cite This Article
MDPI and ACS Style
Adu-Gyamfi, E.; Soni, S.P.; Jee, C.S.; Digman, M.A.; Gratton, E.; Stahelin, R.V. A Loop Region in the N-Terminal Domain of Ebola Virus VP40 Is Important in Viral Assembly, Budding, and Egress. Viruses 2014, 6, 3837-3854.
Related Articles
Comments
[Return to top]