Susceptibility of
Exopalaemon carinicauda

to the Infection with Shrimp Hemocyte Iridescent Virus (SHIV 20141215), a Strain of Decapod Iridescent Virus 1 (DIV1)

1

Laboratory for Marine Fisheries Science and Food Production Processes, National Laboratory for Marine Science and Technology (Qingdao); Key Laboratory of Maricultural Organism Disease Control, Ministry of Agriculture and Rural Affairs; Qingdao Key Laboratory of Mariculture Epidemiology and Biosecurity; Yellow Sea Fisheries Research Institute, Chinese Academy of Fishery Sciences, Qingdao 266071, China

2

College of Fisheries and Life Science, Shanghai Ocean University, Shanghai 201306, China

3

Key Laboratory of Experimental Marine Biology, Institute of Oceanology, Chinese Academy of Sciences, Qingdao 266071, China

*

Author to whom correspondence should be addressed.

Received: 12 February 2019 / Revised: 3 April 2019 / Accepted: 15 April 2019 / Published: 25 April 2019
Abstract
In this study, ridgetail white prawns—
Exopalaemon carinicauda
—were infected per os (PO) with debris of
Penaeus vannamei
infected with shrimp hemocyte iridescent virus (SHIV 20141215), a strain of decapod iridescent virus 1 (DIV1), and via intramuscular injection (IM with raw extracts of SHIV 20141215. The infected
E. carinicauda
showed obvious clinical symptoms, including weakness, empty gut and stomach, pale hepatopancreas, and partial death with mean cumulative mortalities of 42.5% and 70.8% by nonlinear regression, respectively. Results of TaqMan probe-based real-time quantitative PCR showed that the moribund and surviving individuals with clinical signs of infected
E. carinicauda
were DIV1-positive. Histological examination showed that there were darkly eosinophilic and cytoplasmic inclusions, of which some were surrounded with or contained tiny basophilic staining, and pyknosis in hemocytes in hepatopancreatic sinus, hematopoietic cells, cuticular epithelium, etc. On the slides of in situ DIG-labeling-loop-mediated DNA amplification (ISDL), positive signals were observed in hematopoietic tissue, stomach, cuticular epithelium, and hepatopancreatic sinus of infected prawns from both PO and IM groups. Transmission electron microscopy (TEM) of ultrathin sections showed that icosahedral DIV1 particles existed in hepatopancreatic sinus and gills of the infected
E. carinicauda
from the PO group. The viral particles were also observed in hepatopancreatic sinus, gills, pereiopods, muscles, and uropods of the infected
E. carinicauda
from the IM group. The assembled virions, which mostly distributed along the edge of the cytoplasmic virogenic stromata near cellular membrane of infected cells, were enveloped and approximately 150 nm in diameter. The results of molecular tests, histopathological examination, ISDL, and TEM confirmed that
E. carinicauda
is a susceptible host of DIV1. This study also indicated that
E. carinicauda
showed some degree of tolerance to the infection with DIV1 per os challenge mimicking natural pathway.
View Full-Text
►

▼

Figures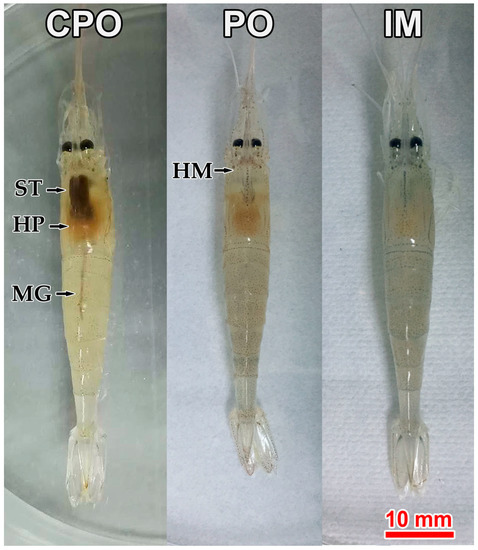 Figure 1
This is an open access article distributed under the
Creative Commons Attribution License
which permits unrestricted use, distribution, and reproduction in any medium, provided the original work is properly cited (CC BY 4.0).

Share & Cite This Article
MDPI and ACS Style
Chen, X.; Qiu, L.; Wang, H.; Zou, P.; Dong, X.; Li, F.; Huang, J. Susceptibility of Exopalaemon carinicauda to the Infection with Shrimp Hemocyte Iridescent Virus (SHIV 20141215), a Strain of Decapod Iridescent Virus 1 (DIV1). Viruses 2019, 11, 387.
Note that from the first issue of 2016, MDPI journals use article numbers instead of page numbers. See further details here.
Related Articles
Comments
[Return to top]