Hepatitis B Surface Antigen Activates Unfolded Protein Response in Forming Ground Glass Hepatocytes of Chronic Hepatitis B
1
Department of Microbiology and Infectious Disease Center, School of Basic Medical Sciences, Peking University Health Science Center, Beijing 100191, China
2
Liver Diseases Branch, National Institute of Diabetes and Digestive and Kidney Diseases, National Institutes of Health, Bethesda, MD 20892, USA
3
Laboratory of Pathology, National Cancer Institute, National Institutes of Health, Bethesda, MD 20892, USA
*
Authors to whom correspondence should be addressed.
Received: 2 April 2019 / Revised: 19 April 2019 / Accepted: 23 April 2019 / Published: 25 April 2019
Abstract
Ground glass hepatocytes (GGHs), a histological hallmark of chronic hepatitis B virus (HBV) infection, contain excessive hepatitis surface antigen (HBsAg) in the endoplasmic reticulum (ER), which is linked to unfolded protein response (UPR). The mechanism by which HBV activates UPR has not been fully defined. To investigate this, HepG2-NTCP cells and primary human hepatocytes (PHHs) were either infected with HBV or transduced with adenoviral vectors expressing replication-competent HBV genome or individual HBV genes. UPR markers were evaluated by qPCR, Western blotting, and immunofluorescence. Apoptosis and cell viability were measured by Caspase-3/7 and ATPlite assay respectively. We found that UPR markers were induced by the overexpression of HBsAg in HepG2-NTCP cells and PHHs. Elevation of UPR-induced genes showed a dose-dependent correlation with HBsAg levels. In HBV-infected livers, GGHs also demonstrated excessive accumulation of HBsAg associated with increased BIP/GRP78 staining, a marker of UPR. Prolonged activation of UPR by HBsAg overexpression induced signs of apoptosis. Overexpression of HBsAg can induce ER stress through protein kinase RNA-like endoplasmic reticulum kinase (PERK) pathway in vitro, and may be linked to the appearance of GGHs. The activation of UPR by HBsAg may sensitize hepatocytes to cell death and result in possible subsequent cellular changes leading to a premalignant phenotype.
View Full-Text
►

▼

Figures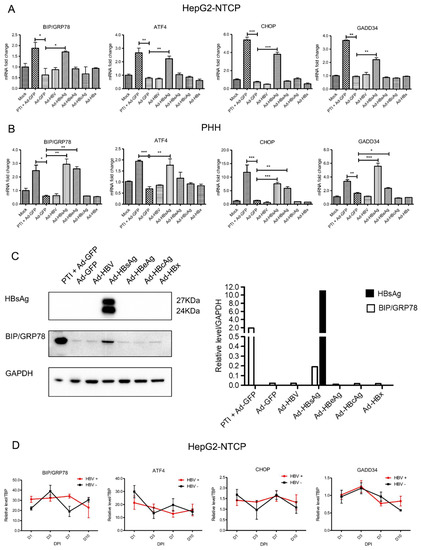 Figure 1
This is an open access article distributed under the
Creative Commons Attribution License
which permits unrestricted use, distribution, and reproduction in any medium, provided the original work is properly cited (CC BY 4.0).

Share & Cite This Article
MDPI and ACS Style
Li, Y.; Xia, Y.; Cheng, X.; Kleiner, D.E.; Hewitt, S.M.; Sproch, J.; Li, T.; Zhuang, H.; Liang, T.J. Hepatitis B Surface Antigen Activates Unfolded Protein Response in Forming Ground Glass Hepatocytes of Chronic Hepatitis B. Viruses 2019, 11, 386.
Note that from the first issue of 2016, MDPI journals use article numbers instead of page numbers. See further details here.
Related Articles
Comments
[Return to top]