Transcript Profiling Identifies Early Response Genes against FMDV Infection in PK-15 Cells
1
State Key Laboratory of Veterinary Etiological Biology, OIE/National Foot and Mouth Disease Reference Laboratory, Key Laboratory of Animal Virology of Ministry of Agriculture, Lanzhou Veterinary Research Institute, Chinese Academy of Agricultural Sciences, Lanzhou 730046, China
2
College of Veterinary Medicine, Gansu Agricultural University, Lanzhou 730070, China
3
Jiangsu Co-Innovation Center for Prevention and Control of Important Animal Infectious Diseases and Zoonoses, Yangzhou 225009, China
*
Authors to whom correspondence should be addressed.
Received: 6 April 2018 / Revised: 17 June 2018 / Accepted: 22 June 2018 / Published: 11 July 2018
Abstract
Foot-and-mouth disease (FMD) is a highly contagious disease that results in enormous economic loses worldwide. Although the protection provided by vaccination is limited during early infection, it is recognized as the best method to prevent FMD outbreaks. Furthermore, the mechanism of host early responses against foot-and-mouth disease virus (FMDV) infection remains unclear. In our study, a pig kidney cell line (PK-15) was used as a cell model to reveal the mechanism of early pig responses to FMDV infection. Four non-treated control and four FMDV-treated PK-15 cells were sequenced with RNA-seq technology, and the differentially expressed genes (DEGs) were analyzed. The results showed that 1212 DEGs were in the FMDV-infected PK-15 cells, including 914 up-regulated and 298 down-regulated genes. Kyoto Encyclopedia of Genes and Genomes (KEGG) pathways were significantly enriched in the tumor necrosis factor (TNF), cytokine-cytokine receptor interaction, NOD-like receptor, toll-like receptor, NF-κB, and the chemokine signaling pathways. To verify the results of the DEGs, 30 immune-related DEGs (19 up-regulated and 11 down-regulated) were selected for Quantitative Reverse Transcriptase polymerase chain reaction (RT-qPCR) verification. The results showed that RT-qPCR-measured genes exhibited a similar pattern as the RNA-seq analyses. Based on bioinformatics analysis, during FMDV early infection, we found that a series of cytokines, such as interleukins (IL6), chemokines (CXCL2, CCL20 and CCL4), and transcription factors (ZFP36, FOS, NFKBIA, ZBTB3, ZNF503, ZNF283, dymeclin (DYM), and orthodenticle homeobox 1 (OTX1)) were involved in the battle between FMDV and the host. Combined with their features and functions, we propose inflammation as the main early mechanism by which the host responds to FMDV infection. These data provide an additional panel of candidate genes for deciphering the mechanisms of a host's early response against FMDV infection.
View Full-Text
►

▼

Figures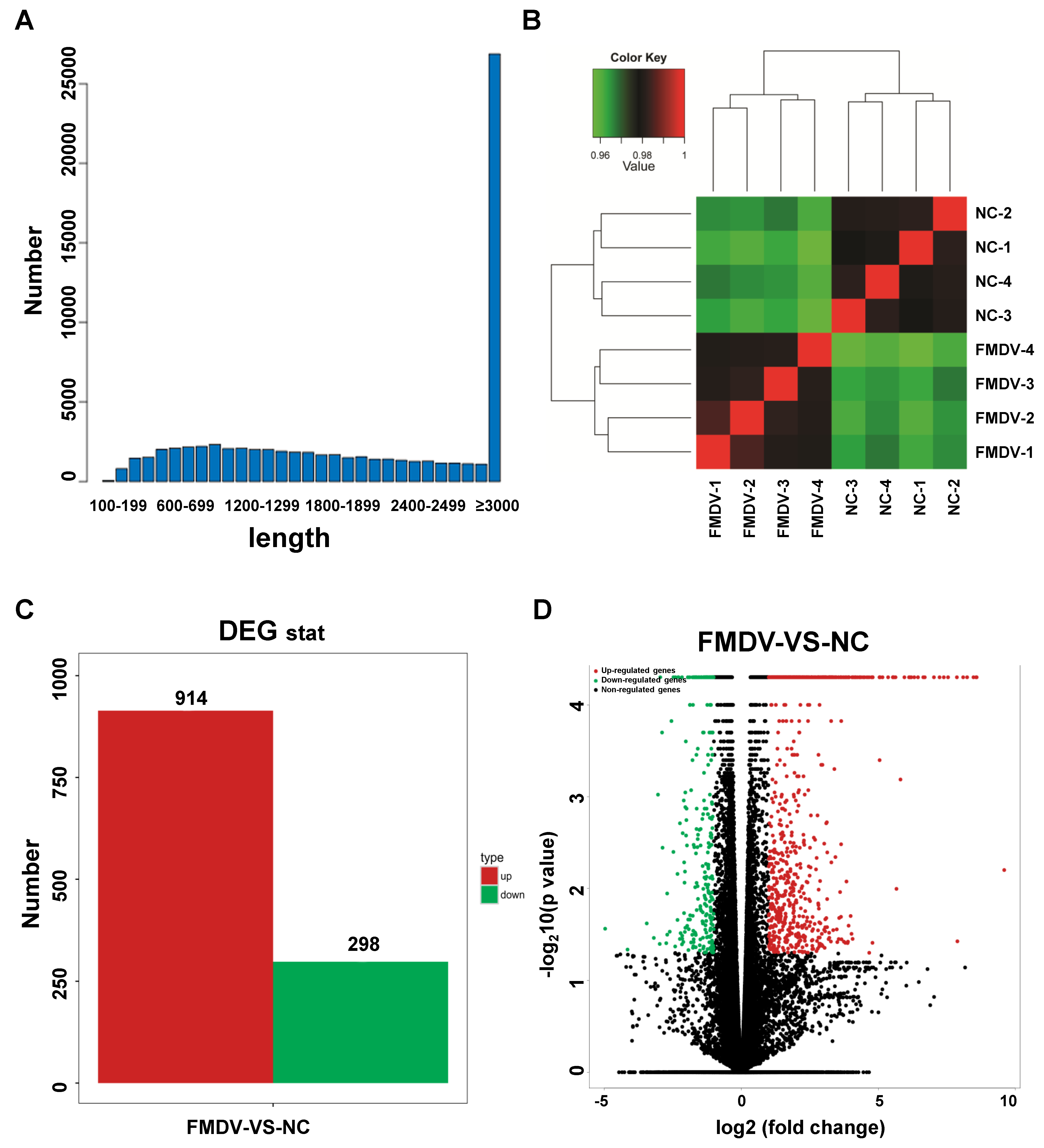 Figure 1
This is an open access article distributed under the
Creative Commons Attribution License
which permits unrestricted use, distribution, and reproduction in any medium, provided the original work is properly cited (CC BY 4.0).

Share & Cite This Article
MDPI and ACS Style
Zhang, T.; Chen, H.; Qi, L.; Zhang, J.; Wu, R.; Zhang, Y.; Sun, Y. Transcript Profiling Identifies Early Response Genes against FMDV Infection in PK-15 Cells. Viruses 2018, 10, 364.
Note that from the first issue of 2016, MDPI journals use article numbers instead of page numbers. See further details here.
Related Articles
Comments
[Return to top]