HDV Can Constrain HBV Genetic Evolution in HBsAg: Implications for the Identification of Innovative Pharmacological Targets
1
Department of Experimental Medicine and Surgery, Tor Vergata University, 00133 Rome, Italy
2
Department of Mental Health and Public Medicine, Section of Infectious Diseases, University of Campania L. Vanvitelli, 81100 Naples, Italy
3
Laboratoire de Virologie, Hôpital Pellegrin tripode, 33076 Bordeaux, France
4
Unit of Microbiology, Sandro Pertini Hospital, 00157 Rome, Italy
5
Infectious Diseases Unit, Tor Vergata University Hospital, 00133 Rome, Italy
6
Hepatology Unit, Nuovo Regina Margherita Hospital, 00153 Rome, Italy
7
Infectious Diseases Unit, San Salvatore Hospital, 67100 L'Aquila, Italy
8
Department of Public Health and Infectious Diseases, Sapienza University, 00185 Rome, Italy
9
Hepatology Unit, Tor Vergata University Hospital, 00133 Rome, Italy
10
Department of Gastroenterology, S. Andrea Hospital, 33771 Rome, Italy
11
Department of Infectious Diseases, Umberto I Hospital, 00161 Rome, Italy
12
Gastroenterology Unit, AO Cardarelli, 80131 Naples, Italy
13
Department of Internal Medicine, University of Campania L. Vanvitelli, Viral Unit, 81100 Naples, Italy
14
Liver Unit, AOU, S. Andrea Hospital, 00189 Rome, Italy
15
Haematology and Oncohematology, University of Milan, 20122 Milan, Italy
*
Author to whom correspondence should be addressed.
Received: 4 June 2018 / Revised: 6 July 2018 / Accepted: 7 July 2018 / Published: 9 July 2018
Abstract
Chronic HBV + HDV infection is associated with greater risk of liver fibrosis, earlier hepatic decompensation, and liver cirrhosis hepatocellular carcinoma compared to HBV mono-infection. However, to-date no direct anti-HDV drugs are available in clinical practice. Here, we identified conserved and variable regions in HBsAg and HDAg domains in HBV + HDV infection, a critical finding for the design of innovative therapeutic agents. The extent of amino-acid variability was measured by Shannon-Entropy (Sn) in HBsAg genotype-
d
sequences from 31 HBV + HDV infected and 62 HBV mono-infected patients (comparable for demographics and virological-parameters), and in 47 HDAg genotype-1 sequences. Positions with Sn = 0 were defined as conserved. The percentage of conserved HBsAg-positions was significantly higher in HBV + HDV infection than HBV mono-infection (
p
= 0.001). Results were confirmed after stratification for HBeAg-status and patients' age. A Sn = 0 at specific positions in the C-terminus HBsAg were correlated with higher HDV-RNA, suggesting that conservation of these positions can preserve HDV-fitness. Conversely, HDAg was characterized by a lower percentage of conserved-residues than HBsAg (
p
< 0.001), indicating higher functional plasticity. Furthermore, specific HDAg-mutations were significantly correlated with higher HDV-RNA, suggesting a role in conferring HDV replicative-advantage. Among HDAg-domains, only the virus-assembly signal exhibited a high genetic conservation (75% of conserved-residues). In conclusion, HDV can constrain HBsAg genetic evolution to preserve its fitness. The identification of conserved regions in HDAg poses the basis for designing innovative targets against HDV-infection.
View Full-Text
►

▼

Figures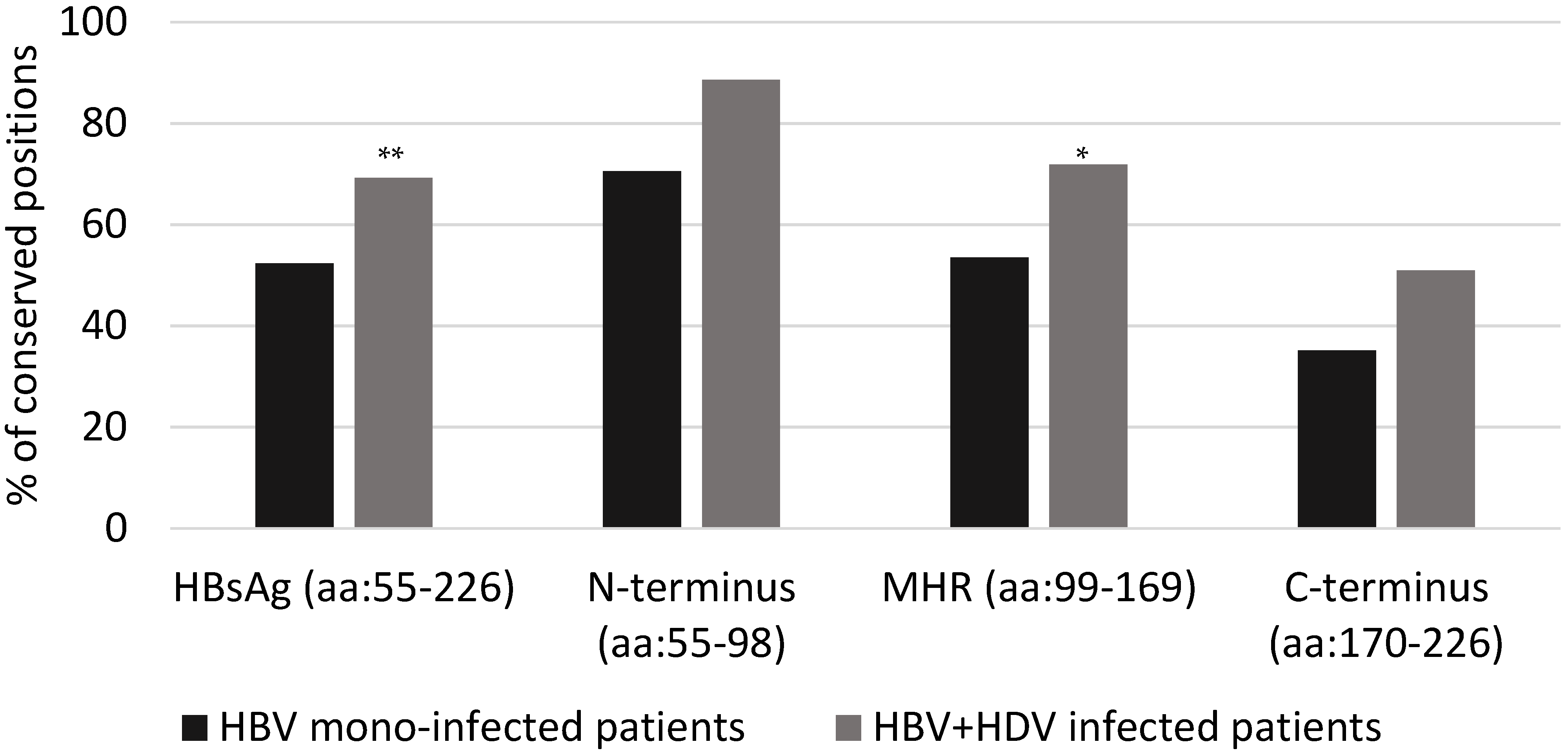 Figure 1
This is an open access article distributed under the
Creative Commons Attribution License
which permits unrestricted use, distribution, and reproduction in any medium, provided the original work is properly cited (CC BY 4.0).

Share & Cite This Article
MDPI and ACS Style
Colagrossi, L.; Salpini, R.; Scutari, R.; Carioti, L.; Battisti, A.; Piermatteo, L.; Bertoli, A.; Fabeni, L.; Minichini, C.; Trimoulet, P.; Fleury, H.; Nebuloso, E.; De Cristofaro, M.; Cappiello, G.; Spanò, A.; Malagnino, V.; Mari, T.; Barlattani, A.; Iapadre, N.; Lichtner, M.; Mastroianni, C.; Lenci, I.; Pasquazzi, C.; De Sanctis, G.M.; Galeota Lanza, A.; Stanzione, M.; Stornaiuolo, G.; Marignani, M.; Sarmati, L.; Andreoni, M.; Angelico, M.; Ceccherini-Silberstein, F.; Perno, C.-F.; Coppola, N.; Svicher, V. HDV Can Constrain HBV Genetic Evolution in HBsAg: Implications for the Identification of Innovative Pharmacological Targets. Viruses 2018, 10, 363.
Note that from the first issue of 2016, MDPI journals use article numbers instead of page numbers. See further details here.
Related Articles
Comments
[Return to top]