HIV-1 Subtypes and 5'LTR-Leader Sequence Variants Correlate with Seroconversion Status in Pumwani Sex Worker Cohort
1
Department of Medical Microbiology, University of Manitoba, Winnipeg, MB, R3E 0J9, Canada
2
National Microbiology Laboratory, Public Health Agency of Canada, Winnipeg, MB, R3E 3R2, Canada
3
Department of Biochemistry and Medical Genetics, University of Manitoba, Winnipeg, MB, R3E 0J9, Canada
4
Department of Medical Microbiology, University of Nairobi, Nairobi, Kenya
*
Author to whom correspondence should be addressed.
Received: 13 October 2017 / Revised: 18 December 2017 / Accepted: 20 December 2017 / Published: 23 December 2017
Abstract
Within the Pumwani sex worker cohort, a subgroup remains seronegative, despite frequent exposure to HIV-1; some of them seroconverted several years later. This study attempts to identify viral variations in 5'LTR-leader sequences (5'LTR-LS) that might contribute to the late seroconversion. The 5'LTR-LS contains sites essential for replication and genome packaging, viz, primer binding site (PBS), major splice donor (SD), and major packaging signal (PS). The 5'LTR-LS of 20 late seroconverters (LSC) and 122 early seroconverters (EC) were amplified, cloned, and sequenced. HelixTree 6.4.3 was employed to classify HIV subtypes and sequence variants based on seroconversion status. We find that HIV-1 subtypes A1.UG and D.UG were overrepresented in the viruses infecting the LSC (
P
< 0.0001). Specific variants of PBS (
Pc
< 0.0001), SD1 (
Pc
< 0.0001), and PS (
Pc
< 0.0001) were present only in the viral population from EC or LSC. Combinations of PBS [PBS-2 (
Pc
< 0.0001) and PBS-3 (
Pc
< 0.0001)] variants with specific SD sequences were only seen in LSC or EC. Combinations of A1.KE or D with specific PBS and SD variants were only present in LSC or EC (
Pc
< 0.0001). Furthermore, PBS variants only present in LSC co-clustered with PBS references utilizing tRNA
Arg
; whereas, the PBS variants identified only in EC co-clustered with PBS references using tRNA
Lys3
and its variants. This is the first report that specific PBS, SD1, and PS sequence variants within 5'LTR-LS are associated with HIV-1 seroconversion, and it could aid designing effective anti-HIV strategies.
View Full-Text
►

▼

Figures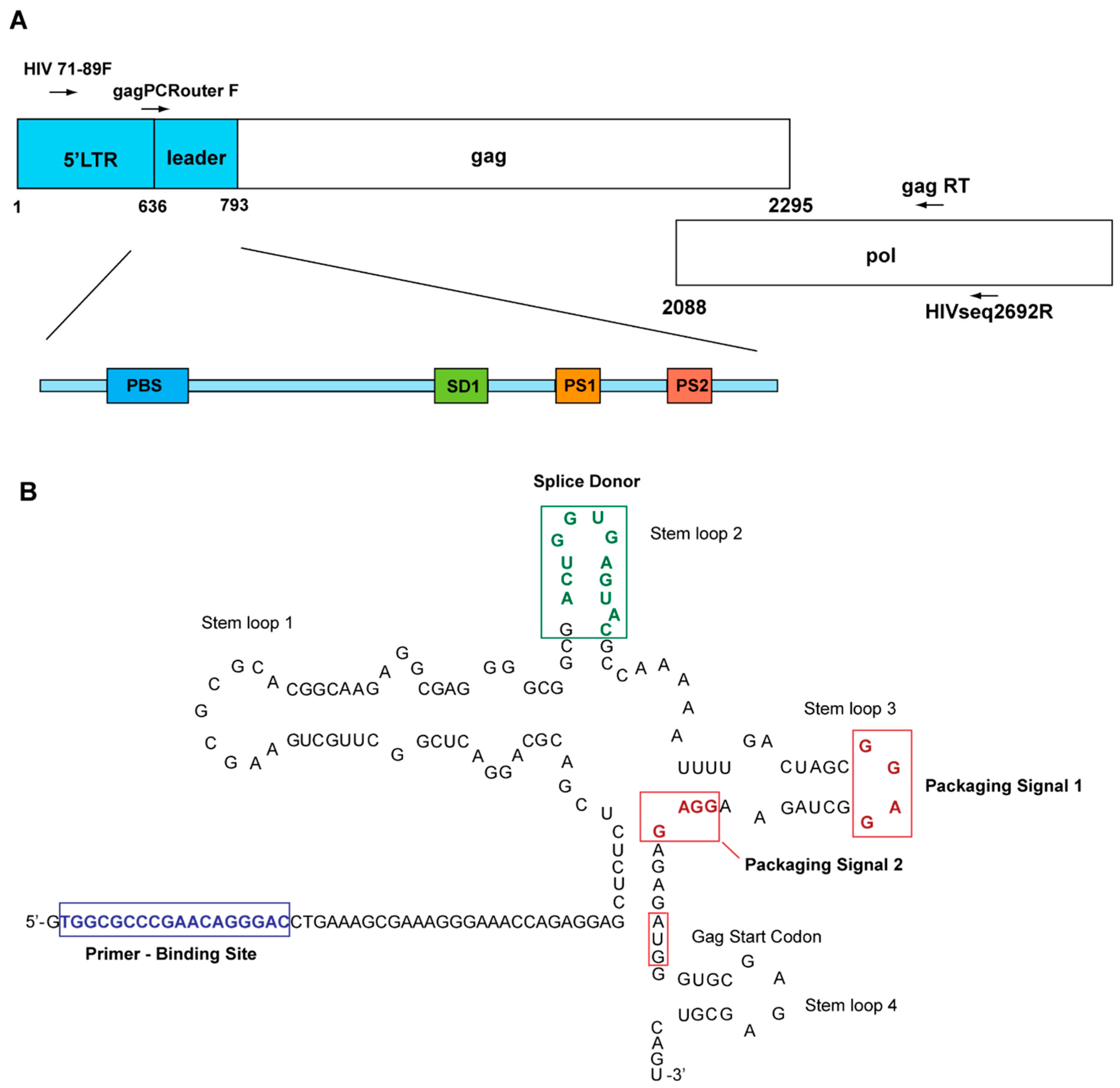 Figure 1
This is an open access article distributed under the
Creative Commons Attribution License
which permits unrestricted use, distribution, and reproduction in any medium, provided the original work is properly cited (CC BY 4.0).

Share & Cite This Article
MDPI and ACS Style
Sampathkumar, R.; Scott-Herridge, J.; Liang, B.; Kimani, J.; Plummer, F.A.; Luo, M. HIV-1 Subtypes and 5'LTR-Leader Sequence Variants Correlate with Seroconversion Status in Pumwani Sex Worker Cohort. Viruses 2018, 10, 4.
Note that from the first issue of 2016, MDPI journals use article numbers instead of page numbers. See further details here.
Related Articles
Comments
[Return to top]