Gold Nanoparticle-Mediated Delivery of Molecules into Primary Human Gingival Fibroblasts Using ns-Laser Pulses: A Pilot Study
1
Institute of Applied Optics, Friedrich-Schiller-University Jena, Fröbelstieg 1, Jena 07743, Germany
2
Institute of Quantum Optics, Gottfried Wilhelm Leibniz University Hannover, Welfengarten 1, Hannover 30167, Germany
3
Department of Postgraduate Education, J.W. Goethe University, Theodor-Stern-Kai 7, Frankfurt am Main 60590, Germany
4
Department of Operative Dentistry, Carolinum Dental University-Institute GmbH, J.W. Goethe University, Theodor-Stern-Kai 7, Frankfurt am Main 60590, Germany
5
Department of Periodontology, School of Dental Medicine, Stony Brook University, Stony Brook, NY 11794, USA
6
Department of Oral Surgery and Implant Dentistry, Carolinum Dental University-Institute GmbH, J.W. Goethe University, Theodor-Stern-Kai 7, Frankfurt am Main 60590, Germany
*
Author to whom correspondence should be addressed.
Academic Editor: Nicola Pugno
Received: 24 March 2016 / Revised: 4 May 2016 / Accepted: 16 May 2016 / Published: 20 May 2016
Abstract
Interaction of gold nanoparticles (AuNPs) in the vicinity of cells' membrane with a pulsed laser (λ = 532 nm, τ = 1 ns) leads to perforation of the cell membrane, thereby allowing extracellular molecules to diffuse into the cell. The objective of this study was to develop an experimental setting to deliver molecules into primary human gingival fibroblasts (pHFIB-G) by using ns-laser pulses interacting with AuNPs (study group). To compare the parameters required for manipulation of pHFIB-G with those needed for cell lines, a canine pleomorphic adenoma cell line (ZMTH3) was used (control group). Non-laser-treated cells incubated with AuNPs and the delivery molecules served as negative control. Laser irradiation (up to 35 mJ/cm
2
) resulted in a significant proportion of manipulated fibroblasts (up to 85%, compared to non-irradiated cells:
p
< 0.05), while cell viability (97%) was not reduced significantly. pHFIB-G were perforated as efficiently as ZMTH3. No significant decrease of metabolic cell activity was observed up to 72 h after laser treatment. The fibroblasts took up dextrans with molecular weights up to 500 kDa. Interaction of AuNPs and a pulsed laser beam yields a spatially selective technique for manipulation of even primary cells such as pHFIB-G in high throughput.
View Full-Text
►

▼

Figures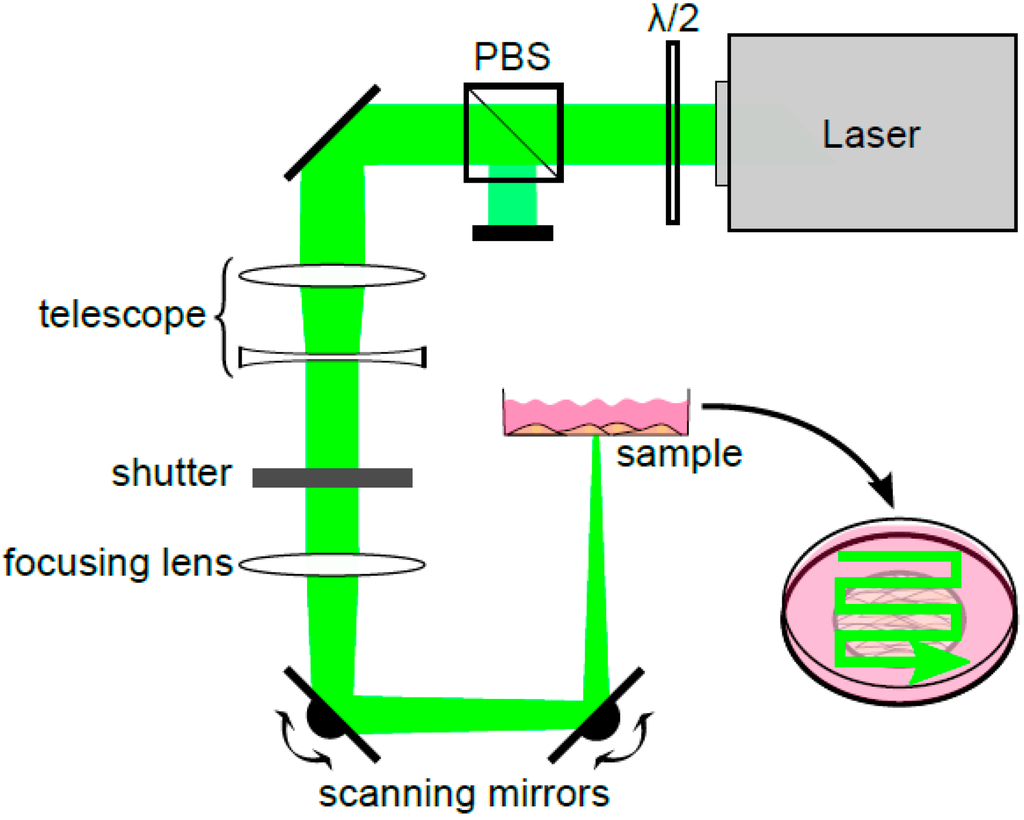 Figure 1
This is an open access article distributed under the
Creative Commons Attribution License
which permits unrestricted use, distribution, and reproduction in any medium, provided the original work is properly cited (CC BY 4.0).

Share & Cite This Article
MDPI and ACS Style
Krawinkel, J.; Torres-Mapa, M.L.; Werelius, K.; Heisterkamp, A.; Rüttermann, S.; Romanos, G.E.; Gerhardt-Szép, S. Gold Nanoparticle-Mediated Delivery of Molecules into Primary Human Gingival Fibroblasts Using ns-Laser Pulses: A Pilot Study. Materials 2016, 9, 397.
Note that from the first issue of 2016, MDPI journals use article numbers instead of page numbers. See further details here.
Related Articles
Comments
[Return to top]