Mediterranean Built Environment and Precipitation as Modulator Factors on Physical Activity in Obese Mid-Age and Old-Age Adults with Metabolic Syndrome: Cross-Sectional Study
1
Instituto de Investigación Sanitaria Illes Balears (IdISBa), University Hospital Son Espases, Palma de 07120 Mallorca, Spain
2
CIBER Fisiopatología de la Obesidad y Nutrición (CIBEROBN), Instituto de Salud Carlos III, 28029 Madrid, Spain
3
Servicio de SIG y Teledetección, Vicerectorat d'Innovació i Transferència, Universitat de les Illes Balears, 07120 Palma de Mallorca, Spain
4
Departamento de Enfermería, Facultad de Ciencias de la Salud, Universidad de Málaga—Instituto de Investigación en Biomedicina (IBIMA), 29071 Málaga, Spain
5
Centro Oceanográfico de Baleares, Instituto Español de Oceanografía, 07015 Palma, Spain
6
Departamento de Salud Pública, Facultad de Medicina, Universidad de Málaga—Instituto de Investigación en Biomedicina (IBIMA), 29010 Málaga, Spain
7
Grup d'investigació en Salut Pública de les Illes Balears (GISPIB)—IdiSBa, Servei de promoció de la salut, DG Salut Pública i Participació, Conselleria de Salut, 07010 Palma, Spain
8
Unit of Cardiovascular Risk and Nutrition, Institut Hospital del Mar de Investigaciones Médicas Municipal d'Investigació Mèdica (IMIM), 08003 Barcelona, Spain
9
Hospital Universitari Sant Joan de Reus, Human Nutrition Unit, IISPV, Department of Biochemistry and Biotechnology, Rovira i Virgili University, 43204 Reus, Spain
*
Authors to whom correspondence should be addressed.
Received: 23 January 2019 / Revised: 25 February 2019 / Accepted: 4 March 2019 / Published: 8 March 2019
Abstract
When promoting physical activity (PA) participation, it is important to consider the plausible environmental determinants that may affect this practice. The impact of objectively-measured public open spaces (POS) and walk-friendly routes on objectively-measured and self-reported PA was explored alongside the influence of rainy conditions on this association, in a Mediterranean sample of overweight or obese senior adults with metabolic syndrome. Cross-sectional analyses were undertaken on 218 PREDIMED-Plus trial participants aged 55–75 years, from the city of Palma, in Mallorca (Spain). Indicators of access to POS and walk-friendly routes were assessed in a 1.0 and 0.5 km sausage network walkable buffers around each participant's residence using geographic information systems. Mean daily minutes of self-reported leisure-time brisk walking, and accelerometer objectively-measured moderate-to-vigorous PA in bouts of at least 10 min (OM-MVPA) were measured. To investigate the association between access to POS and walk-friendly routes with PA, generalized additive models with a Gaussian link function were used. Interaction of rainy conditions with the association between access to POS and walk-friendly routes with OM-MVPA was also examined. Better access to POS was not statistically significantly associated with self-reported leisure-time brisk walking or OM-MVPA. A positive significant association was observed only between distance of walk-friendly routes contained or intersected by buffer and OM-MVPA, and was solely evident on non-rainy days. In this elderly Mediterranean population, only access to walk-friendly routes had an influence on accelerometer-measured PA. Rainy conditions during the accelerometer wear period did appear to modify this association.
View Full-Text
►

▼

Figures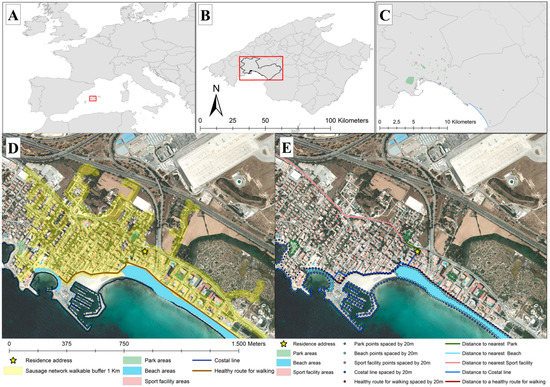 Figure 1
This is an open access article distributed under the
Creative Commons Attribution License
which permits unrestricted use, distribution, and reproduction in any medium, provided the original work is properly cited (CC BY 4.0).

Share & Cite This Article
MDPI and ACS Style
Colom, A.; Ruiz, M.; Wärnberg, J.; Compa, M.; Muncunill, J.; Barón-López, F.J.; Benavente-Marín, J.C.; Cabeza, E.; Morey, M.; Fitó, M.; Salas-Salvadó, J.; Romaguera, D. Mediterranean Built Environment and Precipitation as Modulator Factors on Physical Activity in Obese Mid-Age and Old-Age Adults with Metabolic Syndrome: Cross-Sectional Study. Int. J. Environ. Res. Public Health 2019, 16, 854.
Note that from the first issue of 2016, MDPI journals use article numbers instead of page numbers. See further details here.
Related Articles
Comments
[Return to top]