Using a Clustering Approach to Investigate Socio-Environmental Inequality in Preterm Birth—A Study Conducted at Fine Spatial Scale in Paris (France)
1
School of Public Health (EHESP), DSET&GS, 35043 Rennes CEDEX, France
2
Department of Social Epidemiology, Institut Pierre Louis d'Epidémiologie et de Santé Publique (UMRS 1136), Sorbonne Universités, UPMC Univ Paris 06, INSERM, 75012 Paris, France
3
Service de Protection Maternelle et Infantile, Direction des Familles et de la Petite Enfance, Mairie de Paris, 75196 Paris, France
4
School of medicine, Lorraine University, 54000 Nancy, France
5
Inserm, Irset (Institut de recherche en santé, environnement et travail)—UMR-S 1085, F-35000 Rennes, France
6
Laboratoire Image Ville Environnement, LIVE UMR 7362 CNRS, University of Strasbourg, 6700 Strasbourg, France
*
Author to whom correspondence should be addressed.
Received: 19 July 2018 / Revised: 23 August 2018 / Accepted: 29 August 2018 / Published: 31 August 2018
Abstract
Background & Objectives
: Today, to support public policies aiming to tackle environmental and health inequality, identification and monitoring of the spatial pattern of adverse birth outcomes are crucial. Spatial identification of the more vulnerable population to air pollution may orient health interventions. In this context, the objective of this study is to investigate the geographical distribution of the risk of preterm birth (PTB, gestational age ≤36 weeks) at the census block level in in city of Paris, France. We also aimed to assess the implication of neighborhood characteristics including air pollution and socio-economic deprivation.
Material & Methods
: Newborn health data are available from the first birth certificate registered by the Maternal and Child Care department of Paris. All PTB from January 2008 to December 2011 were geocoded at the mother residential census block. Each census block was assigned a socioeconomic deprivation level and annual average ambient concentrations of NO
2
. A spatial clustering approach was used to investigate the spatial distribution of PTB.
Results
: Our results highlight that PTB is non-randomly spatially distributed, with a cluster of high risk in the northeastern area of Paris (RR = 1.15;
p
= 0.06). After adjustment for socio-economic deprivation and NO
2
concentrations, this cluster becomes not statistically significant or shifts suggesting that these characteristics explain the spatial distribution of PTB; further, their combination shows an interaction in comparison with SES or NO
2
levels alone.
Conclusions
: Our results may inform the decision makers about the areas where public health efforts should be strengthened to tackle the risk of PTB and to choose the most appropriate and specific community-oriented health interventions.
View Full-Text
►

▼

Figures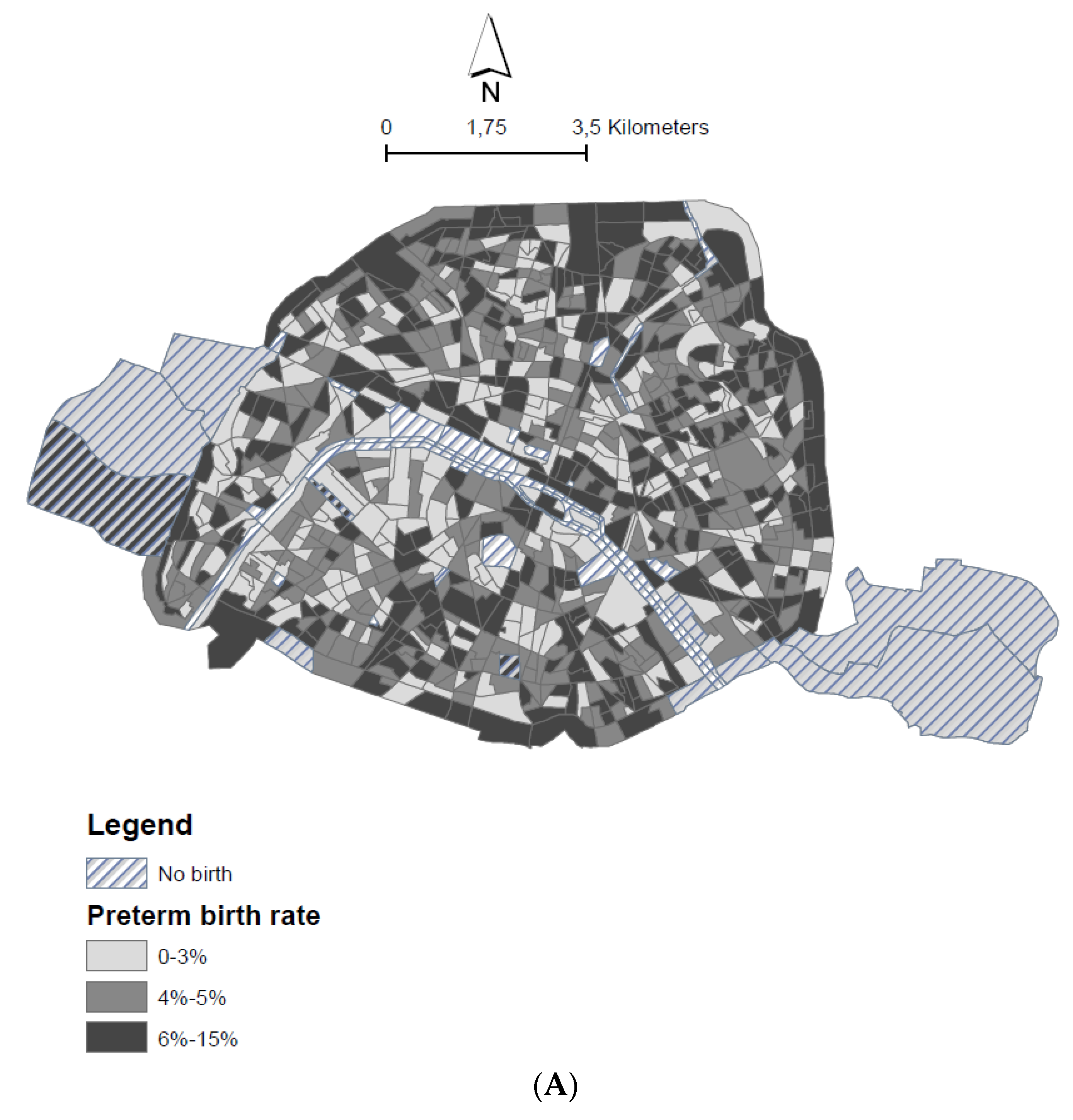 Figure 1
This is an open access article distributed under the
Creative Commons Attribution License
which permits unrestricted use, distribution, and reproduction in any medium, provided the original work is properly cited (CC BY 4.0).

Share & Cite This Article
MDPI and ACS Style
Deguen, S.; Ahlers, N.; Gilles, M.; Danzon, A.; Carayol, M.; Zmirou-Navier, D.; Kihal-Talantikite, W. Using a Clustering Approach to Investigate Socio-Environmental Inequality in Preterm Birth—A Study Conducted at Fine Spatial Scale in Paris (France). Int. J. Environ. Res. Public Health 2018, 15, 1895.
Note that from the first issue of 2016, MDPI journals use article numbers instead of page numbers. See further details here.
Related Articles
Comments
[Return to top]