Desertomycin G, a New Antibiotic with Activity against
Mycobacterium tuberculosis

and Human Breast Tumor Cell Lines Produced by

Streptomyces althioticus

MSM3, Isolated from the Cantabrian Sea Intertidal Macroalgae

Ulva

sp.

1

Departamento de Biología Funcional, Área de Microbiología, e Instituto Universitario de Oncología del Principado de Asturias, Universidad de Oviedo, 33006 Oviedo, Spain

2

Fundación MEDINA, Centro de Excelencia en Investigación de Medicamentos Innovadores Andalucía, Avda. del Conocimiento 34, Parque Tecnológico de Ciencias de la Salud, E-18016 Granada, Spain

3

Servicio de Microbiología, Hospital de Cabueñes, 33203 Gijón, Spain

4

Servicio de Microbiología, Hospital Universitario Central de Asturias, 33011 Oviedo, Spain

5

Departamento de Bioquímica y Biología Molecular, e Instituto Universitario de Oncología del Principado de Asturias, Universidad de Oviedo, 33006 Oviedo, Spain

6

Departamento de Ingeniería Química y Tecnología del Medio Ambiente, Área de Ingeniería Química, Universidad de Oviedo, 33006 Oviedo, Spain

*

Authors to whom correspondence should be addressed.

Received: 15 January 2019 / Revised: 31 January 2019 / Accepted: 7 February 2019 / Published: 12 February 2019
Abstract
The isolation and structural elucidation of a structurally new desertomycin, designated as desertomycin G (
1
), with strong antibiotic activity against several clinically relevant antibiotic resistant pathogens are described herein. This new natural product was obtained from cultures of the marine actinomycete
Streptomyces althioticus
MSM3, isolated from samples of the intertidal seaweed
Ulva
sp. collected in the Cantabrian Sea (Northeast Atlantic Ocean). Particularly interesting is its strong antibiotic activity against
Mycobacterium tuberculosis
clinical isolates, resistant to antibiotics in clinical use. To the best of our knowledge, this is the first report on a member of the desertomycin family displaying such activity. Additionally, desertomycin G shows strong antibiotic activities against other relevant Gram-positive clinical pathogens such as
Corynebacterium urealyticum
,
Staphylococcus aureus
,
Streptococcus pneumoniae
,
Streptococcus pyogenes
,
Enterococcus faecium
,
Enterococcus faecalis
, and
Clostridium perfringens
. Desertomycin G also displays moderate antibiotic activity against relevant Gram-negative clinical pathogens such as
Bacteroides fragilis
,
Haemophilus influenzae
and
Neisseria meningitidis
. In addition, the compound affects viability of tumor cell lines, such as human breast adenocarcinoma (MCF-7) and colon carcinoma (DLD-1), but not normal mammary fibroblasts.
View Full-Text
►

▼

Figures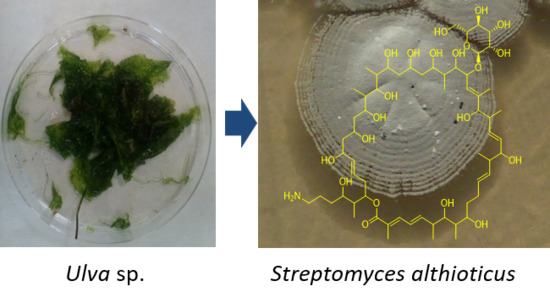 Graphical abstract
This is an open access article distributed under the
Creative Commons Attribution License
which permits unrestricted use, distribution, and reproduction in any medium, provided the original work is properly cited (CC BY 4.0).

Share & Cite This Article
MDPI and ACS Style
Braña, A.F.; Sarmiento-Vizcaíno, A.; Pérez-Victoria, I.; Martín, J.; Otero, L.; Palacios-Gutiérrez, J.J.; Fernández, J.; Mohamedi, Y.; Fontanil, T.; Salmón, M.; Cal, S.; Reyes, F.; García, L.A.; Blanco, G. Desertomycin G, a New Antibiotic with Activity against Mycobacterium tuberculosis and Human Breast Tumor Cell Lines Produced by Streptomyces althioticus MSM3, Isolated from the Cantabrian Sea Intertidal Macroalgae Ulva sp.. Mar. Drugs 2019, 17, 114.
Note that from the first issue of 2016, MDPI journals use article numbers instead of page numbers. See further details here.
Related Articles
Comments
[Return to top]