Development of a Mucoadhesive and In Situ Gelling Formulation Based on κ-Carrageenan for Application on Oral Mucosa and Esophagus Walls. I. A Functional In Vitro Characterization
Department of Drug Sciences, University of Pavia, Viale Taramelli, 12 Pavia, Italy
*
Author to whom correspondence should be addressed.
Received: 8 January 2019 / Revised: 29 January 2019 / Accepted: 6 February 2019 / Published: 12 February 2019
Abstract
Oral mucositis and esophagitis represent the most frequent and clinically significant complications of cytoreductive chemotherapy and radiotherapy, which severely compromise the patient quality of life. The local application of polymeric gels could protect the injured tissues, alleviating the most painful symptoms. The present work aims at developing in situ gelling formulations for the treatment of oral mucositis and esophagitis. To reach these targets, κ-carrageenan (κ-CG) was selected as a polymer having wound healing properties and able to gelify in the presence of saliva ions, while hydroxypropyl cellulose (HPC) was used to improve the mucoadhesive properties of the formulations. CaCl
2
was identified as a salt able to enhance the interaction between κ-CG and saliva ions. Different salt and polymer concentrations were investigated in order to obtain a formulation having the following features: (i) low viscosity at room temperature to facilitate administration, (ii) marked elastic properties at 37 °C, functional to a protective action towards damaged tissues, and (iii) mucoadhesive properties. Prototypes characterized by different κ-CG, HPC, and CaCl
2
concentrations were subjected to a thorough rheological characterization and to in vitro mucoadhesion and washability tests. The overall results pointed out the ability of the developed formulations to produce a gel able to interact with saliva ions and to adhere to the biological substrates.
View Full-Text
►

▼

Figures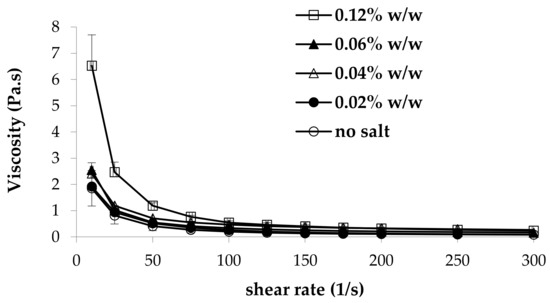 Figure 1
This is an open access article distributed under the
Creative Commons Attribution License
which permits unrestricted use, distribution, and reproduction in any medium, provided the original work is properly cited (CC BY 4.0).

Share & Cite This Article
MDPI and ACS Style
Vigani, B.; Faccendini, A.; Rossi, S.; Sandri, G.; Bonferoni, M.C.; Gentile, M.; Ferrari, F. Development of a Mucoadhesive and In Situ Gelling Formulation Based on κ-Carrageenan for Application on Oral Mucosa and Esophagus Walls. I. A Functional In Vitro Characterization. Mar. Drugs 2019, 17, 112.
Note that from the first issue of 2016, MDPI journals use article numbers instead of page numbers. See further details here.
Related Articles
Comments
[Return to top]