Alginate Oligosaccharide Prevents Acute Doxorubicin Cardiotoxicity by Suppressing Oxidative Stress and Endoplasmic Reticulum-Mediated Apoptosis
1
Department of Cardiology, Shanghai Institute of Cardiovascular Diseases, Zhongshan Hospital, Fudan University, 180 Feng Lin Road, Shanghai 200032, China
2
Department of Cardiology, The Affiliated Hospital of Qingdao University, 16 Jiang Su Road, Qingdao 266003, China
3
Institute of Biomedical Science, Fudan University, Shanghai 200032, China
*
Authors to whom correspondence should be addressed.
†
The first four authors contributed equally to this work.
Academic Editor: Peer B. Jacobson
Received: 11 September 2016 / Revised: 7 December 2016 / Accepted: 9 December 2016 / Published: 20 December 2016
Abstract
Doxorubicin (DOX) is a highly potent chemotherapeutic agent, but its usage is limited by dose-dependent cardiotoxicity. DOX-induced cardiotoxicity involves increased oxidative stress and activated endoplasmic reticulum-mediated apoptosis. Alginate oligosaccharide (AOS) is a non-immunogenic, non-toxic and biodegradable polymer, with anti-oxidative, anti-inflammatory and anti-endoplasmic reticulum stress properties. The present study examined whether AOS pretreatment could protect against acute DOX cardiotoxicity, and the underlying mechanisms focused on oxidative stress and endoplasmic reticulum-mediated apoptosis. We found that AOS pretreatment markedly increased the survival rate of mice insulted with DOX, improved DOX-induced cardiac dysfunction and attenuated DOX-induced myocardial apoptosis. AOS pretreatment mitigated DOX-induced cardiac oxidative stress, as shown by the decreased expressions of gp91 (phox) and 4-hydroxynonenal (4-HNE). Moreover, AOS pretreatment significantly decreased the expression of Caspase-12, C/EBP homologous protein (CHOP) (markers for endoplasmic reticulum-mediated apoptosis) and Bax (a downstream molecule of CHOP), while up-regulating the expression of anti-apoptotic protein Bcl-2. Taken together, these findings identify AOS as a potent compound that prevents acute DOX cardiotoxicity, at least in part, by suppression of oxidative stress and endoplasmic reticulum-mediated apoptosis.
View Full-Text
►

▼

Figures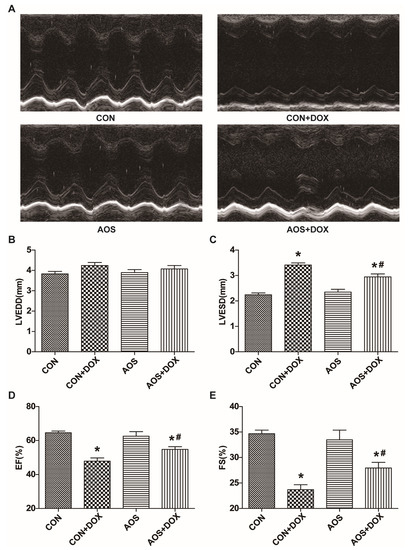 Figure 1
This is an open access article distributed under the
Creative Commons Attribution License
which permits unrestricted use, distribution, and reproduction in any medium, provided the original work is properly cited (CC BY 4.0).

Share & Cite This Article
MDPI and ACS Style
Guo, J.-J.; Ma, L.-L.; Shi, H.-T.; Zhu, J.-B.; Wu, J.; Ding, Z.-W.; An, Y.; Zou, Y.-Z.; Ge, J.-B. Alginate Oligosaccharide Prevents Acute Doxorubicin Cardiotoxicity by Suppressing Oxidative Stress and Endoplasmic Reticulum-Mediated Apoptosis. Mar. Drugs 2016, 14, 231.
Note that from the first issue of 2016, MDPI journals use article numbers instead of page numbers. See further details here.
Related Articles
Comments
[Return to top]