Magnetic Graphene Oxide Nanocarrier for Targeted Delivery of Cisplatin: A Perspective for Glioblastoma Treatment
1
Leibniz Institute of Solid State and Material Research Dresden, 01069 Dresden, Germany
2
College of Pharmacy and Medical Sciences, Hebron University, Hebron 00970, Palestine
3
Department of Pharmacy, Health and Nutritional Sciences, University of Calabria, Rende (CS), 87036 Rende, Italy
4
Children's Cancer Institute, Lowy Cancer Research Centre, UNSW Sydney, Sydney 2031, Australia
5
ARC Centre of Excellence for Convergent BioNano Science and Technology, Australian Centre for NanoMedicine, UNSW Sydney, Sydney 2052, Australia
6
School of Women's and Children's Health, Faculty of Medicine, UNSW Sydney, Sydney 2052, Australia
7
Department of Physics, University of Texas at El Paso, El Paso, TX 79968, USA
8
Institute of Nanoscience of Aragon (INA) & Department of Condensed Matter Physics, University of Zaragoza, 50018 Zaragoza, Spain
*
Author to whom correspondence should be addressed.
Received: 15 April 2019 / Revised: 10 May 2019 / Accepted: 16 May 2019 / Published: 18 May 2019
Abstract
Selective vectorization of Cisplatin (CisPt) to Glioblastoma U87 cells was exploited by the fabrication of a hybrid nanocarrier composed of magnetic γ-Fe
2
O
3
nanoparticles and nanographene oxide (NGO). The magnetic component, obtained by annealing magnetite Fe
3
O
4
and characterized by XRD measurements, was combined with NGO sheets prepared via a modified Hummer's method. The morphological and thermogravimetric analysis proved the effective binding of γ-Fe
2
O
3
nanoparticles onto NGO layers. The magnetization measured under magnetic fields up to 7 Tesla at room temperature revealed superparamagnetic-like behavior with a maximum value of M
S
= 15 emu/g and coercivity H
C
≈ 0 Oe within experimental error. The nanohybrid was found to possess high affinity towards CisPt, and a rather slow fractional release profile of 80% after 250 h. Negligible toxicity was observed for empty nanoparticles, while the retainment of CisPt anticancer activity upon loading into the carrier was observed, together with the possibility to spatially control the drug delivery at a target site.
View Full-Text
►

▼

Figures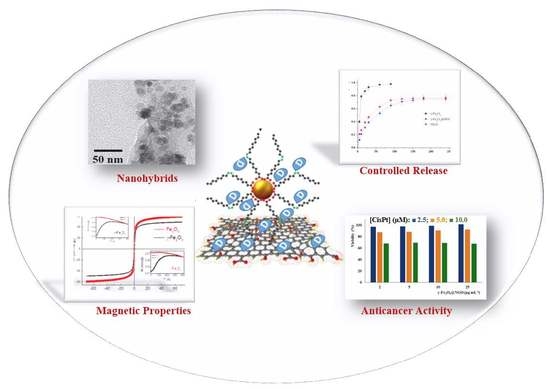 Graphical abstract
This is an open access article distributed under the
Creative Commons Attribution License
which permits unrestricted use, distribution, and reproduction in any medium, provided the original work is properly cited (CC BY 4.0).

Share & Cite This Article
MDPI and ACS Style
Makharza, S.A.; Cirillo, G.; Vittorio, O.; Valli, E.; Voli, F.; Farfalla, A.; Curcio, M.; Iemma, F.; Nicoletta, F.P.; El-Gendy, A.A.; Goya, G.F.; Hampel, S. Magnetic Graphene Oxide Nanocarrier for Targeted Delivery of Cisplatin: A Perspective for Glioblastoma Treatment. Pharmaceuticals 2019, 12, 76.
Note that from the first issue of 2016, MDPI journals use article numbers instead of page numbers. See further details here.
Related Articles
Comments
[Return to top]