Antimicrobial and Antibiofilm Activity of UP-5, an Ultrashort Antimicrobial Peptide Designed Using Only Arginine and Biphenylalanine
1
Department of Pharmaceutical Technology, Faculty of Pharmacy, Jordan University of Science and Technology, Irbid 22110, Jordan
2
Department of Applied Biological Sciences, Faculty of Science and Arts, Jordan University of Science and Technology, Irbid 22110 Jordan
3
Institute of Bioanalytical Chemistry, Faculty of Chemistry and Mineralogy and Center for Biotechnology and Biomedicine, Universität Leipzig, Deutscher Platz 5, 04103 Leipzig, Germany
4
Department of Medicinal Chemistry, Faculty of Pharmacy, Jordan University of Science and Technology, Irbid 22110, Jordan
*
Author to whom correspondence should be addressed.
Received: 13 November 2017 / Revised: 17 December 2017 / Accepted: 27 December 2017 / Published: 2 January 2018
Abstract
The recent upsurge of multidrug resistant bacteria (MDRB) among global communities has become one of the most serious challenges facing health professionals and the human population worldwide. Cationic ultrashort antimicrobial peptides (USAMPs) are a promising group of molecules that meet the required criteria of novel antimicrobial drug development. UP-5, a novel penta-peptide, displayed significant antimicrobial activities against various standard and clinical isolates of MDRB. UP-5 displayed MICs values within the range of (10–15 μM) and (55–65 μM) against Gram-positive and Gram-negative bacteria, respectively. Furthermore, UP-5 displayed antibiofilm activity with minimum biofilm eradication concentration (MBEC) value as equal to twofold higher than MIC value. At the same inhibitory concentrations, UP-5 exhibited very low or negligible toxicity toward human erythrocytes and mammalian cells. Combining UP-5 with conventional antibiotics led to a synergistic or additive mode of action that resulted in the reduction of the MIC values for some of the antibiotics by 99.7% along a significant drop in MIC values of the peptide. The stability profile of UP-5 was evaluated in full mouse plasma and serum with results indicating a more stable pattern in plasma. The present study indicates that USAMPs are promising antimicrobial agents that can avoid the negative characteristics of conventional antimicrobial peptides. Additionally, USAMPs exhibit good to moderate activity against MDRB, negligible toxicity, and synergistic outcomes in combination with conventional antimicrobial agents.
View Full-Text
►

▼

Figures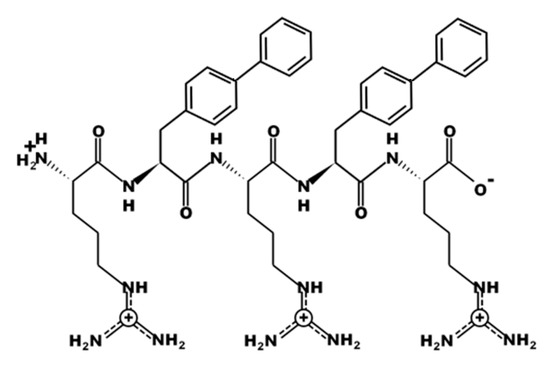 Figure 1
This is an open access article distributed under the
Creative Commons Attribution License
which permits unrestricted use, distribution, and reproduction in any medium, provided the original work is properly cited (CC BY 4.0).

Share & Cite This Article
MDPI and ACS Style
Almaaytah, A.; Qaoud, M.T.; Khalil Mohammed, G.; Abualhaijaa, A.; Knappe, D.; Hoffmann, R.; Al-Balas, Q. Antimicrobial and Antibiofilm Activity of UP-5, an Ultrashort Antimicrobial Peptide Designed Using Only Arginine and Biphenylalanine. Pharmaceuticals 2018, 11, 3.
Note that from the first issue of 2016, MDPI journals use article numbers instead of page numbers. See further details here.
Related Articles
Comments
[Return to top]