Engineering Biology to Construct Microbial Chassis for the Production of Difficult-to-Express Proteins
1
Department of Biological Sciences, Korea Advanced Institute of Science and Technology, Daejeon 34141, Korea
2
KAIST Institute for the BioCentury, Korea Advanced Institute of Science and Technology, Daejeon 34141, Korea
3
Synthetic Biology & Bioengineering Research Center, Korea Research Institute of Bioscience and Biotechnology, Daejeon 34141, Korea
4
Intelligent Synthetic Biology Center, Daejeon 34141, Korea
*
Author to whom correspondence should be addressed.
Received: 6 December 2019 / Revised: 28 January 2020 / Accepted: 31 January 2020 / Published: 2 February 2020
A large proportion of the recombinant proteins manufactured today rely on microbe-based expression systems owing to their relatively simple and cost-effective production schemes. However, several issues in microbial protein expression, including formation of insoluble aggregates, low protein yield, and cell death are still highly recursive and tricky to optimize. These obstacles are usually rooted in the metabolic capacity of the expression host, limitation of cellular translational machineries, or genetic instability. To this end, several microbial strains having precisely designed genomes have been suggested as a way around the recurrent problems in recombinant protein expression. Already, a growing number of prokaryotic chassis strains have been genome-streamlined to attain superior cellular fitness, recombinant protein yield, and stability of the exogenous expression pathways. In this review, we outline challenges associated with heterologous protein expression, some examples of microbial chassis engineered for the production of recombinant proteins, and emerging tools to optimize the expression of heterologous proteins. In particular, we discuss the synthetic biology approaches to design and build and test genome-reduced microbial chassis that carry desirable characteristics for heterologous protein expression.
Author Contributions
B.-K.C. conceptualized and supervised the project; K.K., D.C., D.-H.L., and B.-K.C., wrote the manuscript. All authors have read and agreed to the published version of the manuscript.
Funding
This study is supported by the Korea Bio Grand Challenge (2018M3A9H3024759 to B.-K.C.) and Bio & Medical Technology Development Program (2018M3A9F3079664 to B.-K.C.) through the National Research Foundation of Korea (NRF) funded by the Ministry of Science and ICT.
Conflicts of Interest
The authors declare no conflict of interest.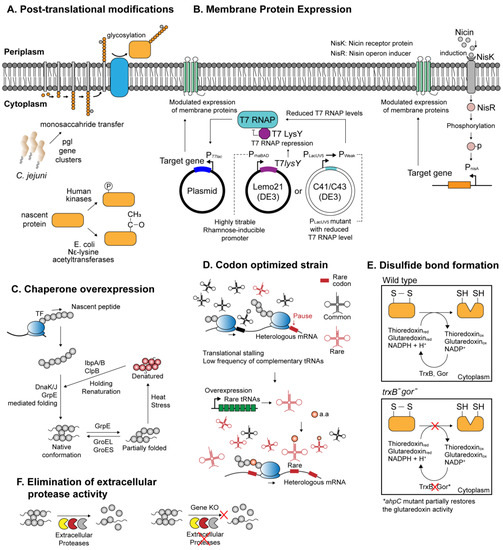 Figure 1.
Notable characteristics of microbial chassis. (
A
) Post-translational modification systems involving glycosylation, phosphorylation, and acetylation; (
B
) various protein expression systems catered for the expression of membrane proteins; (
C
) simplified mechanism of the peptide folding mediated by the molecular chaperones; (
D
) expression system optimized for the expression of the heterologous proteins with high rare codon frequencies; (
E
) genetically engineered
E. coli
strain (
trxB-
,
gor-
) enabling the formation of disulfide bridges within the cytoplasm; (
F
) increasing recombinant protein yield by genetically deleting extracellular protease genes.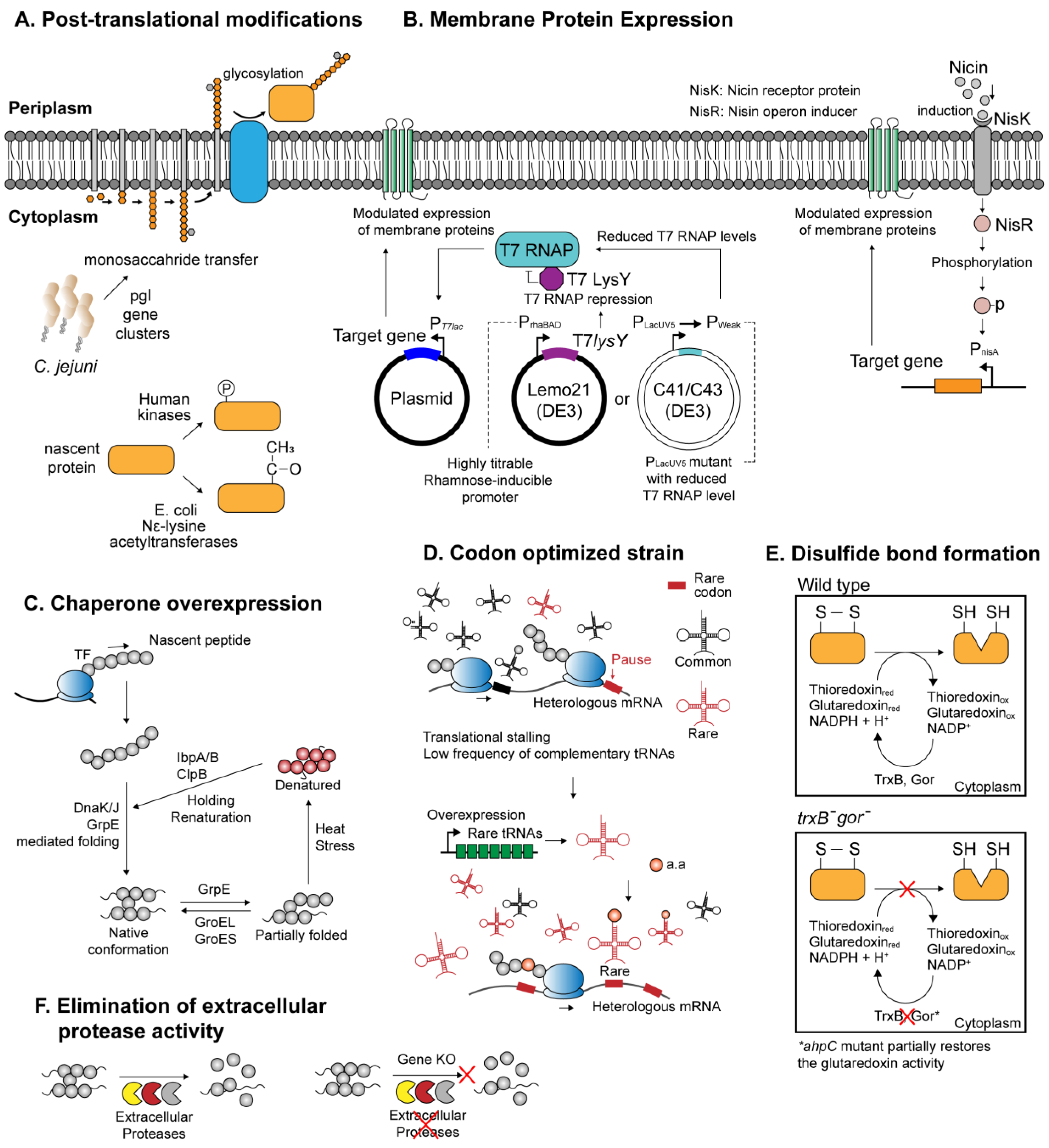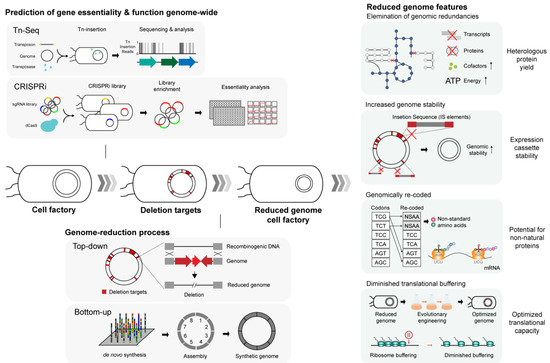 Figure 2. Illustration of the process behind genome streamlining and several notable traits of the genome-reduced strains with relevance to heterologous protein expression.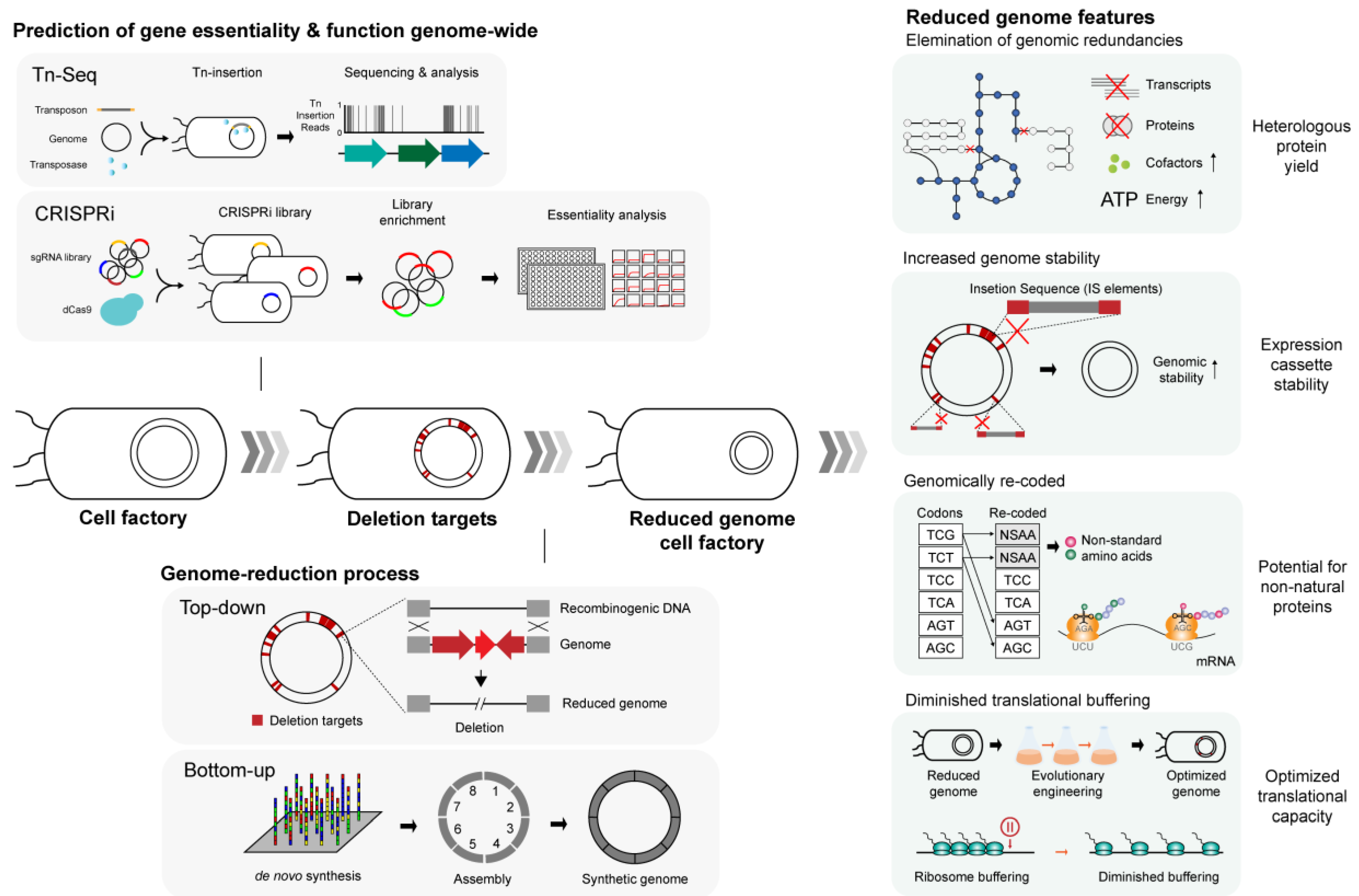 Strain
Defining Features
Reference

E. coli

(

pgl

cluster)
Expression of

N

-glycosylation pathway of

C. jejuni

origin, catalyzing glycosylation of recombinant proteins where appropriate.
[45]

E. coli

(human JNK1)
Coexpression of human Jun N-terminal kinase 1 (JNK1) effectively catalyzes recombinant protein phosphorylation
[46]

E. coli

(

rimJ

)
Use of the native acetylation machinery in

E. coli

to acetylate human proteins.
[47]

E. coli

(yeast NatA NatB)
Coexpression of yeast-derived NatA NatB acetylation enzymes for amino-terminal acetylation
[48]

E. coli

(Nε-acetyllysine)
Site-directed incorporation of Nε-acetyllysine using a three plasmid system expressing recoded target genes, suppressor tRNA, and evolutionarily engineered aminoacyl-tRNA synthetase.
[49]

E. coli

(Chaperone overexpression)
Coordinated co-overexpression of

E. coli

native molecular chaperones—GroEL/ES, DnaK/J/GrpE, IbaA/B, and ClpB—significantly improves the solubility of the recombinant proteins.
[50]

E. coli

Origami
Facilitates formation of disulfide bonds within the cytoplasmic compartment, through inactivation of thioredoxin and glutathione reductase pathways (Δ

trxB

, Δ

gor

,

aphC

)
[51]

E. coli

CyDisCo
Introduction of eukaryotic thiol oxidase and disulfide isomerase encourages formation of disulfide bonds within the

E. coli

cytoplasm.
[52]

E. coli

C41(DE3), C43(DE3)
BL21(DE3) derivative with mutations that confer increased tolerance to toxic membrane proteins.
[53]

E. coli

Lemo21(DE3)
Harbors a gene expression system that allows fine-tuning of overexpression intensity. Suitable for membrane protein production.
[54]

E. coli

Rosetta
Alleviates codon-bias by overexpression of tRNA species orthogonal to rare codons in

E. coli

—AUA, AGG, AGA, CGG, CUA, CCC, and GGA.
[55]

B. subtilis

WB600
Strain that lacks six out of seven extracellular proteases to circumvent host-mediated proteolysis
[56]

B. subtilis

(dlt-)
Inactivation of D-anlanylation in dlt- B. subtilis increases the availability of folding factors Mg2+, Ca2+ and Fe3+ around the cell membrane microenvironment, alleviating protease-mediated recombinant protein degradation.
[57]

L. lactis

NZ9000
Microbial expression system that effectively supports the production of various prokaryotic and eukaryotic membrane proteins.
[58]

Haloferax volcanii

Halophilic archeon that stably overexpresses seven transmembrane helix proteins such as bacteroiopsins. The transmembrane protein expression machinery can be exploited to express eukaryotic proteins with similar protein topology.
[59,60]

Geobacillus kaustophilus

Thermophilic bacteria with an array of heat-stable, sugar-inducible promoters demonstrated soluble expression of heterologous enzymes otherwise insoluble in mesophilic host. With maximal protein yield of 59 mg/L
[61]

Table 2. Examples of synthetic genome-reduced strains with defining characteristics beneficial for heterologous protein expression.
Strain
Designation
Genome
Reduction
Notable Characteristics
Reference

E. coli

MG1655
MDS42
663 kbp
(14.3%)
IS-free strain with increased stability of exogenous genetic construct. Increased yield of chimeric fusion protein. Improved efficiency of electroporation comparable to commercial DH10B strain. Additional engineering yielded improved recombinant protein productivity
[124]

E. coli

MG1655
MS56
1068 kbp
(23.0%)
IS-free strain with increased stability of exogenous genetic construct. Higher electroporation efficiency.
[127]

E. coli

MG1655
eMS57
1089 kbp
(23.5%)
Evolutionary engineering of MS56 restored the growth on minimal medium. Diminished translational buffering predicted to increase production of recombinant proteins.
[148]

E. coli

W3110
MGF-01
1030 kbp
(22.2%)
Increased growth density.
[125]

E. coli

W3110
DGF-298
1670 kbp
(35.9%)
Higher genome stability, increased growth rate.
[149]

B. subtilis

168
MGIM
991 kbp
(23.5%)
Small reduction in growth rate, comparable enzyme production.
[135]

B. subtilis

168
MBG874
874 kbp
(20.7%)
Protein productivity increased up to 2.5-fold. Enhanced nutrient utilization.
[113]

B. subtilis

168
PG10
1460 kbp
(~36%)
Improved secretory protein production, including that of some of the difficult-to-produce proteins.
[137]

L. lactis

NZ9000
9k-4
72 kbp
(2.8%)
2.2- to 2.5-fold increase in recombinant protein activities. Higher final cell density and growth rates.
[139]

P. putida

KT2440
EM383
266 kbp
(4.3%)
Higher growth rate and final cell density. Showed as much as 41% increase in recombinant protein yield depending on the carbon source used.
[141]

C. glutamicum

ATCC 13032
MB001
205 kbp
(6.2%)
Increased recombinant protein activity and transformation efficiency.
[142]

© 2020 by the authors. Licensee MDPI, Basel, Switzerland. This article is an open access article distributed under the terms and conditions of the Creative Commons Attribution (CC BY) license (http://creativecommons.org/licenses/by/4.0/).