Loss of C/EBPδ Exacerbates Radiation-Induced Cognitive Decline in Aged Mice due to Impaired Oxidative Stress Response
Division of Radiation Health, Department of Pharmaceutical Sciences, College of Pharmacy, University of Arkansas for Medical Sciences, Little Rock, AR 72205, USA
*
Authors to whom correspondence should be addressed.
Received: 18 December 2018 / Revised: 31 January 2019 / Accepted: 11 February 2019 / Published: 18 February 2019
Abstract
Aging is characterized by increased inflammation and deterioration of the cellular stress responses such as the oxidant/antioxidant equilibrium, DNA damage repair fidelity, and telomeric attrition. All these factors contribute to the increased radiation sensitivity in the elderly as shown by epidemiological studies of the Japanese atomic bomb survivors. There is a global increase in the aging population, who may be at increased risk of exposure to ionizing radiation (IR) as part of cancer therapy or accidental exposure. Therefore, it is critical to delineate the factors that exacerbate age-related radiation sensitivity and neurocognitive decline. The transcription factor CCAAT enhancer binding protein delta (C/EBPδ) is implicated with regulatory roles in neuroinflammation, learning, and memory, however its role in IR-induced neurocognitive decline and aging is not known. The purpose of this study was to delineate the role of C/EBPδ in IR-induced neurocognitive decline in aged mice. We report that aged
Cebpd
−/−
mice exposed to acute IR exposure display impairment in short-term memory and spatial memory that correlated with significant alterations in the morphology of neurons in the dentate gyrus (DG) and CA1 apical and basal regions. There were no significant changes in the expression of inflammatory markers. However, the expression of superoxide dismutase 2 (SOD2) and catalase (CAT) were altered post-IR in the hippocampus of aged
Cebpd
−/−
mice. These results suggest that
Cebpd
may protect from IR-induced neurocognitive dysfunction by suppressing oxidative stress in aged mice.
View Full-Text
►

▼

Figures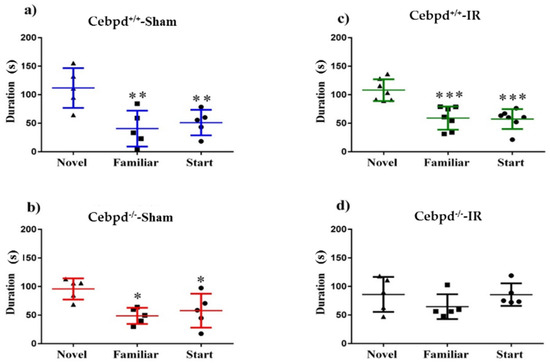 Figure 1
This is an open access article distributed under the
Creative Commons Attribution License
which permits unrestricted use, distribution, and reproduction in any medium, provided the original work is properly cited (CC BY 4.0).

Share & Cite This Article
MDPI and ACS Style
Banerjee, S.; Alexander, T.; Majumdar, D.; Groves, T.; Kiffer, F.; Wang, J.; Gorantla, A.; Allen, A.R.; Pawar, S.A. Loss of C/EBPδ Exacerbates Radiation-Induced Cognitive Decline in Aged Mice due to Impaired Oxidative Stress Response. Int. J. Mol. Sci. 2019, 20, 885.
Note that from the first issue of 2016, MDPI journals use article numbers instead of page numbers. See further details here.
Related Articles
Comments
[Return to top]