CMV-Specific Immune Response—New Patients, New Insight: Central Role of Specific IgG during Infancy and Long-Lasting Immune Deficiency after Allogenic Stem Cell Transplantation
1
Department of Clinical Immunology and Hospital Infection Control Team, Lower Silesian Center for Cellular Transplantation, 53-439 Wrocław, Poland
2
Military Institute WITI Wroclaw; 136 Obornicka Str., 50-961 Wrocław, Poland
Received: 19 December 2018 / Revised: 2 January 2019 / Accepted: 3 January 2019 / Published: 11 January 2019
Abstract
Although the existing paradigm states that cytomegalovirus (CMV) reactivation is under the control of the cellular immune response, the role of humoral and innate counterparts are underestimated. The study analyzed the host–virus interaction i.e., CMV-immune response evolution during infection in three different clinical situations: (1) immunodeficient CMV-positive human leukocyte antigen (HLA)-matched bone marrow recipients after immunoablative conditioning as well as immunocompetent, (2) adult, and (3) infant with primary immune response. In the first situation, a fast and significant decrease of specific immunity was observed but reconstitution of marrow-derived B and natural killer (NK) cells was observed prior to thymic origin of T cells. The lowest CMV-IgG (93.2 RU/mL) was found just before CMV viremia. It is noteworthy that the sole and exclusive factor of CMV-specific immune response is a residual recipient antibody class IgG. The CMV-quantiferon increase was detected later, but in the first phase, phytohemagglutinin (PHA)-induced IFN-γ release was significantly lower than that of CMV-induced ("indeterminate" results). It corresponds with the increase of NK cells at the top of lymphocyte reconstitution and undetected CMV-specific CD8 cells using a pentamer technique. In immunocompetent adult (CMV-negative donor), the cellular and humoral immune response increased in a parallel manner, but symptoms of CMV mononucleosis persisted until the increase of specific IgG. During infancy, the decrease of the maternal CMV-IgG level to 89.08 RU/mL followed by clinical sequel, i.e., CMV replication, were described. My observations shed light on a unique host-CMV interaction and CMV-IgG role: they indicate that its significant decrease predicts CMV replication. Before primary cellular immune response development, the high level of residual CMV-IgG (about >100 R/mL) from mother or recipient prevents virus reactivation. The innate immune response and NK-dependent IFN-secretion should be further investigated.
View Full-Text
►

▼

Figures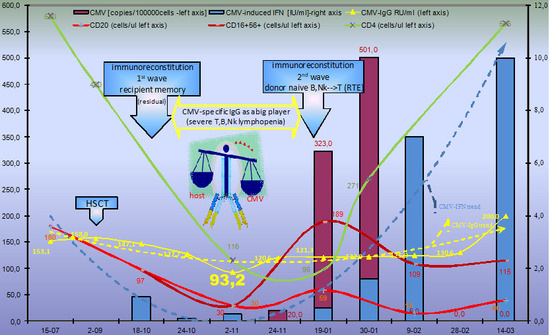 Graphical abstract
This is an open access article distributed under the
Creative Commons Attribution License
which permits unrestricted use, distribution, and reproduction in any medium, provided the original work is properly cited (CC BY 4.0).

Share & Cite This Article
MDPI and ACS Style
Zdziarski, P. CMV-Specific Immune Response—New Patients, New Insight: Central Role of Specific IgG during Infancy and Long-Lasting Immune Deficiency after Allogenic Stem Cell Transplantation. Int. J. Mol. Sci. 2019, 20, 271.
Note that from the first issue of 2016, MDPI journals use article numbers instead of page numbers. See further details here.
Related Articles
Comments
[Return to top]