Killer Immunoglobulin-Like Receptor 2DS2 (KIR2DS2), KIR2DL2-HLA-C1, and KIR2DL3 as Genetic Markers for Stratifying the Risk of Cytomegalovirus Infection in Kidney Transplant Recipients
1
Department of Transplantation Medicine, Nephrology, Internal Diseases, T. Orłowski Institute of Transplantation Medical University of Warsaw, 59 Nowogrodzka Street, 02-006 Warsaw, Poland
2
Department of Immunology, Transplantology, Internal Diseases, T. Orłowski Institute of Transplantation Medical University of Warsaw, 59 Nowogrodzka Street, 02-006 Warsaw, Poland
3
Department of General and Transplant Surgery, T. Orłowski Institute of Transplantation Medical University of Warsaw, 59 Nowogrodzka Street, 02-006 Warsaw, Poland
4
Department of Immunogenetics Institute of Hematology and Transfusion Medicine 14 Indira Gandhi Street, 02-776 Warsaw, Poland
*
Author to whom correspondence should be addressed.
Received: 18 December 2018 / Revised: 10 January 2019 / Accepted: 24 January 2019 / Published: 28 January 2019
Abstract
Infection with cytomegalovirus (CMV) remains a major problem in kidney transplant recipients, resulting in serious infectious complications and occasionally mortality. Accumulating evidence indicates that natural killer cell immunoglobulin-like receptors (KIRs) and their ligands affect the susceptibility to various diseases, including viral infections (e.g., CMV infection). We investigated whether KIR genes and their ligands affect the occurrence of CMV infection in a group of 138 kidney transplant recipients who were observed for 720 days posttransplantation. We typed the recipients for the presence of KIR genes (human leukocyte antigen C1 [HLA-C1], HLA-C2, HLA-A, HLA-B, and HLA-DR1) by polymerase chain reaction with sequence-specific primers. The multivariate analysis revealed that the lack of
KIR2DS2
(
p
= 0.035), the presence of
KIR2DL3
(
p
= 0.075), and the presence of
KIR2DL2
–HLA-C1 (
p
= 0.044) were risk factors for posttransplant CMV infection. We also found that a lower estimated glomerular filtration rate (
p
= 0.036), an earlier time of antiviral prophylaxis initiation (
p
= 0.025), lymphocytopenia (
p
= 0.012), and pretransplant serostatus (donor-positive/recipient-negative;
p
= 0.042) were independent risk factors for posttransplant CMV infection. In conclusion, our findings confirm that the KIR/HLA genotype plays a significant role in anti-CMV immunity and suggest the contribution of both environmental and genetic factors to the incidence of CMV infection after kidney transplantation.
View Full-Text
►

▼

Figures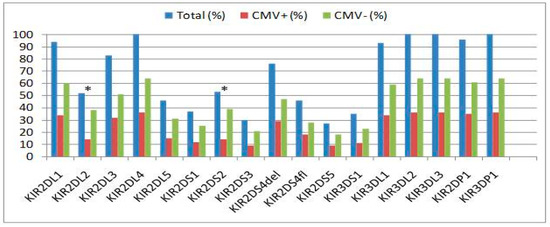 Figure 1
This is an open access article distributed under the
Creative Commons Attribution License
which permits unrestricted use, distribution, and reproduction in any medium, provided the original work is properly cited (CC BY 4.0).

Share & Cite This Article
MDPI and ACS Style
Deborska-Materkowska, D.; Perkowska-Ptasinska, A.; Sadowska-Jakubowicz, A.; Gozdowska, J.; Ciszek, M.; Pazik, J.; Ostaszewska, A.; Kosieradzki, M.; Nowak, J.; Durlik, M. Killer Immunoglobulin-Like Receptor 2DS2 (KIR2DS2), KIR2DL2-HLA-C1, and KIR2DL3 as Genetic Markers for Stratifying the Risk of Cytomegalovirus Infection in Kidney Transplant Recipients. Int. J. Mol. Sci. 2019, 20, 546.
Note that from the first issue of 2016, MDPI journals use article numbers instead of page numbers. See further details here.
Related Articles
Comments
[Return to top]