IL-1β Inflammatory Cytokine-Induced
TP63

Isoform ∆NP63α Signaling Cascade Contributes to Cisplatin Resistance in Human Breast Cancer Cells

1

Departamento de Biomedicina Molecular, Centro de Investigación y de Estudios Avanzados del Instituto, Politécnico Nacional, Avenida Instituto Politécnico Nacional 2508, Ciudad de México 07360, Mexico

2

IDIX SA de CV, Sonterra 3035, Querétaro 76235, Mexico

*

Author to whom correspondence should be addressed.

Received: 16 November 2018 / Revised: 16 December 2018 / Accepted: 27 December 2018 / Published: 11 January 2019
Abstract
The mechanisms behind the induction of malignancy and chemoresistance in breast cancer cells are still not completely understood. Inflammation is associated with the induction of malignancy in different types of cancer and is highlighted as an important factor for chemoresistance. In previous work, we demonstrated that the inflammatory cytokine interleukin 1β (IL-1β)-induced upregulation of genes was associated with chemoresistance in breast cancer cells. Here, we evaluated the participation and the expression profile of
TP63
in the induction of resistance to cisplatin. By loss-of-function assays, we identified that IL-1β particularly upregulates the expression of the tumor protein 63 (TP63) isoform ΔNP63α, through the activation of the IL-1β/IL-1RI/β-catenin signaling pathway. Upregulation of ΔNP63α leads to an increase in the expression of the cell survival factors epidermal growth factor receptor (EGFR) and phosphatase 1D (Wip1), and a decrease in the DNA damage sensor, ataxia-telangiectasia mutated (ATM). The participation of these processes in the increase of resistance to cisplatin was confirmed by silencing
TP63
expression or by inhibition of the phosphoinositide 3-kinase (PI3K)/protein kinase B (AKT) activity in the IL-1β/IL-1RI/β-catenin signaling pathway. These data reinforced the importance of an inflammatory environment in the induction of drug resistance in cancer cells and uncovered a molecular mechanism where the IL-1β signaling pathway potentiates the acquisition of cisplatin resistance in breast cancer cells.
View Full-Text
►

▼

Figures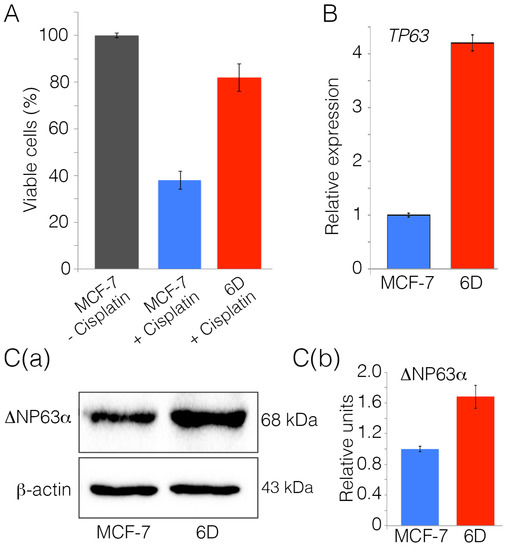 Figure 1
This is an open access article distributed under the
Creative Commons Attribution License
which permits unrestricted use, distribution, and reproduction in any medium, provided the original work is properly cited (CC BY 4.0).

Share & Cite This Article
MDPI and ACS Style
Mendoza-Rodríguez, M.G.; Ayala-Sumuano, J.T.; García-Morales, L.; Zamudio-Meza, H.; Pérez-Yepez, E.A.; Meza, I. IL-1β Inflammatory Cytokine-Induced TP63 Isoform ∆NP63α Signaling Cascade Contributes to Cisplatin Resistance in Human Breast Cancer Cells. Int. J. Mol. Sci. 2019, 20, 270.
Note that from the first issue of 2016, MDPI journals use article numbers instead of page numbers. See further details here.
Related Articles
Comments
[Return to top]