A Metagenomic-Based Approach for the Characterization of Bacterial Diversity Associated with Spontaneous Malolactic Fermentations in Wine
1
Department of Agriculture, Food and Environment Sciences, University of Foggia, Via Napoli 25, 71122 Foggia, Italy
2
EnolabERI BioTecMed, Universitat de València, 46100 Valencia, Spain
3
Faculty of Science and Technology, Free University of Bozen-Bolzano, 39100 Bozen-Bolzano, Italy
4
Istituto di Scienze delle Produzioni Alimentari, Consiglio Nazionale delle Ricerche, Unità Operativa di Supporto di Lecce, 73100 Lecce, Italy
*
Author to whom correspondence should be addressed.
†
These authors contributed equally to this work.
Int. J. Mol. Sci. 2019, 20(16), 3980; https://doi.org/10.3390/ijms20163980 (registering DOI)
Received: 9 July 2019 / Revised: 13 August 2019 / Accepted: 13 August 2019 / Published: 15 August 2019
Abstract
This study reports the first application of a next generation sequencing (NGS) analysis. The analysis was designed to monitor the effect of the management of microbial resources associated with alcoholic fermentation on spontaneous malolactic consortium. Together with the analysis of 16S rRNA genes from the metagenome, we monitored the principal parameters linked to MLF (e.g., malic and lactic acid concentration, pH). We encompass seven dissimilar concrete practices to manage microorganisms associated with alcoholic fermentation: Un-inoculated must (UM),
pied-de-cuve
(PdC),
Saccharomyces cerevisiae
(SC),
S. cerevisiae
and
Torulaspora delbrueckii
co-inoculated and sequentially inoculated, as well as
S. cerevisiae
and
Metschnikowia pulcherrima
co-inoculated and sequentially inoculated. Surprisingly, each experimental modes led to different taxonomic composition of the bacterial communities of the malolactic consortia, in terms of prokaryotic phyla and genera. Our findings indicated that, uncontrolled AF (UM, PdC) led to heterogeneous consortia associated with MLF (with a relevant presence of the genera
Acetobacter
and
Gluconobacter
), when compared with controlled AF (SC) (showing a clear dominance of the genus
Oenococcus
). Effectively, the SC trial malic acid was completely degraded in about two weeks after the end of AF, while, on the contrary, malic acid decarboxylation remained uncomplete after 7 weeks in the case of UM and PdC. In addition, for the first time, we demonstrated that both (i) the inoculation of different non-
Saccharomyces
(
T. delbrueckii
and
M. pulcherrima
) and, (ii) the inoculation time of the non-
Saccharomyces
with respect to
S. cerevisiae
resources (co-inoculated and sequentially inoculated) influence the composition of the connected MLF consortia, modulating MLF performance. Finally, we demonstrated the first findings of delayed and inhibited MLF when
M. pulcherrima,
and
T. delbrueckii
were inoculated, respectively. In addition, as a further control test, we also assessed the effect of the inoculation with
Oenococcus oeni
and
Lactobacillus plantarum
at the end of alcoholic fermentation, as MLF starter cultures. Our study suggests the potential interest in the application of NGS analysis, to monitor the effect of alcoholic fermentation on the spontaneous malolactic consortium, in relation to wine.
View Full-Text
►

▼

Figures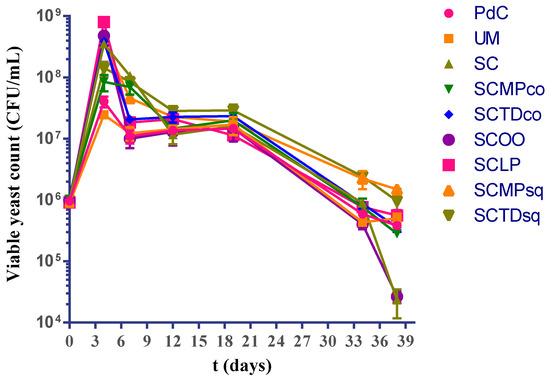 Figure 1
This is an open access article distributed under the
Creative Commons Attribution License
which permits unrestricted use, distribution, and reproduction in any medium, provided the original work is properly cited (CC BY 4.0).
Share & Cite This Article
MDPI and ACS Style
Berbegal, C.; Borruso, L.; Fragasso, M.; Tufariello, M.; Russo, P.; Brusetti, L.; Spano, G.; Capozzi, V. A Metagenomic-Based Approach for the Characterization of Bacterial Diversity Associated with Spontaneous Malolactic Fermentations in Wine. Int. J. Mol. Sci. 2019, 20, 3980.
Note that from the first issue of 2016, MDPI journals use article numbers instead of page numbers. See further details here.
Related Articles
Comments
[Return to top]