Auraptene Mitigates Parkinson's Disease-Like Behavior by Protecting Inhibition of Mitochondrial Respiration and Scavenging Reactive Oxygen Species
1
Department of Biochemistry, Chungnam National University School of Medicine, Daejeon 35015, Korea
2
Department of Medical Science, Chungnam National University School of Medicine, Daejeon 35015, Korea
3
Infection Control Convergence Research Center, Chungnam National University School of Medicine, Daejeon 35015, Korea
4
Research Institute for Medical Science, Chungnam National University School of Medicine, Daejeon 35015, Korea
5
Department of Neurology, Chungnam National University Hospital, Daejeon 35015, Korea
6
Department of Pathology, Chungnam National University School of Medicine, Daejeon 35015, Korea
7
Department of Anesthesiology and pain medicine, Chungnam National University Hospital, Daejeon 35015, Korea
8
Department of Anesthesiology and pain medicine, Chungnam National University, Daejeon 35015, Korea
9
Brain Research Institute, Chungnam National University School of Medicine, Daejeon 35015, Korea
*
Authors to whom correspondence should be addressed.
†
Authors contribute equally to this work.
Received: 17 June 2019 / Revised: 6 July 2019 / Accepted: 9 July 2019 / Published: 11 July 2019
Abstract
Current therapeutics for Parkinson's disease (PD) are only effective in providing relief of symptoms such as rigidity, tremors and bradykinesia, and do not exert disease-modifying effects by directly modulating mitochondrial function. Here, we investigated auraptene (AUR) as a potent therapeutic reagent that specifically protects neurotoxin-induced reduction of mitochondrial respiration and inhibits reactive oxygen species (ROS) generation. Further, we explored the mechanism and potency of AUR in protecting dopaminergic neurons. Treatment with AUR significantly increased the viability of substantia nigra (SN)-derived SN4741 embryonic dopaminergic neuronal cells and reduced rotenone-induced mitochondrial ROS production. By inducing antioxidant enzymes AUR treatment also increased oxygen consumption rate. These results indicate that AUR exerts a protective effect against rotenone-induced mitochondrial oxidative damage. We further assessed AUR effects in vivo, investigating tyrosine hydroxylase (TH) expression in the striatum and substantia nigra of MPTP-induced PD model mice and behavioral changes after injection of AUR. AUR treatment improved movement, consistent with the observed increase in the number of dopaminergic neurons in the substantia nigra. These results demonstrate that AUR targets dual pathogenic mechanisms, enhancing mitochondrial respiration and attenuating ROS production, suggesting that the preventative potential of this natural compound could lead to improvement in PD-related neurobiological changes.
View Full-Text
►

▼

Figures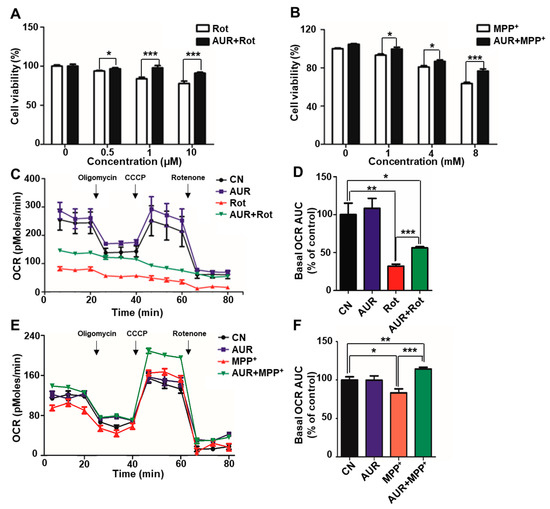 Figure 1
This is an open access article distributed under the
Creative Commons Attribution License
which permits unrestricted use, distribution, and reproduction in any medium, provided the original work is properly cited (CC BY 4.0).

Share & Cite This Article
MDPI and ACS Style
Jang, Y.; Choo, H.; Lee, M.J.; Han, J.; Kim, S.J.; Ju, X.; Cui, J.; Lee, Y.L.; Ryu, M.J.; Oh, E.S.; Choi, S.-Y.; Chung, W.; Kweon, G.R.; Heo, J.Y. Auraptene Mitigates Parkinson's Disease-Like Behavior by Protecting Inhibition of Mitochondrial Respiration and Scavenging Reactive Oxygen Species. Int. J. Mol. Sci. 2019, 20, 3409.
Note that from the first issue of 2016, MDPI journals use article numbers instead of page numbers. See further details here.
Related Articles
Comments
[Return to top]