Identification of QTLs for Stripe Rust Resistance in a Recombinant Inbred Line Population
1
Crop Research Institute, Sichuan Academy of Agricultural Sciences, Chengdu 610066, China
2
School of Life Science and Technology, University of Electronic Science and Technology of China, Chengdu 610054, China
3
Chengdu Academy of Agricultural and Forestry Sciences, Wenjiang, Chengdu 611130, China
*
Author to whom correspondence should be addressed.
Received: 14 May 2019 / Revised: 8 July 2019 / Accepted: 10 July 2019 / Published: 11 July 2019
Abstract
Stripe rust, caused by
Puccinia striiformis
f. sp.
tritici
(
Pst
), is one of the most devastating fungal diseases of wheat worldwide. It is essential to discover more sources of stripe rust resistance genes for wheat breeding programs. Specific locus amplified fragment sequencing (SLAF-seq) is a powerful tool for the construction of high-density genetic maps. In this study, a set of 200 recombinant inbred lines (RILs) derived from a cross between wheat cultivars Chuanmai 42 (CH42) and Chuanmai 55 (CH55) was used to construct a high-density genetic map and to identify quantitative trait loci (QTLs) for stripe rust resistance using SLAF-seq technology. A genetic map of 2828.51 cM, including 21 linkage groups, contained 6732 single nucleotide polymorphism markers (SNP). Resistance QTLs were identified on chromosomes 1B, 2A, and 7B;
Qyr.saas-7B
was derived from CH42, whereas
Qyr.saas-1B
and
Qyr.saas-2A
were from CH55. The physical location of
Qyr.saas-1B
, which explained 6.24–34.22% of the phenotypic variation, overlapped with the resistance gene
Yr29
.
Qyr.saas-7B
accounted for up to 20.64% of the phenotypic variation.
Qyr.saas-2A
, a minor QTL, was found to be a likely new stripe rust resistance locus. A significant additive effect was observed when all three QTLs were combined. The combined resistance genes could be of value in breeding wheat for stripe rust resistance.
View Full-Text
►

▼

Figures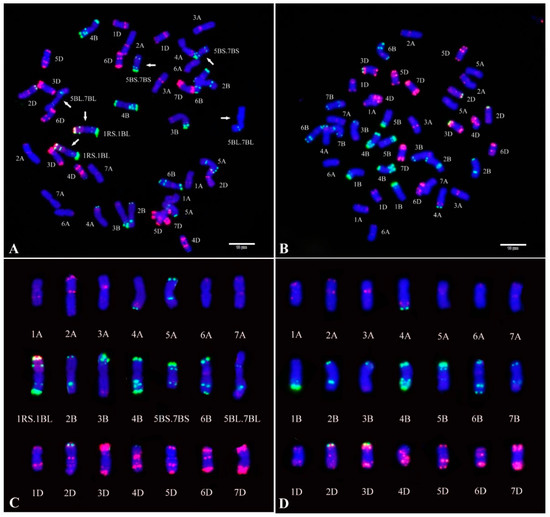 Figure 1
This is an open access article distributed under the
Creative Commons Attribution License
which permits unrestricted use, distribution, and reproduction in any medium, provided the original work is properly cited (CC BY 4.0).

Share & Cite This Article
MDPI and ACS Style
Yang, M.; Li, G.; Wan, H.; Li, L.; Li, J.; Yang, W.; Pu, Z.; Yang, Z.; Yang, E. Identification of QTLs for Stripe Rust Resistance in a Recombinant Inbred Line Population. Int. J. Mol. Sci. 2019, 20, 3410.
Note that from the first issue of 2016, MDPI journals use article numbers instead of page numbers. See further details here.
Related Articles
Comments
[Return to top]