Open Access This article is
freely available
re-usable
Review
Telomerase and Telomeres Biology in Thyroid Cancer
Laboratory of Translational Research, Azienda Unità Sanitaria Locale-IRCCS di Reggio Emilia, 42123 Reggio Emilia, Italy
*
Author to whom correspondence should be addressed.
Received: 30 April 2019 / Accepted: 11 June 2019 / Published: 13 June 2019
Abstract
:
Telomere and telomerase regulation contributes to the onset and evolution of several tumors, including highly aggressive thyroid cancers (TCs). TCs are the most common endocrine malignancies and are generally characterized by a high rate of curability. However, a small but significant percentage develops distant metastasis or progresses into undifferentiated forms associated with bad prognosis and for which poor therapeutic options are available. Mutations in
telomerase reverse transcriptase
(
TERT
) promoter are among the most credited prognostic marker of aggressiveness in TCs. Indeed, their frequency progressively increases passing from indolent lesions to aggressive and anaplastic forms.
TERT
promoter mutations create binding sites for transcription factors, increasing
TERT
expression and telomerase activity. Furthermore, aggressiveness of TCs is associated with
TERT
locus amplification. These data encourage investigating telomerase regulating pathways as relevant drivers of TC development and progression to foster the identification of new therapeutics targets. Here, we summarize the current knowledge about telomere regulation and TCs, exploring both canonical and less conventional pathways. We discuss the possible role of telomere homeostasis in mediating response to cancer therapies and the possibility of using epigenetic drugs to re-evaluate the use of telomerase inhibitors. Combined treatments could be of support to currently used therapies still presenting weaknesses.
Keywords:
telomeres; telomerase; thyroid cancer;
TERT
promoter; EMT; BRD4; epigenetic drugs; combined therapies
1. Introduction
Telomere protection and/or elongation are considered among the primary mechanisms of cancer survival and aggressiveness. Telomeres, shortening at each mitosis, sense somatic cells aging and induce cell death when they become critically short. Thus, progressive reduction of telomere length is a rate-limiting step for uncontrolled and unlimited cell proliferation capacity. Telomerase is the enzyme responsible for telomere maintenance. It is a ribonucleic complex that includes the telomerase reverse transcriptase (TERT) and its RNA template, the Telomerase RNA component (TERC) [
1
]. Telomerase is selectively expressed in cells that undergo indefinite proliferation, such as staminal, embryonic and cancer cells. Conversely, cell commitment and differentiation requires telomerase inactivation. Still, mechanisms of telomere maintenance are required in differentiated healthy cells to avoid chromosomes crisis preventing the activation of DNA damage response (DDR) and preserving genomic stability. Thus, telomere homeostasis and telomerase access to telomeres are controlled by an intricate system of accessory protein complexes. Among these, the Shelterin complex is a group of six-proteins, including Telomere repeat factor-1 (TRF1) and 2 (TRF2), protection of telomeres-1 (POT1), TRF1 interacting protein-2 (TIN2), repressor/activator protein 1(RAP1) and the POT1-TIN2 organizing protein (TPP1), highly conserved during evolution. These proteins, positioned on the telomeric loop (t-loop), play a fundamental role in the homeostasis and stabilization of telomeres ends independently from the mechanisms involved in telomere elongation [
2
]. TIN2 is a bridging molecule that facilitates the assembly of the entire complex. By binding both to double (TRF1, TRF2) and single (POT1) strand DNA, Shelterins shield telomeres from inappropriate DNA repair avoiding the activation of DDR pathways and non-homologous end joining (NHEJ). In particular, RAP1 recruited by TRF2 inhibits homologous recombination. Furthermore, Shelterins protect telomeres from end-to-end fusion events and degradation [
3
]. Finally, TPP1 functions by regulating telomerase access to telomere, and the entire complex regulates nucleosomes distribution and contributes to the establishment of an epigenetic environment prone to telomere maintenance [
4
,
5
].
Being the sensor of cell proliferative capacity, aberrant telomere elongation occurs in the majority of cancers due to telomerase reactivation (in 90% of malignancies) and/or alternative lengthening of telomeres (ALT) [
6
]. Alteration in
TERT
expression and/or activity has been reported in many cancers and associated with increased aggressiveness. Among the mechanisms leading to aberrant telomerase activation,
TERT
promoter mutations C228T and C250T (−124 bp and −146 bp upstream of
TERT
's transcription starting site, respectively) are frequent in cancer and associated with increased aggressiveness and metastatic potential in several tumor settings. These alterations cause the formation of ectopic binding sites for specific transcription factors (TFs) within the
TERT
promoter inducing its overexpression [
7
]. Similarly, aberrant expression and/or mutations of Shelterin proteins can favor tumorigenesis either by induction of chromosomal rearrangements and genome instability and by contributing to alteration of telomere length [
8
]. ALT occurs often in cancer that do not express telomerase, as the consequence of recombination-dependent replication pathways of telomere extension. ALT activation mainly correlates with the presence of mutations in
ATRX chromatin remodeler
(
ATRX
) and
death domain associated protein
(
DAXX
) genes in both tumors and cell lines [
9
,
10
,
11
,
12
]. In several tumors, mutations in the
TERT
promoter and
ATRX
have been reported to be mutually exclusive. However, melanomas with loss-of-function mutations in
ATRX
have also been found to have
TERT
promoter mutations [
11
,
13
].
Thyroid cancers (TCs) are the most common endocrine malignancy. Metastasis and aggressive clinical behavior in these tumors are generally limited to a small but significant group of high-grade lesions (about 10% of all diagnosed thyroid tumors) with poor biological characterization and very limited therapeutic options [
14
]. These tumors, associated with poor prognosis and low rate of survival, comprise a range of highly heterogeneous diseases that includes well differentiated TCs that developed Distant Metastases (DMs), Poorly Differentiated Thyroid Cancers (PDTCs) and Anaplastic Thyroid Cancers (ATCs). Clinical management of TC patients encompasses a spectrum of options, ranging from sonographic surveillance to total thyroidectomy plus lymph node neck dissection and/or radioiodine ablation (RAI). The lack of reliable markers for predicting the aggressive behavior of these tumors is a severe limitation to a precise risk-based stratification of this disease, thus contributing to the issue of patients' overtreatment [
15
]. Furthermore, over 75% of high-grade TCs are radioiodine refractory and no effective therapies are available. These patients represent a relevant clinical challenge [
16
]. As for other tumors, TCs heavily rely on aberrant telomere regulation. In this review, we aim to summarize the current knowledge about telomere regulation in TC, with a particular focus on highly aggressive lesions and with the intent to discuss the potential application of these observations for defining both new prognostic tools and new potential targets to improve patient management.
2.
TERT

Promoter Mutations Are a Hallmark of TC Aggressiveness
3. Additional Mechanisms of Aberrant
TERT

Expression Regulation in Cancer
4. Telomere Length Involvement in Thyroid Cancer Development
In the spectrum of thyroid tumors, familial forms of non-medullary TCs (NMTCs) have also been reported. Familial NMTC patients show progressively increased disease aggressiveness in subsequent generations. This phenomenon is called "genetic anticipation", and it was defined and associated with several inherited benign and malignant disorders. In the case of NMTCs, the later generations when compared to the first one showed an earlier age of insurgence, higher rate of lymph node metastases at surgery, and a worse outcome [
58
,
59
]. Familial NMTCs are generally more aggressive than the sporadic forms [
60
] and are associated with a 5–10-fold higher risk of developing the tumor for first-degree relatives compared to the general population. In recent years, several groups have collected and investigated pedigrees of familial NMTC patients in order to find the predisposing genetic loci, but this is probably a complex disease to the onset of which several genetic and environmental factors contribute [
59
]. Telomere length is a strong hereditable tract of these patients, and progressive telomere shortening through generations may represent the basis of anticipation. In line with this, anticipation is a typical condition of familial telomere diseases, a spectrum of genetic degenerative and age-dependent disease caused by premature senescence of stem cell compartments and determining increased rates of organ failure and cancer [
61
]. Indeed, short telomeres induce genomic instability and activate pathways of DNA damage response, whose functionality is crucial for cancer evolution [
62
]. The presence of short telomeres is reported in the blood of patients affected by different types of cancers, such as head and neck, bladder, lung, renal and breast cancer [
63
,
64
], enforcing the hypothesis that telomere dysfunction may represent a risk factor for cancer development. Confirming these data, familial PTCs also display short telomeres in peripheral leukocytes [
63
,
65
]. Interestingly, unaffected familial members present telomere lengths similar to those of relatives affected by PTC, suggesting that they likely have a genetic background prone to cancer development and probably need a lower number of additional factors to achieve tumor onset compared to sporadic cases [
66
]. Cantara and colleagues reported similar evidence in phytohemagglutinin-stimulated T-lymphocytes of both sporadic and familial PTC patients in which shorter telomeres with respect to healthy subjects were observed. Despite short telomeres, high telomerase activity and
TERT
expression were observed in PTCs as in other human cancer tissues [
67
,
68
]. Thus, telomerase activation is probably necessary as a telomere maintenance mechanism, likely not for inducing extensive telomere lengthening, but in order to conserve the minimal telomere length indispensable to save DNA-damaged cells from apoptosis, therefore contributing to their genomic instability and immortalization. Consistently, study on familial PTCs has demonstrated that these patients are characterized by abundant acentric fragments presenting telomeric sequences derived from subtelomeric chromosomal breaking, and thus, they show a frequency of chromosome fragility higher than healthy subjects and sporadic PTCs [
66
]. Overall, we can speculate that short telomeres are predisposed to genomic instability, and hence the occurrence of cancer-driving mutations, which include
TERT
promoter mutations [
69
,
70
]; subsequently, telomerase activation maintains telomere length and sustains cancer evolution and progression.
5. Telomere-Independent Cancer Supportive Mechanisms of TERT
Telomere-independent activities of TERT have been reported, and several studies have shown that this protein is engaged in processes such as regulation of DNA damage response, repression of apoptosis, regulation of chromatin state, and enhanced cell proliferation [
71
,
72
,
73
]. Furthermore, mounting evidence indicates a role of TERT in supporting metastatic spreading of cancer by the activation of the epithelial to mesenchymal transition (EMT) [
74
,
75
]. EMT is a process which allows epithelial cells to transiently transdifferentiate and acquire a mesenchymal-like phenotype. During this transition, epithelial cells lose their differentiated characteristics, including cell–cell adhesion, polarity, and lack of motility, and acquire mesenchymal features, including motility, invasiveness, and resistance to apoptosis [
76
,
77
]. Activation of the EMT program is triggered by many signaling factors and extracellular stimuli among which transforming growth factor beta (TGF-β) is considered a master player. Once engaged on its target receptors, TGF-β signals act within the cells through three major pathways: (1) inducing nuclear translocation of the SMAD family member 2/3 (SMAD2/3) proteins, (2) activating the MAPK, and (3) Phosphatidylinositol-4,5-Bisphosphate 3-Kinase—AKT serine/threonine kinase 1 (PI3K-AKT), signaling cascades. These pathways converge on the regulation of several TFs that together orchestrate gene expression silencing of epithelial-associated genes (like epithelial cadherin and cell–cell adhesion molecules) while promoting the expression of mesenchymal genes (including mesenchymal-cadherins, cell-matrix interacting molecules and cytoskeleton filaments) [
78
]. In addition to inducing migratory and invasive capacities, EMT also allows cancer cells to acquire higher resistance to apoptosis and immunosuppression. EMT is also crucial in TC, where it has been suggested to play a function both in the transient transdifferentiation of well-differentiated lesions during the metastatic spreading, as well as in the constitutive de-differentiation of highly aggressive ATCs. We recently reported that in PTCs, Cadherin 6 (CDH6), a class II cadherin, is induced by TGF-β and promotes the activation of EMT by restraining autophagy [
79
,
80
,
81
]. Strikingly, we also reported that
CDH6
expression in human PTCs is restricted to highly metastatic lesions, in which we also found a significantly higher incidence of
TERT
promoter mutations and
TERT
locus amplification, raising the hypothesis of a functional interconnection between these molecular events [
15
,
23
]. Indeed, evidence exists that TERT takes part in the activation of EMT and this activity is independent by its function in maintaining telomere length [
75
].
Liu et al. reported that overexpression of
TERT
promotes the acquisition of mesenchymal features in gastric cancer. Conversely, its knockdown causes loss of mesenchymal markers and reduced invasiveness. In this model, TERT mediates the TGF-β signaling and in TERT KD cells TGF-β induction of target genes expression is impaired. Indeed, TERT interacts with beta-catenin (one of the EMT associated TFs and mediator of the Wnt-signaling) and together associate with mesenchymal marker promoters to drive their expression. This effect was largely independent of the telomere-lengthening activity of TERT, since overexpression of
TERT
mutants lacking these properties are still able to induce expression of EMT associated genes [
75
]. The transcriptional activity of TERT and its role in EMT are consistent in other models. Qin and colleagues reported that TERT promotes EMT in colon cancer through the Zinc finger E-box binding homeobox 1 (ZEB1) pathway. ZEB1 is a TGF-β target and a master regulator of EMT. The authors showed that TERT forms a complex with ZEB1 which binds to
E-Cadherin
promoter and represses its transcription leading to EMT [
82
]. The activity of TERT in this context is ZEB1 dependent, since overexpression of TERT fails to repress E-Cadherin in cells where ZEB1 expression is compromised. Intriguingly, EMT-related TFs seem to feedback on telomere homeostasis in a positive feedback loop. Snail Family Transcriptional Repressor 1 (Snail1) is an EMT TFs that belongs to the zinc finger TFs family. The relevance of Snail1 in supporting EMT is highlighted by a large amount of evidence. Recently, a role of Snail1 in controlling telomere integrity has been proposed. Mazzolini et al. reported that Snail1-depleted mesenchymal stem cells show a dramatic increase in telomere alterations and a significant reduction of telomere length. However, activity of telomerase is higher in Snail1-depleted cells, as is the expression of TERRA, a telomere-associated long non-coding RNA [
74
]. TERRA is a highly heterogeneous family of transcripts transcribed from subtelomeric regions. Loss of function as well as de-localization of TERRA leads to severe telomere dysfunction indicating that both expression and localization of this lncRNA are strictly necessary for telomere maintenance [
83
]. In the context of mesenchymal stem cells,
Snail1
overexpression leads to a strong inhibition of TElomeric Repeat-containing RNA
(
TERRA) and
TERT
expression, coherently with the increased telomerase activity observed in
Snail1
-depleted cells [
74
]. In particular, the observation that Snail1 directly controls TERRA identified this TF as one of the factors controlling transcription at telomeric regions. TERRA expression is repressed by TGF-β concomitantly with
Snail1
upregulation. Furthermore, RNA-sequencing profiling in a TERRA overexpressing model of mammary epithelial cells, showed that TERRA impaired TGF-β signaling by altering the response of a large number of EMT-related genes to the TGF-β stimulation. Together, these data indicate that expression of TERRA prevent activation of EMT and that the Snail1-mediated inhibition of this lncRNA is required to drive EMT [
74
].
6. Are Telomeres Possible Targets for TC Therapy?
7. Conclusions
TC represents a paradigmatic example of the importance of telomere regulation in malignancies. Currently, mutations in
TERT
promoter are among the more common genetic abnormalities observed in cancers and the most frequent alterations observed in aggressive thyroid tumors. Mutations in
TERT
promoter are generally associated with increased
TERT
expression and Telomerase activity and although they are not always connected to increased telomere length [
118
], they are close related to bad prognosis, metastatic spreading and low patients overall survival [
15
,
17
,
21
,
22
,
23
,
43
,
44
,
59
,
76
,
106
]. We also explored the wide spectrum of signaling pathways converging on
TERT
promoter and the possible still poorly understood connections with the biological mechanisms already described in thyroid cancer biological settings. Overall, this evidence highlights the feasible employment of BETi for the treatment of thyroid tumors. Indeed, these drugs seem to hamper tumor spreading by different sides and having beneficial effects both in tumor harboring
TERT
promoter mutations and in the wild type ones. Here, we also discussed the available evidence showing the ability of BETi to disrupt long-range chromatin interaction on mutated
TERT
promoter such as to inhibit c-Myc and AP-1 transcriptional activities independently from tumor genetic background (
Figure 1
) [
34
,
41
,
42
,
54
].
The role of Shelterin proteins in the regulation of telomeres has not been studied in deep in TC setting. A single paper reported no mutations or polymorphisms in Shelterin complex genes in familial PTCs [
119
]. However further studies are necessary to define the structural organization of telomere proteins in TC lesions and whether TERT is the major players of telomere regulation or other mechanisms intervene. Conversely, ALT mechanisms as determined by mutations in
ATRX
and
DAXX
, are not reported in non-medullary cells derived thyroid cancers in many different studies [
6
,
11
,
118
], thus an involvement of these mechanisms in telomere deregulation may be likely excluded in this pathogenic environment.
In conclusion, these data enforce the role of telomerase dependent mechanisms in sustaining TC progression. Thus, telomerase regulation represents a major challenge and an interesting hint for studies investigating the pathogenesis of TC and/or the employment of new combined treatments.
Author Contributions
B.D. and A.C. wrote and revised the manuscript. All the authors have approved the final manuscript.
Acknowledgments
We wish to thank all members of the Lab for useful discussion.
Conflicts of Interest
The authors declare no conflict of interest.
Figure 1.
Schematic model representing
TERT
promoter regulation in TCs and some hypotheses of therapeutic interventions. The figure shows the long-range chromatin interaction mediated by GABP factors and BRD4 on the mutated
TERT
promoter, and all the transcription factors positively influencing
TERT
expression and for whom we described a possible connection with
TERT
promoter in TCs. We also summarized the new proposed therapies for aggressive TCs, that may also rely on telomerase inhibition. In particular, MKI that acts on MAPK signaling and epigenetic drugs such as BETi and HDACi that may counteract
TERT
expression by impairing the function of TFs such as c-Myc and BRD4. Moreover, telomeres deregulation and the subsequent genomic instability, here represented by
TERT
promoter mutations, may influence the response to immunotherapeutic treatments. Overall, this model shows that there are many possible therapeutic combinations to counteract the aberrant activity of telomerase in TCs and consequently to inhibit one of the major trigger of TC aggressiveness.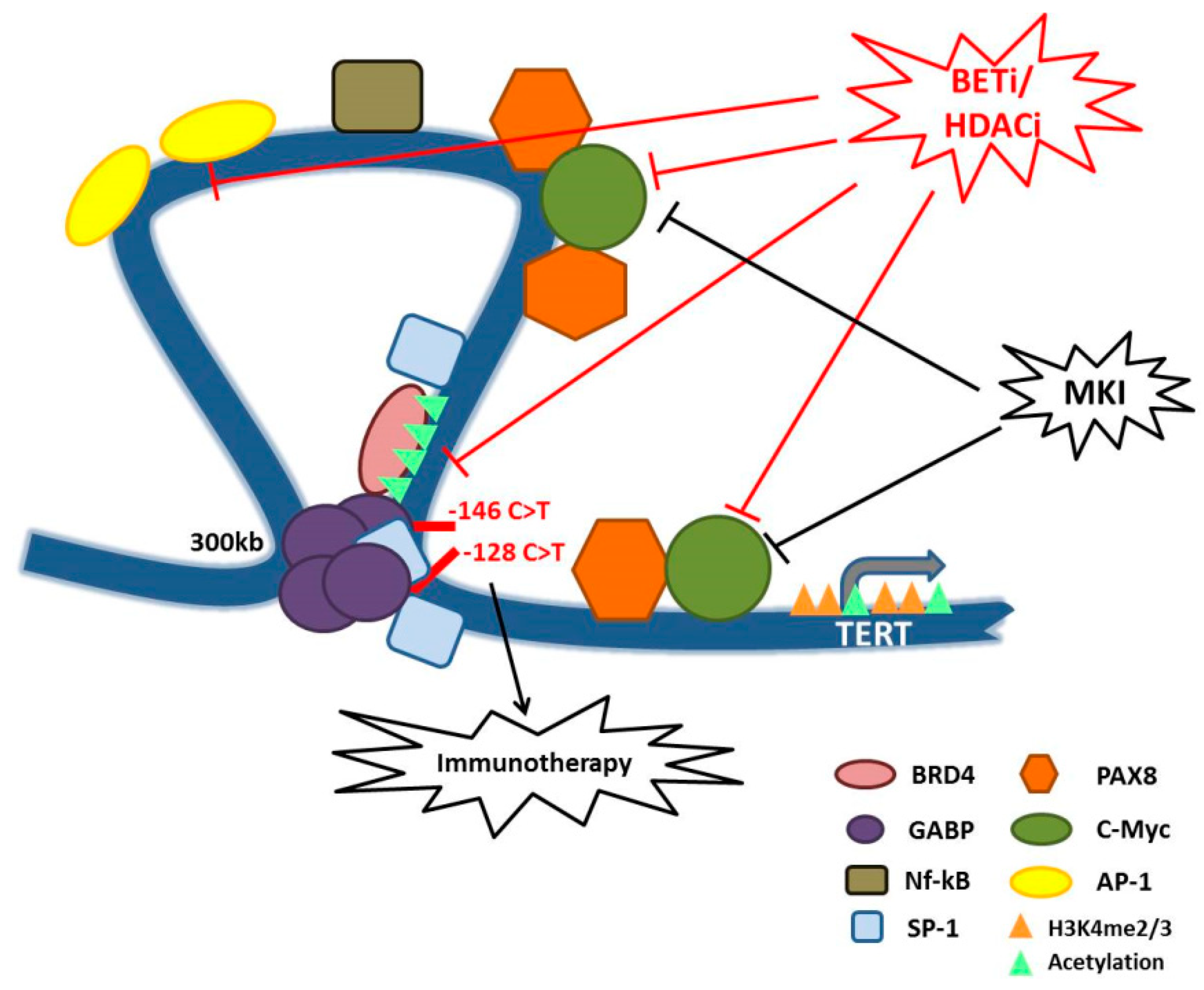 © 2019 by the authors. Licensee MDPI, Basel, Switzerland. This article is an open access article distributed under the terms and conditions of the Creative Commons Attribution (CC BY) license (http://creativecommons.org/licenses/by/4.0/).